Posted
September 26, 2022
Jason Wingard inaugurated as Temple's 12th president
Wingard becomes the first Black president in Temple University's 138-year history.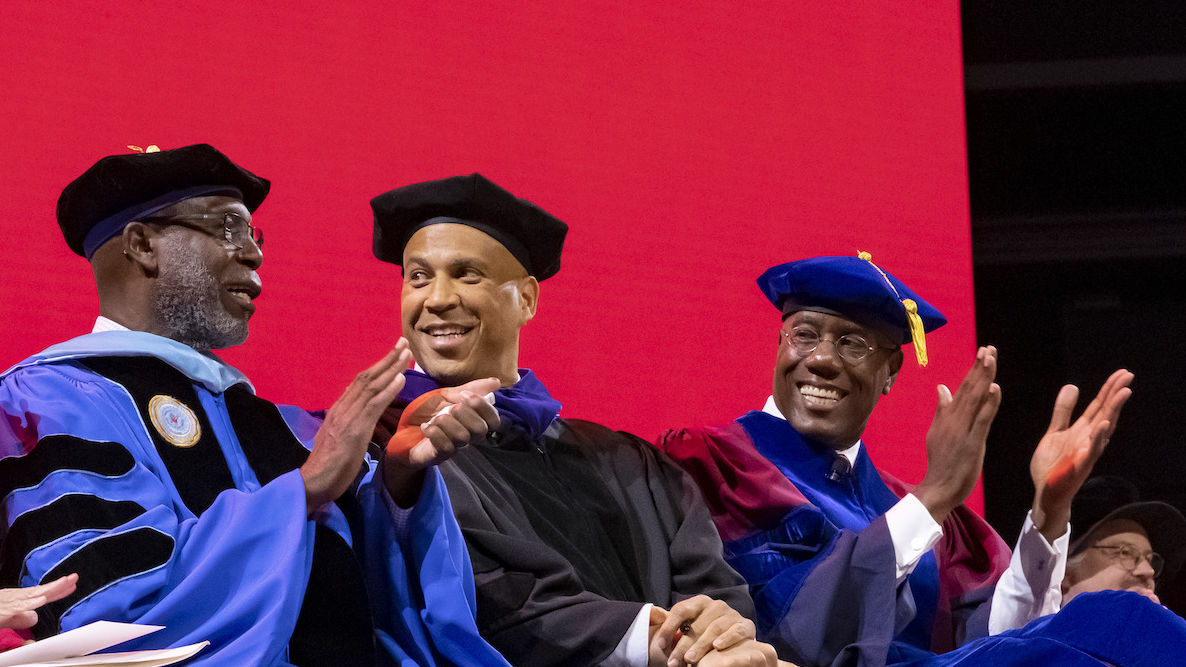 When U.S. Senator Cory Booker (D-NJ) became classmates with Temple University President Jason Wingard years ago at Stanford University, Booker noted a common trend. 
"The problem I have is this man keeps one-upping me every single year," Booker said. "I was the big man on campus at Stanford University. He was some punk freshman that came in. But immediately, he distinguishes himself because he runs faster than me, he jumps higher than me."
After last Friday, Wingard one-upped Booker with something else.
"Jason was going to come to my presidential inauguration," joked Sen. Booker, who delivered the keynote address at President Wingard's investiture ceremony. "But somehow, in the span of three years, here I am at his presidential inauguration." 
The ceremony, held Friday, Sept. 16, in Temple's Liacouras Center, officially welcomed Wingard as Temple University's 12th president and the first Black president in the institution's history. The event had been delayed due to the COVID-19 pandemic.
"You have the right university, the right president, at the right time," continued Sen. Booker in his remarks. "This is an alignment that we so urgently need."
The investiture welcomed Tamron Hall, KLN '92, two-time Emmy Award-winning TV host, producer and accomplished journalist, back to Main Campus to serve as emcee for the historic occasion. "[Wingard] is leading this university toward a bright future, focused on his bold vision," said Hall. "We are grateful for his dedication to the university and for his commitment to lifelong learning and student success. This is such a proud day, and I hope you feel it. I am honored to be Temple Made." 
Several Temple leaders delivered remarks during the ceremony, including Mitch Morgan, FOX '76, LAW '80, chair of the Board of Trustees; Provost Gregory Mandel; Kimmika Williams-Witherspoon, president of the Faculty Senate; and Gianni Quattrocchi, Class of 2023 president of Temple Student Government.
"The true hallmark of a leader—that he has exhibited—is that he listens," Quattrocchi said of President Wingard.
President Wingard's father, Levi Wingard, who attended Temple for graduate school, was among the speakers at the ceremony. He referred to his son as "the first Wingard president in 138 years" and his best friend.
Welcome videos filmed by students and faculty at Temple's international campuses in Rome and Japan were shown.
Elected officials in attendance included Mayor Michael Nutter; Pennsylvania State Representative for the 181st district Malcolm Kenyatta, CLA '91; Philadelphia City Representative Sheila Hess, FOX '91; and Philadelphia City Councilwoman Cindy Bass of the 8th District. In addition, officiants of many faiths offered solicitations, including the Rev. Alexander G. Houston; Imam Quaiser Abdullah, an assistant professor in the Klein College of Media and Communication; and Rabbi Rebecca Alpert, professor emeritus of religion.
I've been to inaugurations before, and they just keep getting better. This was fabulous, fantastic, high energy, inspiring and community-focused. I am honored to be part of it.
-- Councilwoman Cindy Bass
The ceremony served as Wingard's announcement of his strategic priorities to solidify the university as a leader in higher education. The five pillars that Temple leadership will use to guide the university forward are
1. boundless access,
2. educational value,
3. thought leadership,
4. community engagement and
5. reputational excellence.
As his investiture ceremony ended, President Wingard reflected on the day and considered the institution's future.
"Today marks my inauguration. Today marks Temple's inauguration," he said. "Despite the college devaluation crisis, Temple will persevere and prevail. Temple will lead the education revolution fueled by unparalleled aptitude and grit. The future of work is disruption. The future of learning is change. The future of Temple University is bright."
- Emily Sabalbaro