Remembering James "Skip" Wilson, the winningest coach in Temple's history
Temple University honors the legacy of the baseball coach that led the Owls to 1,034 wins.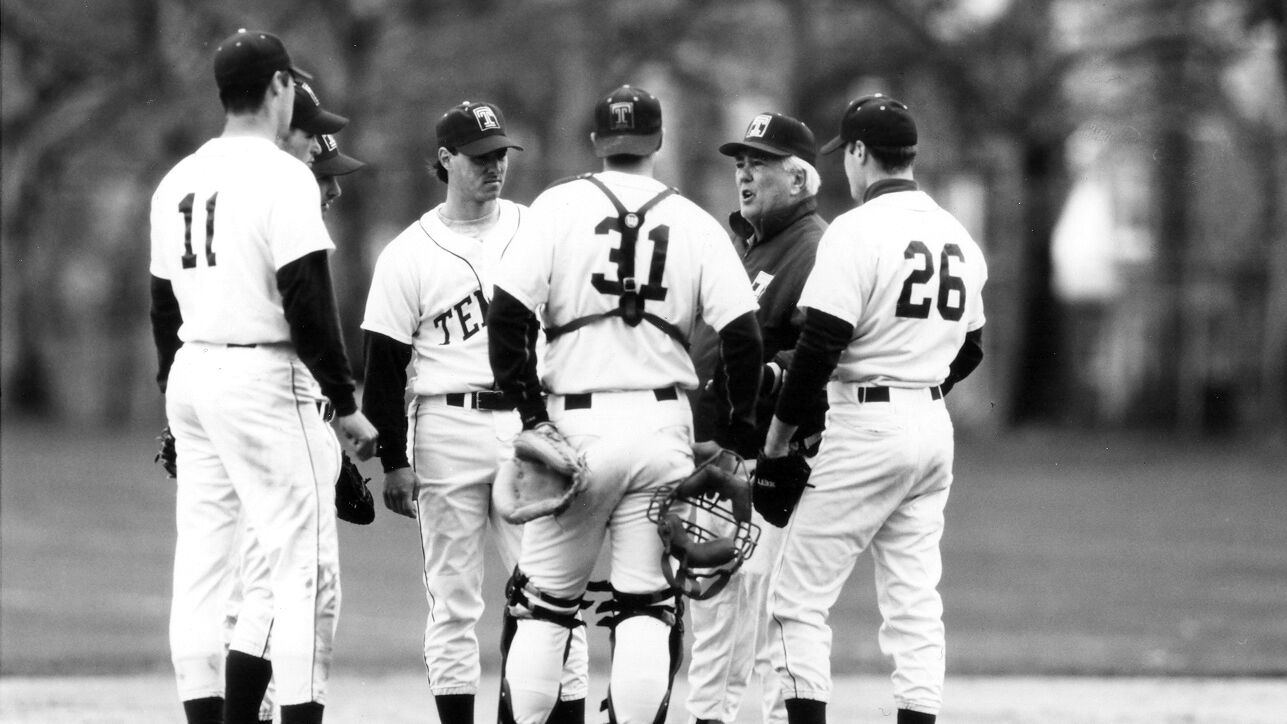 James "Skip" Wilson, Temple Hall of Fame baseball coach, died on July 26 at age 92.
As Temple's winningest coach in any sport, Wilson led the Temple Owls to 1,034 wins, 14 NCAA tournaments, 10 conference championships and two College World Series appearances. The longtime Roxborough high school teacher has been described as loyal, hardworking, passionate and honest—a lifelong educator who cared deeply about his students, players and family. 
"He exuded true leadership and really emphasized hustle and playing the game hard," said Charles "Chico" Sacchetti, FOX '69, a second baseman on the Temple baseball team from 1967–1969. "He could read the heart and the character of a kid immediately. You always knew that he was the boss, but he was fair and you could count on him."
Wilson's daughter, Jennifer Springs, CLA '87, said that her dad's wife of 31 years, Suzanne, has a whole book of "Skip-isms," a word coined for his beliefs and sayings.
"If an umpire made a bad call he never wanted his players to confront the ump, so he would look at the guys and say, 'It's nice to be nice,'" said Sacchetti. "He could remember specific plays, the name of the kid and the umpire that was involved from 50 years ago. He had an encyclopedic memory." 
"When (former Temple Athletic Director) Bill Bradshaw was a player, he told me the story about playing against a Skip-coached team. Bill was standing in the on-deck circle, and Skip did not like how close he was to home plate, so on the next pitch the Temple pitcher threw the ball at Bill," laughed Fran Dunphy, the former men's basketball head coach at Temple. 
"Bill still laughs at it to this day, but it is a Skip-ism that is very much embellished. The message was, 'I'm coaching my baseball team, don't be messing with our guys.'"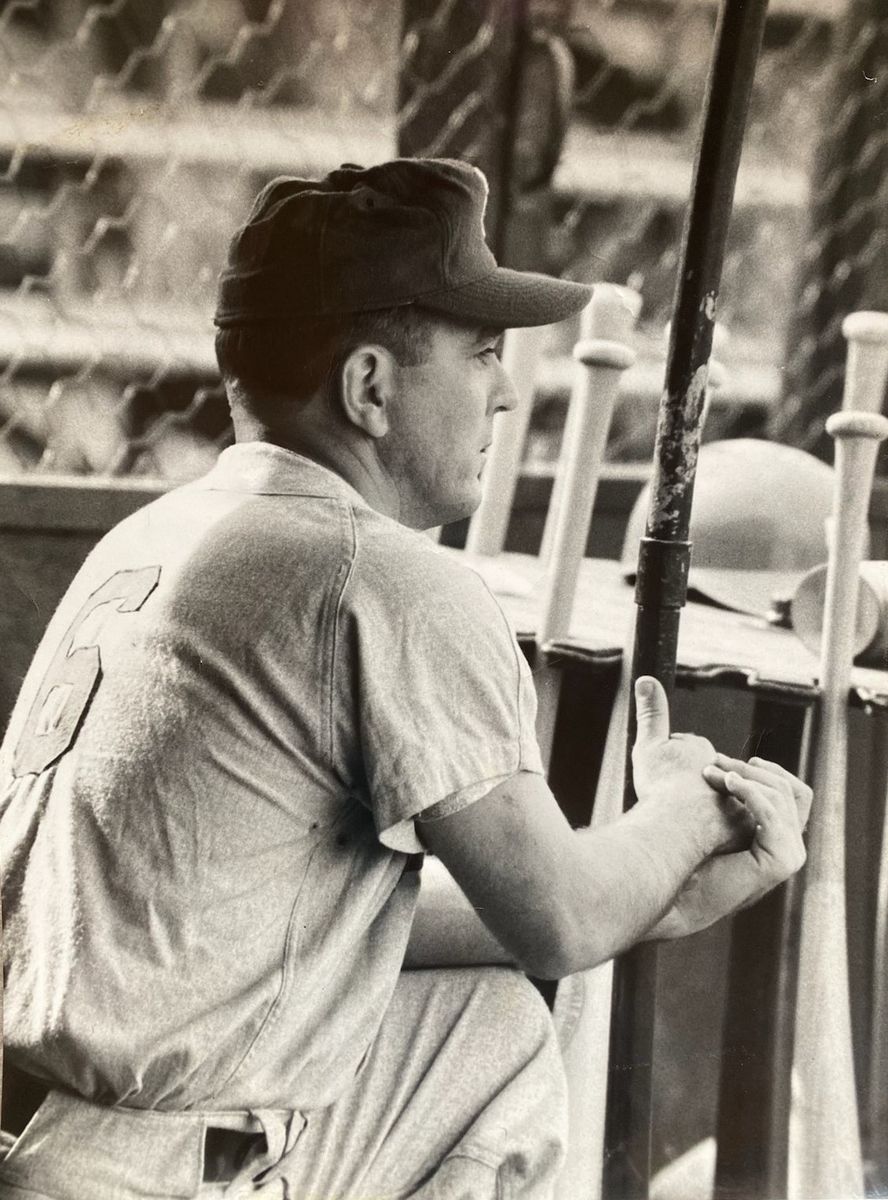 Skip Wilson, the former baseball coach for Temple University, is in the dugout at Erny Field where the Owls played their home games in the 1960s. (Courtesy of the family of Skip Wilson)
Humble beginnings 
Wilson was born on Oct. 8, 1929, in Philadelphia. He and his three siblings lived together with his parents in a cramped townhouse, and the family had to work immensely hard for everything they had. Wilson never forgot this and his childhood experience would later inform his approach to coaching. 
"He was about the working man and the one who needed a hand up," said Springs. "He worked three different jobs when we were kids. So, I think he truly understood what players needed because of what he did not have growing up."
 
Wilson found direction through athletics as a football, basketball and baseball star at St. John's High School in the 1940s, earning a basketball scholarship to Georgetown University. He left Georgetown after his second year, when he was drafted by the Philadelphia Athletics to play minor league baseball under Connie Mack, the longest-serving manager in Major League Baseball (MLB) history. 
After playing in the minors for a few seasons, he enrolled at Temple. However, his studies were put on hold when he was drafted by the United States Army. He was a technician involved in training the army personnel in survival and chemical warfare for two years.
The first in his family to graduate from college, he earned a bachelor's degree in 1958 and a master's degree in health and physical education in 1961 from Temple. He put his passion to educate others to good use as a teacher for 34 years at Roxborough High School, a position he held during the majority of his coaching tenure at Temple. 
He was 29 when Temple first hired him as the first-year basketball coach under Hall of Fame coach Harry Litwack in 1958. Wilson was named the Temple head baseball coach in 1960, where he quickly became a father figure and inspiring mentor to his players, many of whom came from underprivileged backgrounds. 
'He took a chance on me'
He sought players not solely for athletic talent but for their character and ability to work hard in and out of the classroom.   
"If it weren't for Skip, I probably would have never played basketball at Temple, but he took a chance on me and recruited me right after he saw me playing in a preseason game at Pierce Business College," said John Baum, FOX '69, who led Temple men's basketball team to win the National Invitation Tournament Championship in the 1969 season. 
"By heart, he was a teacher, so he stressed to us that you have to get your degree at Temple," he added. "In my first year, I heard him loud and clear and I got my degree in accounting." 
Skip Wilson (left), an assistant men's basketball coach at Temple from 1957–1973, developed a friendship with John Baum, FOX '69, a basketball player in Temple Athletics Hall of Fame, and Fran Dunphy, the former men's basketball head coach at Temple. (Courtesy of Temple University Athletics) 
Ed Wade, KLN '77, who later served as general manager for the Philadelphia Phillies and Houston Astros, said Wilson kept "his fire alive in regards to baseball," adding, "Skip never cut anybody, and I do not think I would have had a chance to play baseball for the two and half years at Temple if it weren't for him."
"He had a great mind for baseball," Wade said. "He had a base running drill that I ended up carrying over to the big league side when I was a general manager in Philadelphia and Houston." 
"The guy I came to love not only cared about the game itself but he took an interest in every one of his players and gave everybody an opportunity. He not only made me a better baseball guy but a better person."
More than 100 Wilson-coached players went on to have professional baseball careers. Temple's former home baseball venue in Ambler, Pa. bears his name as the Skip Wilson Field. 
Although the Owls baseball program was discontinued in 2014, Wilson's fingerprints still leave a lasting impact on the history of Temple University Athletics.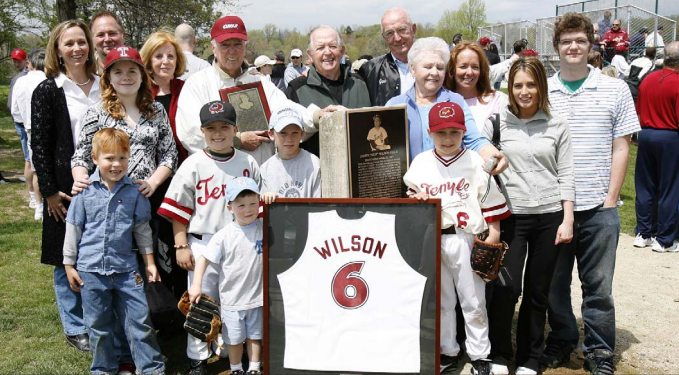 Skip Wilson was joined by his family on Skip Wilson Day, a day that honored the former coach at the Skip Wilson Field in Ambler, Pa. on April 28, 2007. (Courtesy of Temple University Athletics)
 
Services, including a visitation, words of remembrance and a memorial mass to honor Wilson, will be held on Friday, Oct. 21, at St. Anthony of Padua Church in Ambler.