For third-straight year, Temple enrolls record number of students of color
More than 51% of the Class of 2026 are students of color as Temple University welcomes the most ethnically and geographically diverse class of students in at least two decades.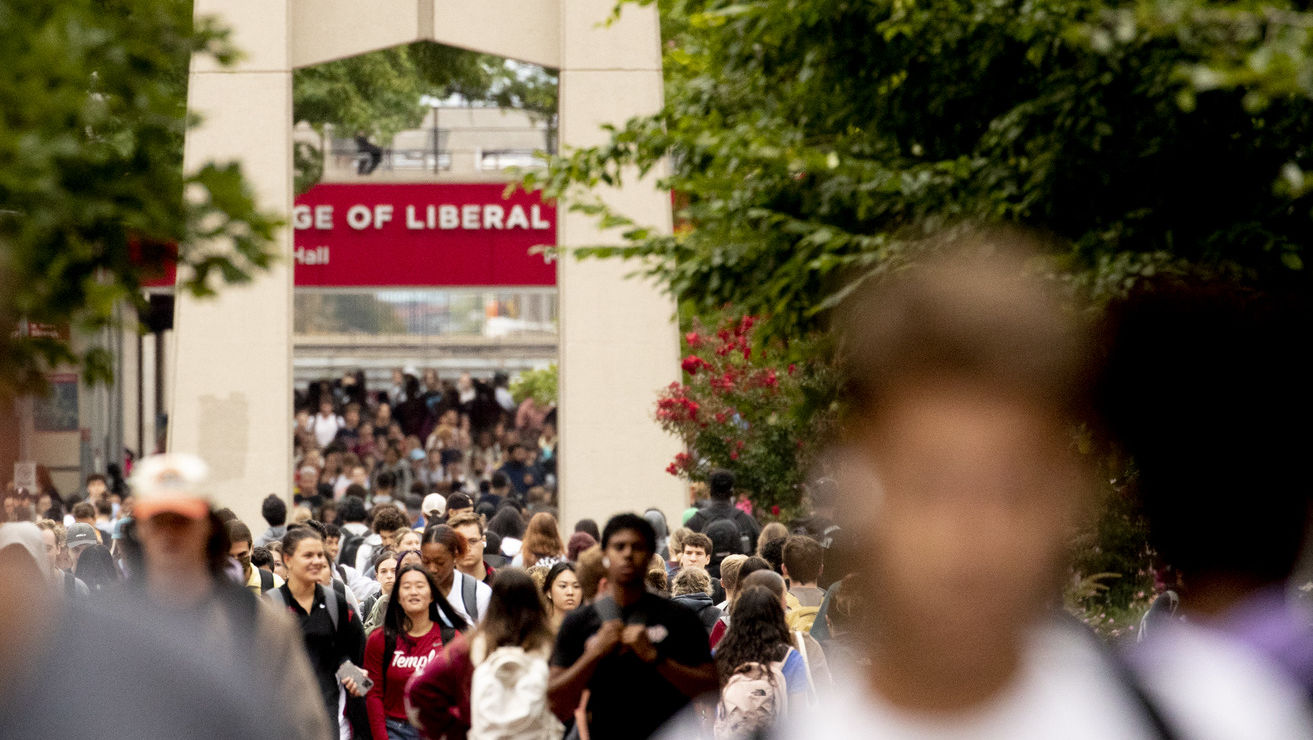 Temple University was quite literally built on access, as founder Russell Conwell recognized that "Acres of Diamonds" could be found right in Temple's backyard. He believed that every student, regardless of background, should have access to a high-quality education.  
The university continues to uphold that belief, and it is arguably most evident with the Class of 2026. This fall, Temple welcomed the most ethnically and geographically diverse class in its recorded history. This also marks the third consecutive year in which Temple has seen record numbers in terms of its enrollment of students from diverse populations.
More than 51% of Temple's Class of 2026 are students of color—up 6% from last year and 10% from the year prior—representing the largest student of color community in at least the last 25 years. This is the largest number ever of expected Black, Latinx, Native American and Asian students.
A total of 19.4% of Temple's Class of 2026 are Black students, with 910 enrolling (up from 831 last year), and 11.5% are Hispanic/Latinx/Latine students, with 539 enrolling (up from 458 last year). Additionally, the class is 15.6% Asian with 731 students enrolling (up from 637 last year).
"Diversity is central to Temple University's mission to foster accessible pathways to learning and catalyze professional opportunities. Our broadening demographic profile parallels the shifts taking place in the real world," Temple University President Jason Wingard said. "Employers are transforming their organizations so that they can thrive in an increasingly diverse marketplace. This transformation is affecting areas ranging from recruiting to innovating to creating value. Our commitment to diversity is essential to the future of work, to a healthy society and to the global economy."
The Class of 2026 arrives on campus from all across the world. One hundred and twenty-eight students come from 43 countries outside the U.S. Out-of-state students make up 35% of the incoming class, which represents the largest-ever percentage of domestic out-of-state students to attend Temple.
Socioeconomic diversity is another trend with the Class of 2026. A total of 34% of Temple first-year students will be the first generation in their families expected to graduate from college, which is up 4% from last year. Additionally, 33% are receiving a Pell Grant, which are awarded only to undergraduate students who display exceptional financial need and have not earned a bachelor's, graduate or professional degree. This marks a 5% increase from the Class of 2025.
"It is notable that for the first time in at least recent Temple history, no one ethnic group represents a majority of the incoming class, underscoring just how truly diverse Temple has become," said Karin Mormando, Temple University's director of admissions.
While the Class of 2026 is diverse, it is also academically strong, boasting a mean GPA of 3.42 and an average SAT score of 1273, which is up from 1247 last year. The average ACT score for this year's group is 28.
More than 500 students committed to joining Temple Honors, and boast a mean GPA of 3.95. More than half of the new Honors students are students of color and 44% of them are from outside Pennsylvania.