Temple student volunteers at the 2022 FIFA World Cup in Qatar
Mujahid Al-Atharee, a senior majoring in sport and recreation management at Temple's School of Sport, Tourism and Hospitality Management, was one of 5,000 international volunteers at the FIFA World Cup Qatar 2022.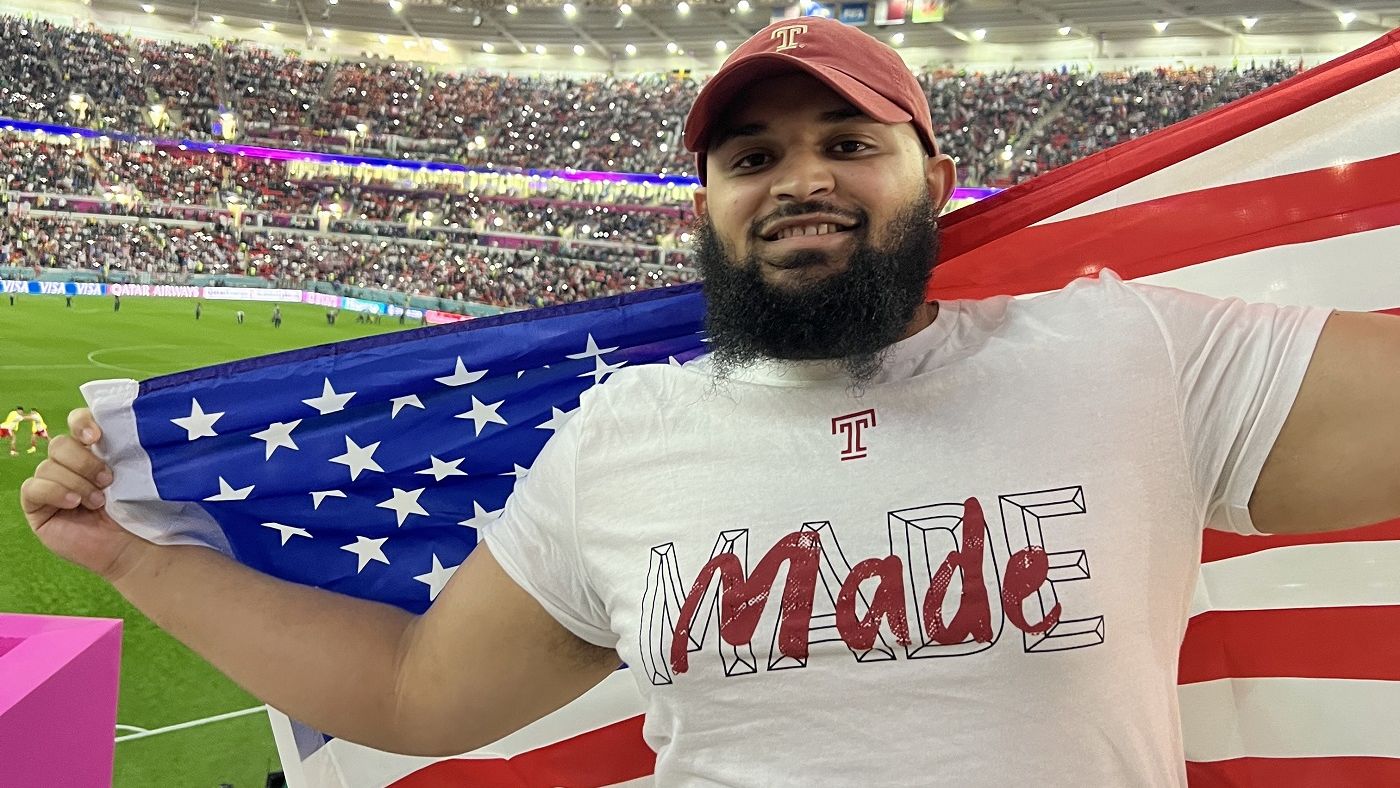 Mujahid Al-Atharee, Class of 2023, had two reasons to board a flight to Qatar in late November: to be one of 5,000 specially selected volunteers in FIFA's Spectator Services at the World Cup, and to make a return visit to the country in which he spent 12 years of his childhood. 
Al-Atharee is a Temple student of Black and Pakistani descent. He was born in Philadelphia but moved to Qatar with his tight-knit Muslim family when he was 2 years old after his father found a job as an English teacher. After living in Qatar for 12 years, he moved back to the United States to live with his grandparents in Bucks County, Pennsylvania., where he attended high school before enrolling at Temple University. 
"Growing up in Qatar holds a special place in my heart. I know there are a lot of controversies going on here, but I wish more people could see what the environment and Arab hospitality and culture are like. The crowds here at the World Cup make it feel like a party every day," he laughed.  
   
After a 12-hour flight from Philadelphia, Al-Atharee arrived in Qatar for the World Cup. He volunteered at Education City Stadium, a soccer stadium in Al Rayyan, Qatar, which held a nearly 45,000-seat capacity. 
Mujahid Al-Atharee, Class of 2023, was one of 20,000 selected volunteers to participate at FIFA's Spectator Services during the 2022 World Cup and is pictured at the Education City Stadium in Al Rayyan, Qatar. (Photography courtesy of Mujahid Al-Atharee)
As a senior at Temple, Al-Atharee said that volunteering at the World Cup is an opportunity he did not want to miss since it only happens every four years. He wanted to use the experience to build his resume while pursuing a degree in sports recreation management at Temple's School of Sport, Tourism and Hospitality Management.
His volunteer duties included ushering spectators to their seats, directing them to different concessions, bathrooms and prayer rooms, reuniting fans with lost items and helping them exit the stadium safely. His other responsibilities included knowing the prohibited items in the stadiums, such as alcohol. 
"I learned about the differences of sales and marketing outside of the U.S. while gaining insight into fan engagement and fan behavior of other cultures, including what they do and don't like. And I gained more insight on fan engagement and international marketing from this experience," he said. 
During his time in Qatar, Al-Atharee had the opportunity to attend a sold-out World Cup game as a fan, not just as a volunteer. He attended the United States-Wales 1-1 draw in their World Cup Group B opener on Nov. 21. 
"It's not just the games or the venues that make the World Cup special, but the people that represent a world of nations that really makes it exciting," Al-Atharee said. "It's like trying to describe what it's like to be at an Eagles game to somebody who's never been there, but the energy level of the World Cup is like 10 times that."
While volunteering at the World Cup, Al-Atharee learned that there are challenges with organizing a global sporting event, but that international sports can bring people together. 
"I learned it is important to be open to people and spark different conversations. This opportunity has allowed me to meet and learn about people from different cultures that live in Finland, Peru, Mexico and other nations. Sports can truly unite people on a global scale," he said.