Global X: South Africa offers a transformative cultural immersion experience
The trip to Capetown and Johannesburg encourages students to think holistically about systems of oppression.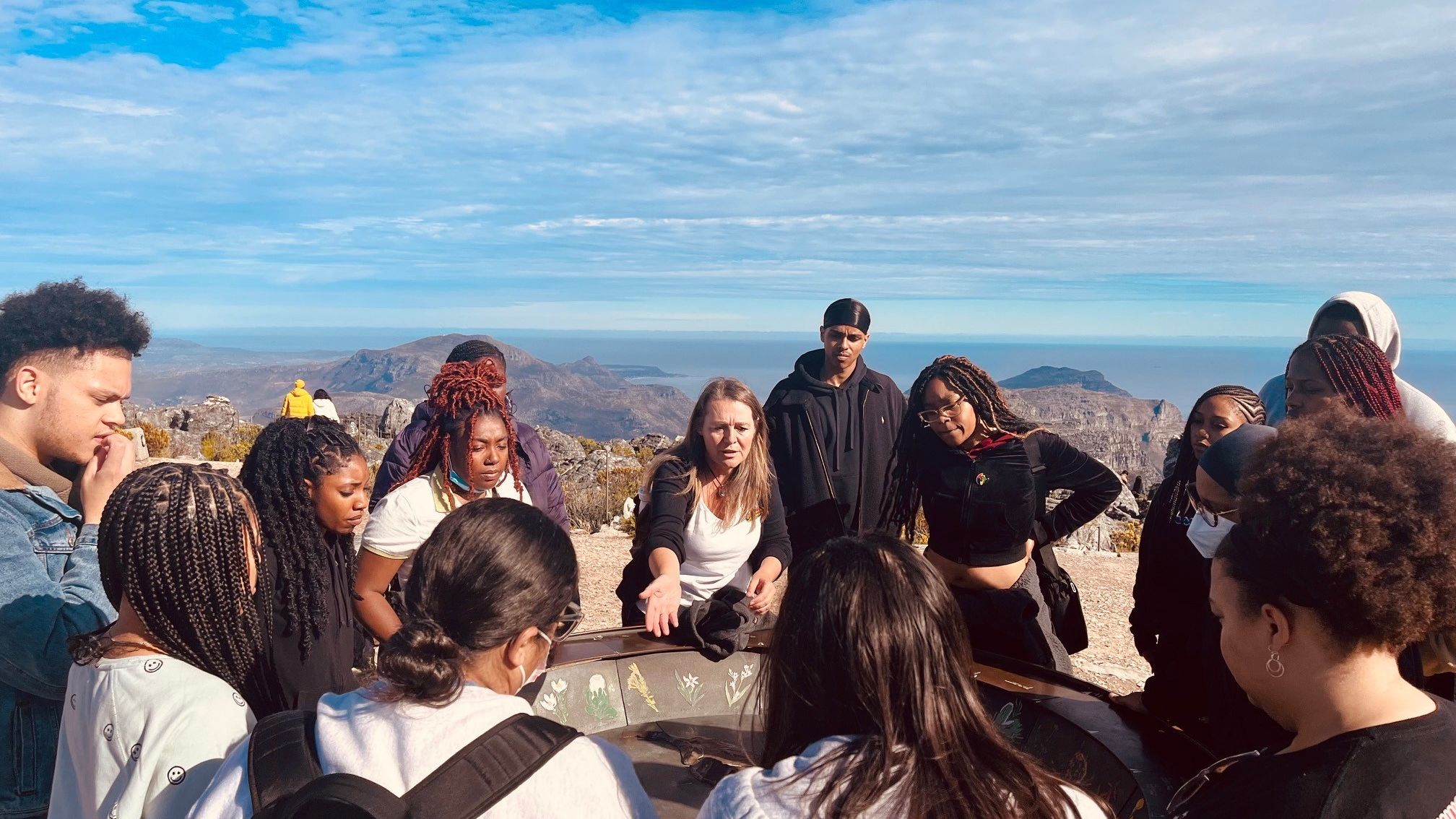 Temple's Office of Institutional Diversity, Equity, Advocacy and Leadership (IDEAL) has partnered with International Student Affairs to offer Global Experiential Learning (Global X): South Africa. 
When developing the program, Tiffenia Archie, IDEAL associate vice president and chief inclusion officer; Leah Hetzell, director of international student affairs; and Nu'Rodney Prad, director of student engagement, wanted to create a different kind of study away program focused on more than service—they wanted to provide an opportunity for students to dive deep into a culture in order to learn more about themselves and the world. 
"We wanted to create something that was not just a one and done approach, we wanted something that got students thinking about things more holistically," said Prad. 
The inaugural Global X South Africa trip occurred in 2019. After being put on hold for two years due to the COVID-19 pandemic, Temple's Global X: South Africa trip returned this year. In May, a group of 13 students and three facilitators went to Cape Town and Johannesburg, South Africa. 
Global X: South Africa is an immersive experience focused on social justice. Students study systems of power, privilege and oppression and compare them to those in the United States. The trip is only 10 days but the program takes one and a half years to complete. Students apply and go through the pre-departure work in the fall, travel in the spring and begin their impact project when they return to campus for the subsequent fall semester.
Students from all majors as well as undergraduate and graduate students can attend. The diversity of program participants is part of what makes the trip so powerful, due to the broad range of experiences and perspectives. The Global X: South Africa trip is so unique that facilitators will be presenting about it at The National Conference on Race and Ethnicity.
Hetzell explained that the trip is about global citizenship, seeing yourself as a student of the world and discovering what that responsibility looks like once you come home. It's about asking, 'How do you get involved in your community?' and 'How do you show up for yourself and others?' According to Hetzell, the post-trip work is about asking, "how are you going to maintain the transformational change you have gone through and put that into practice in your life?"
Global X: South Africa strives to help students think about and understand their place in society and to grow in learning about who they really are. Students learn to dialogue about current systems surrounding race and racial ideology and to feel comfortable having productive discourse with others that can help foster social change. Once students can show up as their authentic selves they will become more inclusive leaders who advocate for others and stimulate positive change within society.
 
South Africa was chosen because of its parallels with the United States and the opportunity it provides for students to examine their own identity through a social justice lens. The program highlights the connections between historic and contemporary racial injustice in those countries, particularly with regard to gentrification. "South Africa became an interesting location to make comparisons between apartheid and Jim Crow," Archie noted.
Africology and African American studies major Greg Maddox, CLA '22, explained that he wanted to go to South Africa so that he could "dive deeper into who I am and where I exist in the world as a Black gay man in 2022. I applied because I was looking for answers and for perspective."
Political science major Gabriela Ariel Auguste, Class of 2023, feels transformed by the trip and is still trying to find ways to express this to her family and friends. "This change that I feel isn't just me, we are all feeling it. I have never felt closer to a group of people than I have here." 
Auguste discussed how much she learned in South Africa and how she felt blinded in some ways because of the lack of education she had on so many important topics. "We don't talk about South Africa and about apartheid, it's just not talked about in our history. I'm thinking about how the next generation will combat this if they can't even talk about difficult things?"" August asked. "How are they going to do that if they aren't allowed to go into the classroom and have authentic conversations? It's not 'what are they not teaching us', it's 'why are they not teaching this and how will that impact us in the future?'"
Sociology major Nasia McNeill, Class of 2023, said, "It's allowed me to be grateful for the schooling that I have and provided the spark for me to show up differently. I realized that you can dismantle racism and systemic oppression through the work that you love to do. I have never learned and experienced so much about myself in a span of 10 days."
McNeill discussed what she learned about leadership through the Zulu phrase 'Ubuntu,' which means 'I am because we are.' She used to try to do things on her own but after going to South Africa she has begun to understand the power in community and in working together. McNeill said, "Leadership isn't really done by one person. Nelson Mandela wasn't the only person that fixed apartheid, it was the people as well. It's really important to love on one another, to be positive and try to honor each other's differences."

- Lauri Kochis