From business school to a Big 4 firm: Temple senior lands job at PricewaterhouseCoopers
Randy Hinh, Class of 2023, was propelled into leadership positions at Temple thanks to mentorship from juniors and seniors. He is now ready to begin his career at one of the country's largest accounting firms after leveraging the connections and experiences he gained at the Fox School of Business.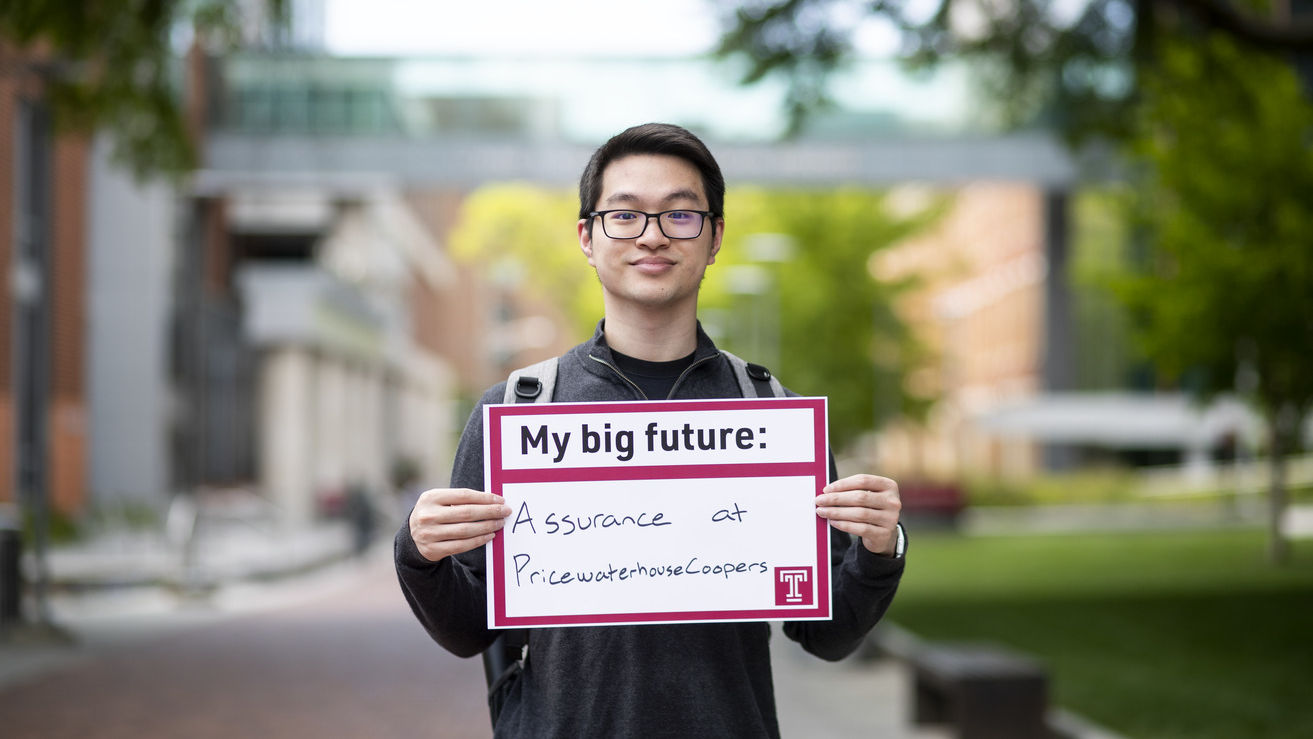 Name: Randy Hinh
Degree: BBA, Accounting with a finance minor
College: Fox School of Business
Hometown: Telford, Pennsylvania
Graduation year: 2023
Big Future: Assurance at PricewaterhouseCoopers.
Why Temple: Randy Hinh, FOX '23, wanted to attend a large, public university, so Temple was always on his list. But it only took one visit to Main Campus for Randy to fall in love with its vibe. He visited on a Friday afternoon, and he still remembers being drawn to campus' casual feel as he watched students move from class to class. He was also enticed by Temple's many professional organizations and student clubs, and he came to Temple looking to get involved in as many as he could.
Standout internship: Randy landed an internship at PricewaterhouseCoopers the summer before his senior year. That opportunity was Randy's introduction to the assurance role he will be working full time after graduation. It was also his introduction to the private markets sector. He was immediately captivated by the sector due to the close connections he formed with his clients at PricewaterhouseCoopers. He credits being involved with two student professional organizations, Ascend and the Fox Accounting Association, for helping him connect with a recruiter and land the internship.
Philly life: Randy discovered his passion for art after taking an art history GenEd course his first year. This led him to explore the city's numerous art museums, seeking out new pieces and collections every season. In addition to the renowned Philadelphia Museum of Art and Barnes Foundation, Randy also enjoyed visiting museums associated with affinity groups, such as the Asian Arts Initiative and African American Museum in Philadelphia.
Temple Made moment: Randy's transformative moment came during his first year when he received encouragement and mentorship from Fox juniors and seniors. He was particularly motivated by one student, a senior named Joel Castillo Jr. Joel, a full-time student who was also raising a family and working a full-time job, would sign up for every event and career development opportunity available. The two formed a close bond, and Joel's drive and belief in Randy pushed him to become more involved. The summer between his first and sophomore year, Randy went from being a member of Ascend, the Fox Accounting Association and the Dean's Student Advisory Council, to serving on the board of all three.
Hootable: "I was lucky to learn from older students, and that inspired me to step into their roles when it was my time. They showed they believed in me. They said, 'I think you should be the next one up.' That was an eye-opening experience for me."