Tyler's Creative Scholars Program accelerates art education for talented Philadelphia high school students
An ongoing exhibit at City Hall showcases young artists' work in animation, glassblowing and moving images.
The Restorative Wounds art exhibit on the third and fourth floors of Philadelphia's City Hall features intricate glass sculptures, moving short films and spirited animations. And they're all made by Philadelphia high school students from Tyler School of Art and Architecture's Creative Scholars Program.

The course offers sophomores, juniors and seniors at Philadelphia public and charter high schools a chance to take their budding artistic skills to the next level. The course is offered free of charge to participating students, who are chosen based on creative accomplishment and financial need.

Thirty-five students participated in the Creative Scholars Program this academic year, which is double the number who participated in its inaugural class in fall 2021. The students spent their Saturdays in the fall and spring semesters learning skills such as animation, glassblowing and filmmaking from Tyler instructors.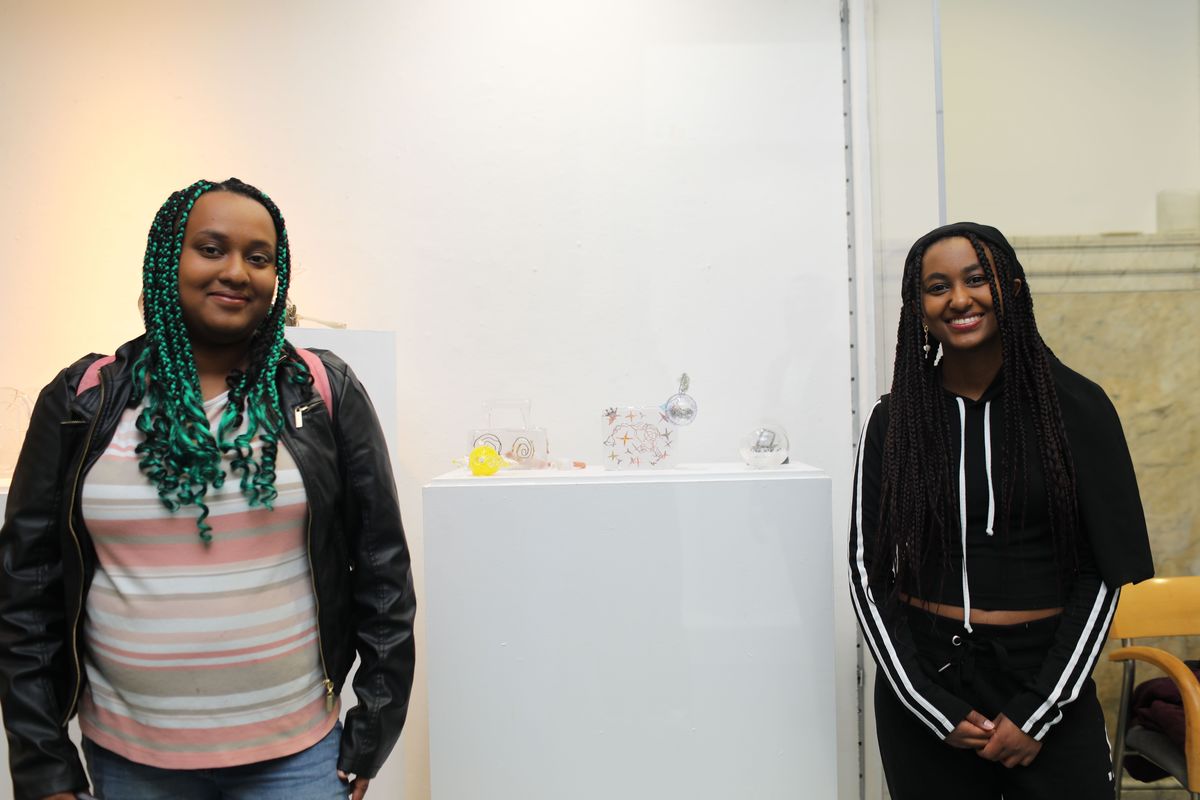 Bezawite Alemu (right), a student at Preparatory Charter High School, and her sister with glassblown sculptures in the Restorative Wounds exhibit.


College readiness is also an important part of the curriculum, said Creative Scholars Program specialist Hazziza Qiyam Abdullah. "We help students with portfolio reviews so they're not nervous, and we guide them through the financial aid process. To see the students and their parents go from not considering art as a viable career path to embracing their talents when given the opportunity has been great," Abdullah said.

Several Creative Scholars students have gone on to enroll at Tyler and other art schools. "I hadn't really considered pursuing art after high school, but this made me realize that I was holding myself back from what I really wanted to do to please other people," said Jazzani Gerena, an 11th grader at Philadelphia High School for Girls. "My classes taught me to see beauty in things that I hadn't seen before. I started noticing the tiniest details around me. Everyone at Tyler was so supportive and accepting, and they made learning fun." Gerena is continuing to develop her portfolio with Abdullah's support over the summer.

Tu Huynh, program manager in Philadelphia's Office of Arts, Culture and the Creative Economy, selected the Creative Scholars application for the City Hall spring exhibit, which is open to the public through July 15.

"The Creative Scholars Program is incredible," Huynh said. "It's an opportunity for Philadelphia's high school students to gain access to higher education and the arts, and it's completely free! We have so much talent right here in Philadelphia, so why not use our resources to uplift our students? I'm so proud that Temple has this type of program."

When choosing exhibits to feature in the hallway just outside City Council Chambers, Huynh said he looks for unique proposals that include and inspire as many Philadelphians as possible, and spark conversations about the city's hopes, aspirations and values. "This building is supposed to stand for all of us," Huynh said. "These students' voices are important, and they need to be represented."

Huynh said that when high school teachers identify promising art students, they should have more programs like Creative Scholars available to help develop their talents. "We talk a lot about supporting the arts in Philadelphia by nurturing homegrown talent, and the Creative Scholars Program is doing just that," said Huynh. "This is how you plant seeds and build capacity for the arts."




Patrick Nestor from Haverford High School with glassblown sculptures in the Restorative Wounds exhibit.


Patrick Nestor, an 11th grader at Haverford High School, attended the Restorative Wounds opening reception last month. Several of Nestor's works are on display, including a collaborative video piece he worked on with his cohort. "It was so inspiring to see all of our artwork displayed at City Hall," Nestor said. "I brought my whole family to the opening, and they were so proud of me." Nestor will participate in Temple's Pre-College Program on campus this summer, and he plans to focus on fashion design in college.

The Jacques and Natasha Gelman Foundation, which supports emerging visual artists and the arts across the U.S., provided a grant to fund the program at Tyler. It covers the cost of the students' classes, field trips to museums and workshops, plus professional art kits, meals and free SEPTA passes. "These are very dedicated students, and some of them take multiple trains to get to Tyler. We want to make it as easy as possible for them to participate," Abdullah said.

Applications for the 2023–2024 Creative Scholars Program are currently open, and close Aug. 11, 2023. High school teachers and guidance counselors can recommend up to six students for the program, which begins Oct. 7, 2023. Applications must include a teacher or counselor's letter of support, a student letter of interest, and three to five work samples.

- Wendy Ramunno