Temple's diversity shines within the Class of 2027
For the fourth straight year, Temple welcomes a record percentage of students of color, with 57% of the Class of 2027 identifying as such. Temple also has seen record percentages in terms of Pell Grant recipients and first-generation students and has seen sizeable increases in the percentage of international and out-of-state students coming to North Broad Street.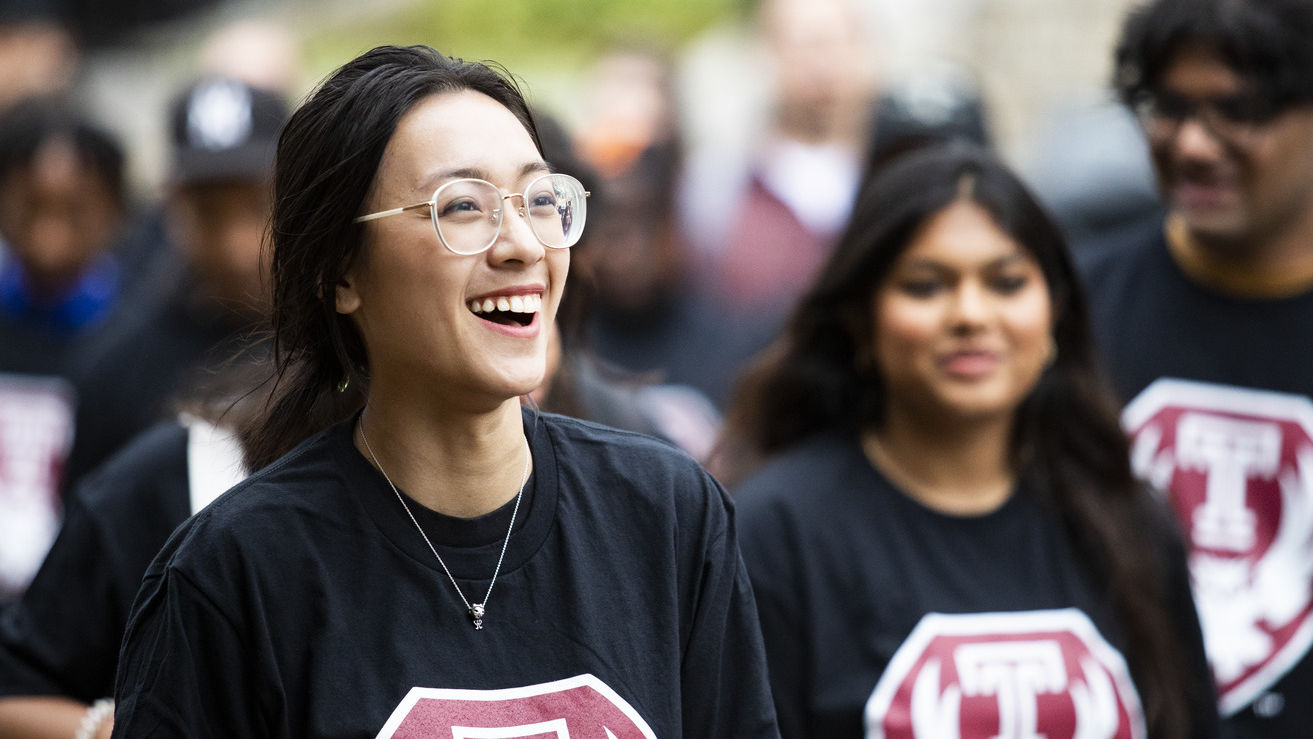 Earlier this fall, Temple University received its highest ranking ever (No. 89) in the latest edition of the Best Colleges U.S. News and World Report ranking of national universities. This came after U.S. News revised its methodology to focus more on outcome measures, including graduation rate performance and social mobility, areas where Temple has historically performed well.  
Temple's mission has always been rooted in access, and the university takes pride in its commitment to provide an environment where students of all of walks life enjoy a transformative educational experience. 
This point of pride is also reflected within Temple's Class of 2027. This year's class is the most diverse group in Temple's history, with 57% of the Class of 2027 identifying as students of color. It also includes a record percentage of Pell grant recipients and first-generation students. 
"Diversity is a hallmark of Temple University, and it's also a point of pride for our entire community," President Richard Englert said. "What we're most excited about is how our increasing diversity reflects the real world. We are seeing a historic rise in percentages among a number of key demographic groups, but we are also seeing increasing international diversity and a record number of out-of-state students enrolling at Temple. All in all, it really serves as an affirmation that Temple's access-driven mission remains as strong today as it was when Russell Conwell first founded this institution in 1884." 
This is now the fourth straight year that Temple has welcomed a record percentage of students of color, increasing to 57% this year compared to 51% in fall 2022, 45% in fall 2021 and 42% in fall 2020. 
A total of 22.4% of Temple's Class of 2027 are Black students with 851 enrolled, and 11.3% are Hispanic/Latinx/Latine students with 430 enrolled. Additionally, the class is 17.8% Asian/Pacific Islander with 677 students enrolled. 
Temple's commitment to the Philadelphia region also remains very strong. A total of 17.2% of the first-year class is from the city of Philadelphia, up from 15.3% in 2022–2023, 14.7% in 2021–2022 and 14.6% in 2020–2021. Combined with the bordering Pennsylvania counties of Bucks, Chester, Delaware and Montgomery, 45.2% of the Class of 2027 hails from the greater Philadelphia metropolitan area. 
While more and more young Philadelphians are choosing to stay close to home, an increasing number of students are also choosing to make Philadelphia their new home. The Class of 2027 arrives on campus from all across the world. A total of 155 students come from 65 countries outside the U.S., which represents a 21% increase in international diversity over last year's class. Out-of-state students make up more than 40% of the incoming class. 
From a socioeconomic standpoint, the class is also among the most diverse to ever enroll at Temple. The Class of 2027 includes more than 1,450 Pell grant recipients, 38% in total, which is the highest percentage ever recorded in a first-year class. The group also includes 39% first-generation students, up from 34% last year.  
"We are immensely proud to welcome this new group of talented students here to Temple University," said Jose Aviles, vice provost for enrollment management. "I, myself, was a first-generation college student, and part of what drew me here to Temple was my desire to help students gain access to a high-quality education. It is fulfilling and rewarding to know that Temple continues to serve as a pathway to success for so many young people." 
The Class of 2027 are also standouts in the classroom. The academically strong group boasts an average GPA of 3.38 and an average SAT score of 1280 for students who submitted test scores, which is up from 1273 last year. 
Nearly 500 students committed to joining the Temple Honors program and boast a mean high school GPA of 3.96. More than 50% of the new Honors students are students of color.