Coffee with a Cop event brings together Temple University community and police officers
The Temple University Department of Public Safety is working to bring the community together with police officers to discuss issues and find solutions.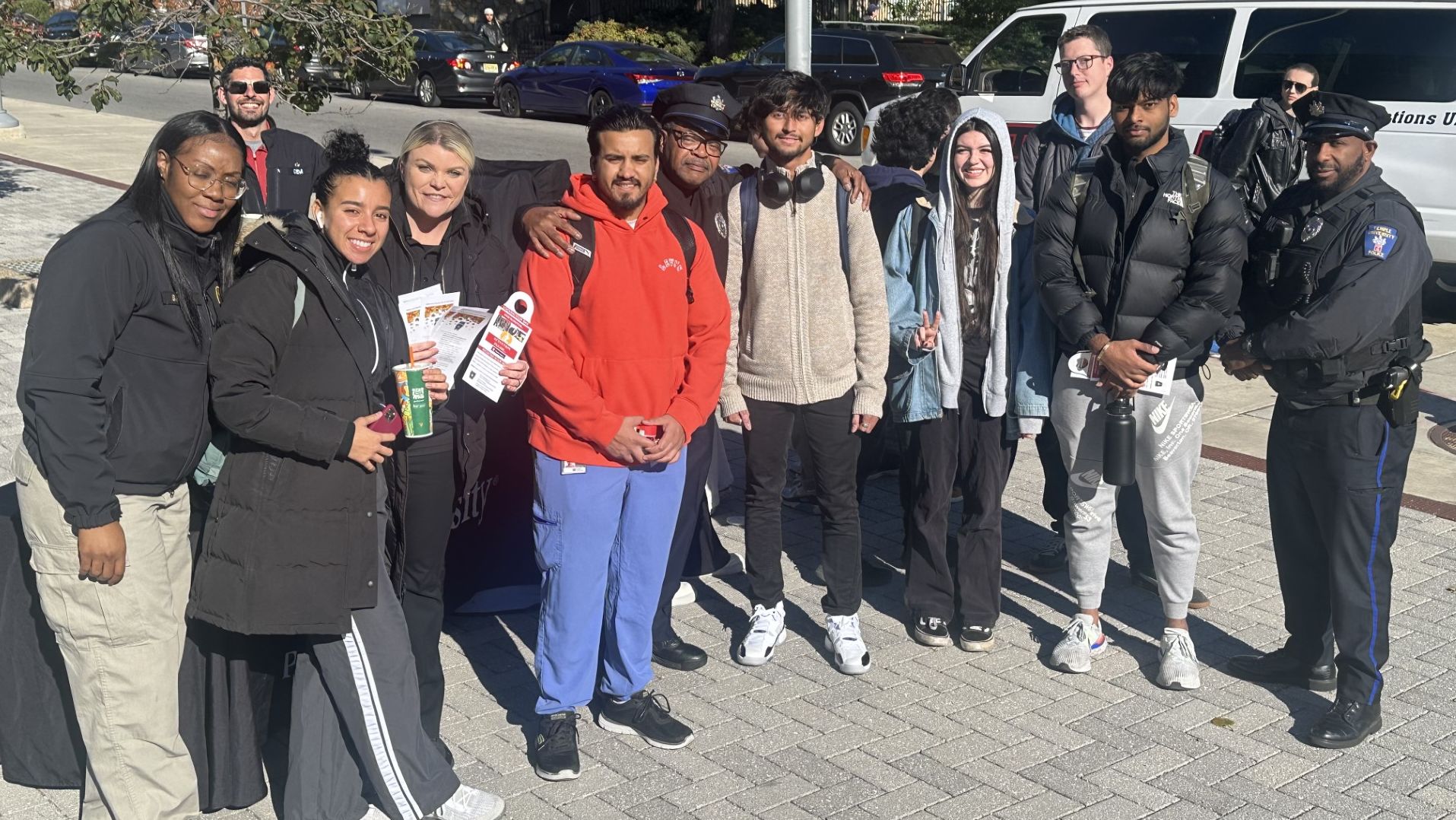 More than 1,000 students came by to grab free swag and ask questions to those who protect and serve the Temple community at Tuesday's Coffee with a Cop event, which was hosted by the Department of Public Safety (DPS).
Vice President for Public Safety Jennifer Griffin along with Temple police officers were at Alumni Circle at 13th Street and Polett Walk for an open conversation with the students, staff, faculty and community members.  
Griffin said the event aims to provide a welcoming environment for community members to meet officers and discuss issues.
"We want students to know that police officers are here for them and their safety," said Griffin. "There's a person behind the uniform and events like these allow for a personal interaction between our police officers and students." 
Lexi Moyer, a sophomore early education major, said the event was a great way to interact with Temple Police.
"I feel safe on campus, and it's reassuring to know that there are police officers here for us," Moyer said. 
Malory Wright, a sophomore speech pathology major, agreed.
"It's just really fun to interact with the officers. To know that they're here for us, it makes a difference," she said.
Temple Police Officer Leory Wimberly helped staff a table filled with giveaways like highlighters and pens, plus cookies, hot chocolate, cider and more.
"Events like Coffee with a Cop allow police officers to engage with our students on an up-close and personal level. It's a great feeling to build a connection with them," Wimberly said. "They get to see the officers as real people."
The event is among dozens organized by DPS each semester to better engage with students, as well as the Temple community at large. On Wednesday, Griffin met with student-athletes and discussed safety resources. Earlier this semester, DPS held multiple Welcome Wagons and personal-defense sessions. DPS also hosts regular meetings with Temple Student Government, and The Temple News and recently created a Student Safety Advisory Committee that meets monthly to discuss issues and find solutions directly with students. 
The department has also beefed up its social media presence and is working to connect with its entire community by interviewing staff, often asking them why they are #ProudTUserve the Temple community. 
"Temple police officers, detectives, dispatchers, security officers and all DPS staff are working to strengthen the bridge between students and the community. It's a rewarding feeling, but the work never stops," said Griffin. "We want students and faculty to know they can always engage and communicate with us, whether in-person or over social media, and if they need help, they can call Temple Police directly at 215-204-1234."