Intern adventures: A look at one Owl's experience working in global energy sales
Senior Jackie Neckers spent the summer in Houston, where she interned with Macquarie Group's energy corporate sales team.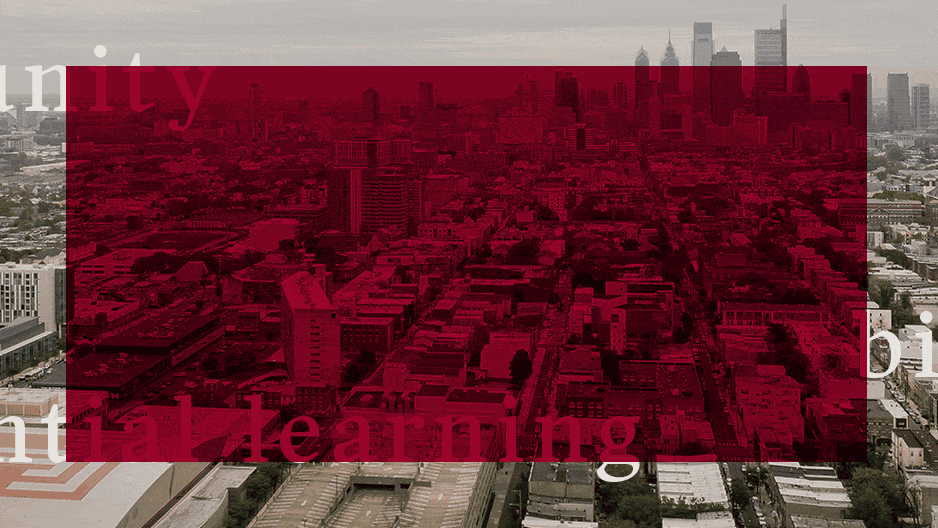 Temple Owl Jackie Neckers, Class of 2024, has been hard at work this summer interning with Macquarie Group in Houston, Texas.  
A finance major from Milford, Pennsylvania, Jackie discovered her interest in global energy markets through her participation in the Owl Fund, a student-run investment fund housed in the Fox School of Business. That passion helped her land an internship on Macquarie's energy corporate sales team. From conducting market research on energy commodities to proposing new investment strategies, Jackie has immersed herself in the global energy industry that she aspires to work in one day. 
Now we'll hand it over to Jackie to give us an inside look at her internship with Macquarie Group.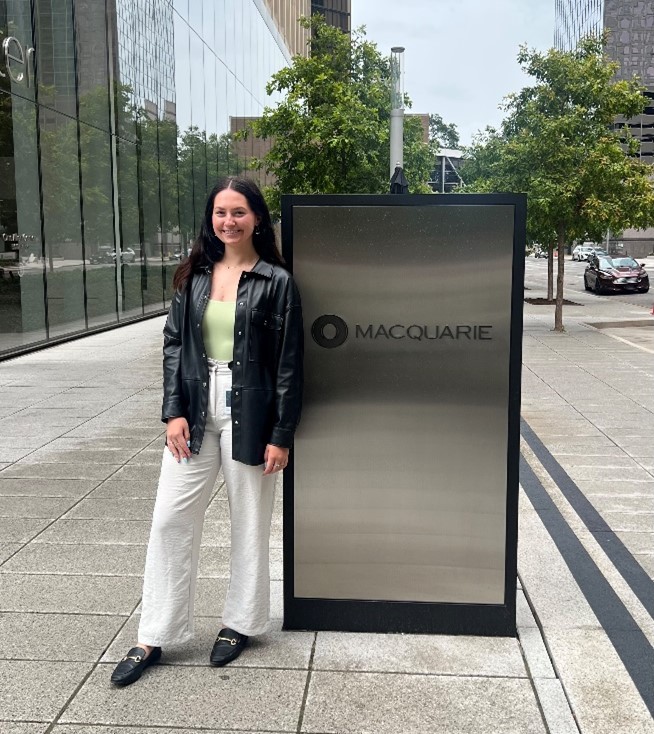 This summer I interned in Houston, with Macquarie Group, a global financial services company. I joined the commodities and global markets business within its energy corporate sales team. This team provides capital and financing, risk management and physical execution of trades across the commodities market—from oil and gas to agriculture and emissions. If you've ever thought about how the gas being pumped into your car gets to gas stations or how oil for jet fuel arrives at refineries, an energy sales team like ours is involved. Clients also partner with Macquarie if they are looking to hedge or lock in a guaranteed price for a commodity for a specific date in the future to protect against changing prices or unforeseen market conditions.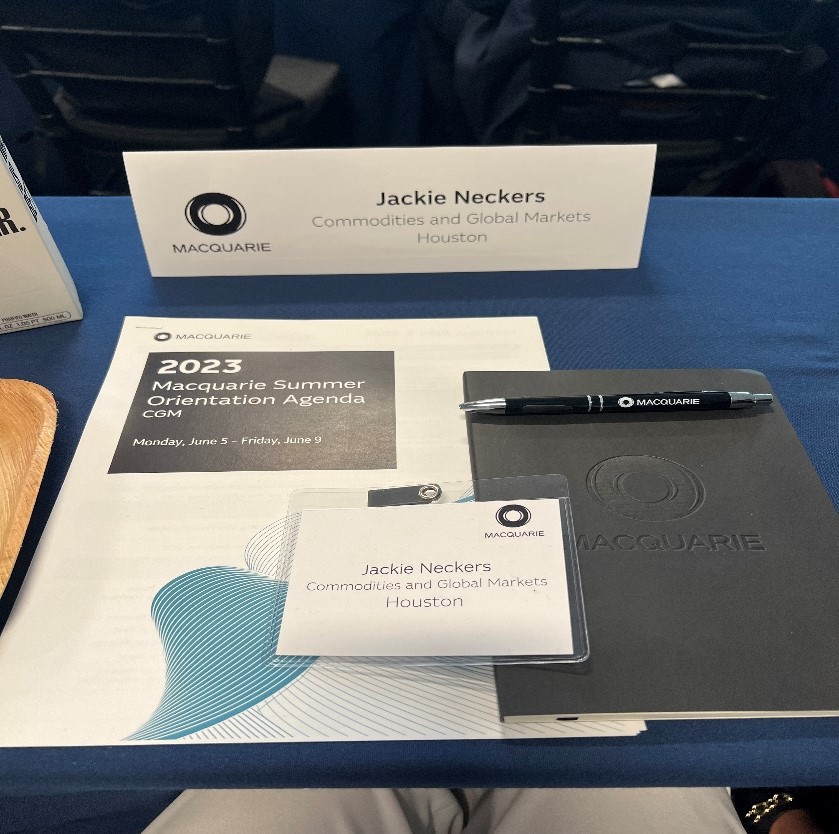 My first week of training was in New York City at Macquarie's Americas regional headquarters with a cohort of 110 interns from around the region. While I was there, I got the opportunity to meet staff working throughout the company and listen to speakers share insights about Macquarie's businesses and what I could expect as a summer intern at Macquarie. The last two days of training were intensive. After finishing with a trading simulation, we started working with our teams. While in New York, I also got to explore the city and spend time with some of my friends who are also interning there.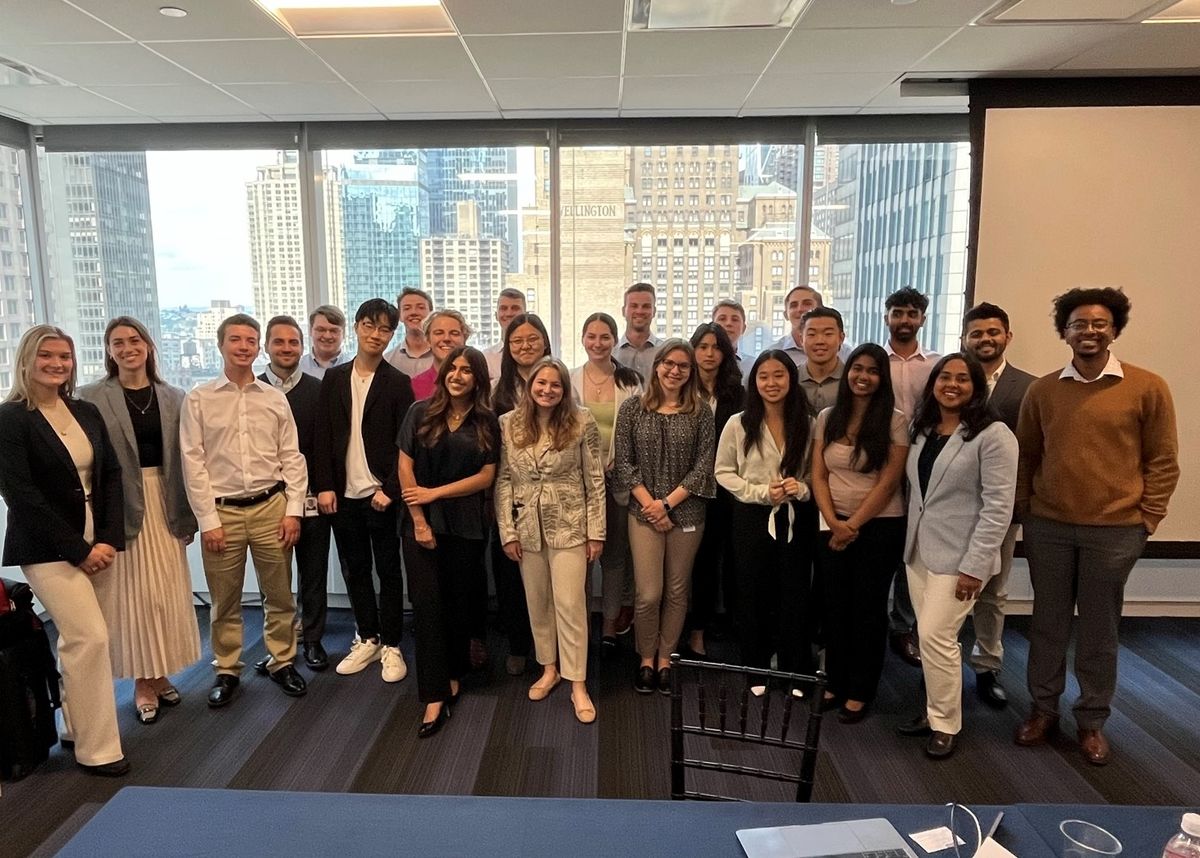 During the internship, I started every morning by writing a market update for the team. This was a brief summary of the stock market, economy, oil and gas movements, or anything pertaining to geopolitics that could affect clients or the trading day. I tried to get that done early before the markets opened so that everyone had an idea of what to expect for the day and what needed extra attention. Beyond that, every day for me was a little bit different. Sometimes I'd work on projects to present to my team to generate new ideas. Other times I'd gather information to help my team execute deals.
Some of the more memorable projects included conducting deep dives on different consumers, marine shippers and data centers to help me better understand a section of the business and how various companies operate. I also got to research renewable fuels and new clean energy products, which is something I'm really interested in learning more about. My final project was to pitch a hedging strategy to my team so that they could potentially incorporate it into a future deal. 
Sitting on the trading floor, there were endless opportunities for me to learn about what was going on around me. A couple times a week, I tried to meet with different people who were not on my direct team so that I could learn as much as possible during the internship. Among the people I met included foreign exchange traders, emissions traders, credit underwriters and gas schedulers. 
In addition to the work for my team, every week I usually had an event with my fellow interns. These varied from activities inside the office to community service opportunities outside the office. Specifically, we volunteered at the Houston Food Bank and Books Between Kids, a nonprofit that donates books to kids throughout the Houston area.
The internship also emphasized the importance of engaging with co-workers and building my network. This was demonstrated through internal events I was encouraged to attend such as lunches hosted by Macquarie's diversity, equity & inclusion team, discussions surrounding Juneteenth and events hosted by their employee network groups like Women @ Macquarie (W@M) and Black Employees @ Macquarie (BEAM). Each week also featured insight sessions where someone from a different team within Macquarie gave a presentation about their role. This was a great opportunity to learn about the other businesses within Macquarie, such as its asset management, corporate advisory and principal investing divisions.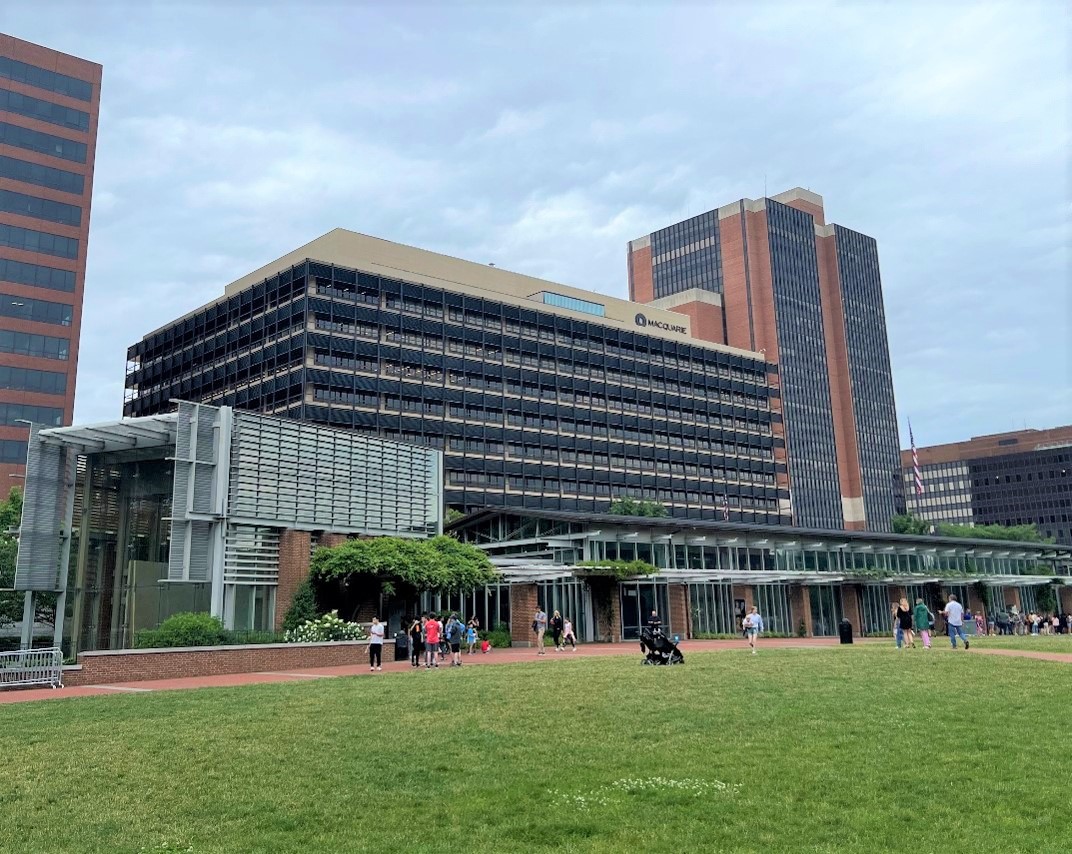 How did I get here? It starts with Temple. As a sophomore I got involved with the Owl Fund, which is Temple's student-run investment fund in Fox. I got the opportunity to cover commodities, which sparked my interest in global energy markets and sustainability. Last summer I interned for Macquarie Asset Management's public investments business in Philadelphia on its sustainable investing team. In that role, I worked with a mutual fund made up of companies that were significantly reducing their carbon emissions or helping others do so. I also aligned the actions of 100+ public companies across different industries to different sustainability initiatives, and I finished off that internship by pitching to my team a company to potentially add to the fund.  
I thought that having experience working directly in the energy markets would help me understand how energy flows throughout the world and how we can spearhead the energy transition. I'm very passionate about the global energy transition and sustainability, so this area of the business really piqued my interest when I discovered it. I love doing work that can create an impact, whether it involves the environment or people. For me, directly impacting those around me is what makes a job that much more meaningful.  
Looking for support finding an exciting internship experience like this one? Temple University's Career Center helps current students and alumni explore different career paths and prepare for their dream careers.