How to dive fearlessly—but wisely—into a brand-new career.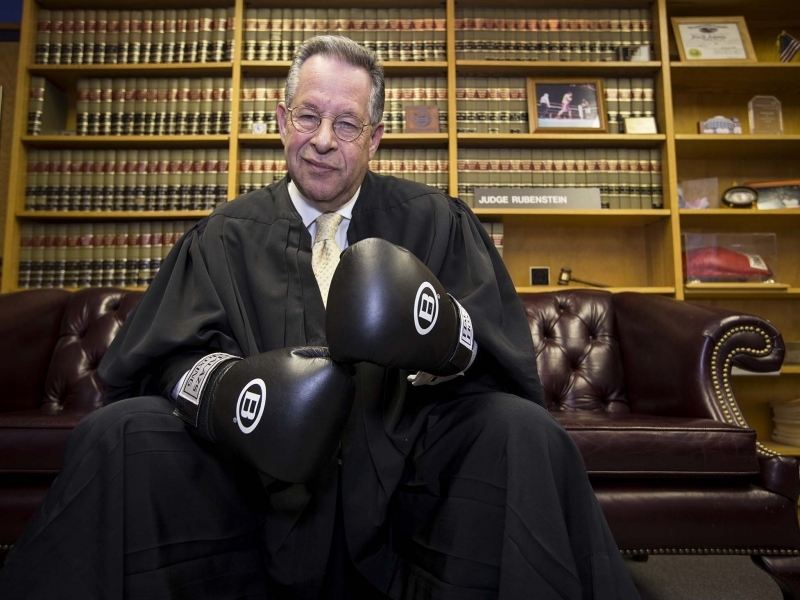 Story by Maria Raha
Photography by Joseph V. Labolito
Michael Flowers, LAW  '98, sat in a corporate law firm in Washington, D.C. Something simply did not feel right. Rather than trying cases in the courtroom as he had when he worked in the Manhattan district attorney´s office, most of his work now happened on paper.
It was 2005, and Flowers considered going to Iraq. "I went to a partner who had ties to the administration, and said, 'Do they need anybody over there?'" He soon had an interview with the Justice Department, during which Saddam Hussein's trial was brought up. "I threw myself at them," he says. "I said, 'Look, just pay me enough to cover my mortgage. I don't care what I do—I'll clean floors. That sounds absolutely fascinating.'"
Flowers arrived in Iraq as deputy director of the Department of Justice Regime Crimes Liaison's Office. "It was more of a logistician's job," he says. And the logistics list was long. From Fallujah to Kurdistan to Basrah and beyond, between 200 and 300 gravesites had to be exhumed properly for forensic evidence—and within the traditions of Iraqi culture. Witnesses needed to be transported safely in and out of the green zone in Baghdad. Prosecutors, judges and defense lawyers serving on Hussein´s trial required training and security—which meant building camps in which to hide them in the green-zone walls.
"It was an extremely high-stakes, stressful environment," Flowers says. "You're under the klieg lights of the international media while dealing with the horrific pressures of life-or-death situations. It certainly wasn't fun, but it was incredibly fulfilling."
After 20 months overseas, Flowers returned to the U.S. and hoped to find equally meaningful work. He began serving as counsel for the U.S. Senate Permanent Subcommittee on Investigations, which assessed fraud waste and abuse, and used data analytics to evaluate tax evasion. That work led to oversight of the city of New York's Financial Crime Task Force in 2009.
"It was an opportunity to see if we could leverage analytics on behalf of fraud and financial crime enforcement at the municipal level," he explains. "It ended up being used not only for fraud or crime, but also for pretty much any regulatory activity the city of New York undertakes." Today, Flowers is chief analytics officer of New York City. His current position is his sixth job change since graduating from the Beasley School of Law 15 years ago.
GO WITH YOUR GUT
Flowers has always allowed intellectual engagement to guide his career decisions. "I was always driven by whether or not the work interested me to the point that I could dive in passionately," he says. "If you're guided by what interests you and fascinates you, then the career change takes care of itself. You just have to be flexible enough and respect yourself enough to listen to that."
In other words, spend some time listening to your gut. Tina Vance Knight, associate director of the new Alumni Career Services program at Temple, believes that that kind of introspection and examination is extremely valuable when considering a dramatic professional change. "I strongly encourage people to take inventory of what they value in a career," she advises. "It can be anything from money to freedom to prestige—whatever they value and are not getting in their current role."
"It's a scary proposition, to chuck it all and go in a different direction."
-- Cherri Gregg, SMC '12, community-affairs reporter, KYW Newsradio
GATHER INFORMATION
While Flowers was homing in on financial criminals in 2008, Cherri Gregg, SMC  '12, sensed that her passion for commercial litigation law was waning. She had studied media as an undergraduate student, and decided to leave the law for journalism. "I went to my boss's office probably a dozen times to quit, but I would punk out," she says. "I thought, 'Am I really going to quit and make no money?'" After beginning the journalism program at Temple in fall 2009, Gregg finally tendered her resignation Nov. 30 of that year.
"My boss laughed," Gregg says. "I said, 'I'm quitting—I'm going to be a reporter.' He was like, 'In this economy, Cherri? Really?' Everyone thought I was crazy."
But Gregg pushed on. After earning her master of journalism degree in 2012, and having freelanced for KYW Newsradio in Philadelphia since 2010, she joined the staff full time in 2011. Gregg was appointed community-affairs reporter in 2012. She prides herself on her extensive and lauded coverage of the voter-ID law in Pennsylvania, which would have required state-approved identification for all voters in the November 2012 general election. (Eventually, the law was postponed until 2013.)
To go from reading briefs to reading the news, Gregg turned to a method Vance Knight says many people overlook: informational interviews. For example, when Gregg began thinking seriously about going back to school, she contacted Temple Professor of Journalism Edward Trayes. "He answered a lot of questions, and all my calls and emails, and met with me several times," she recalls. "It's a scary proposition, to chuck it all and go in a different direction." But after her first few courses in the master's program, Gregg knew it was the right move for her.
"Everyone should conduct informational interviews with people who are doing the work you think you want to do," Vance Knight says. "LinkedIn is a powerful tool that allows people to do that." She adds that doing as much research and reading as you can about the field in which you are interested allows you to make a more educated leap.
AUDITION THE JOB
Hands-on experience can maximize that research even further. "Do some career tryouts," Vance Knight says. "Live it, taste it; know if it's really for you."
Take financial analyst-cum-restaurateur Justin Rosenberg, FOX  '09. He knew his transition was less of a leap, and more of a swan dive over Niagara Falls. For five years at PREIT (Pennsylvania Real Estate Investment Trust), he rose through the company's financial ranks, earned his MBA while working and started thinking about opening a restaurant.
"When I got my MBA, I could have worked on Wall Street, which would have been really cool, or I could have done what I'm really passionate about," he explains. "I thought, 'Am I really going to do this?' And I said, 'I'd rather spend my life doing something I'm passionate about, like local food, design and building a business.'"
Rosenberg needed to learn the restaurant industry—all of it, and fast. He wrangled his way onto a kitchen prep line, traveled to Washington, D.C., and volunteered on Friday and Saturday nights.
Honing his restaurant skills took time. "You name it, I was yelled at for it," he says. "I screwed up everything, and eventually, it built some confidence in what I was doing. I loved it."
Rosenberg also began writing a restaurant business plan—a skill he learned at Temple. He talked to local restaurateurs about pricing and the pace of business. He also began meeting with potential investors during his lunch hours.
"Most people said, 'Kid, you have no experience.' I´d come home deflated. I went to 93 people who said no. The 94th said, 'This could make sense.'"
No. 94 was David Robkin, longtime advisor to restaurateur and fellow Owl Stephen Starr. (Starr is not affiliated with Rosenberg's business.) They also brought in a third partner, Brook Lenfest.
Rosenberg's legwork paid off when he launched Honeygrow, which serves healthful stir fries and salads made with organic ingredients that are "as local as possible" in a beautifully designed space. Rosenberg opened his first location—in Center City, at 16th and Sansom streets—in June 2012. He and his partners opened a second location in Bala Cynwyd earlier this year.
MEASURE YOUR INTEREST
Perhaps Alan Rubenstein, CLA '67, has struck on the best-case career scenario: Parlaying his professional skill into a world of which he is a longtime, avid fan. From the time he was a child, he has had two very clear-cut, divergent passions—boxing and the law. But as Vance Knight notes, hobbies do not always make great careers. "If you're doing this all day, every day, will you feel comfortable blending the personal and the professional?"
Rubenstein found a way around that dilemma. He grew up in Philadelphia, where even as a teenager, he attended as many trials as he could. "I would watch criminal cases and see some terrific lawyers," he says. "I'd say, 'Oh, they're so well dressed, they're so well spoken—boy, I'd love to do that.'"
Rubenstein is now a judge in the Court of Common Pleas of Bucks County. Throughout his career, he has served as Philadelphia's chief of homicide, and as district attorney from 1986 to 2000, among many other DA-related posts.
Rubenstein's chambers are filled with awards and honors from his extremely successful legal career. Signs of his other longtime passion sit between the plaques, framed letters and newspaper clippings about his legal victories: a picture of Rubenstein and Muhammad Ali; bright red boxing gloves signed by Joe Frazier; a photo of Rubenstein and George Foreman.
Rubenstein started watching boxing matches with his grandfather when he was 6 years old—mainly to stay up past his bedtime.
"I remember the actual fight that piqued my interest—Carmen Basilio knocked out Johnny Saxton for the welterweight championship," he recalls. "And it was brutal and bloody and gut wrenching."
Many years later, after arguing a case in Center City in 1995, he ran into a colleague. "He said, 'Listen, I'd love to talk to you, but I have to run up to the Blue Horizon on North Broad Street,'" Rubenstein remembers. "'I'm judging a fight.' I said, 'You're a fight judge? How did you do it?' He said, 'I applied, took the test and was licensed.'" The next day, Rubenstein called to take the test.
Now, once a month, Rubenstein is a judge of a different kind. When he hangs up his robe and locks up his chambers, he heads to a boxing arena in Pennsylvania, New Jersey or New York. Since becoming a judge in 1996, Rubenstein has officiated at nearly 400 matches and has been named "Boxing Judge of the Year" four times, in 2002, 2010, 2011 and 2012.
Though he can bring his judicial impartiality to the ring easily, he underscores one big difference between his pre- and post-boxing judge life. "About once a month, I go to my cleaners and say to her, 'There's a bloodstain here.' She probably says, 'What does this guy do for a living? He looks old for a hit man, but he always has blood on his suit.'"
TAKE STOCK OF YOUR SKILL SET
Vance Knight says a major part of changing professions is closely examining your transferrable skills. "Every employer seeks good communication skills, the ability to work with diverse groups of people, and the capacity to be analytical," she says. Similar to test-driving a career, having a deeper understanding of your skill set boosts your confidence.
Kevin Moore, TFM '93, knew at a young age in what field he would end up, but he did not know how valuable his acting skills would be to his later career in nursing.
"When I was 13, I told my mother I wanted to be a nurse, and she said, 'Absolutely not,'" he remembers. "Back then, it was a pretty gender-specific role."
Around the same time he made that declaration, he started acting, and eventually majored in theater at Temple. "I love the process of creating," he says. "I love to sing. I performed in Godspell in my senior year of high school and thought, 'This is what I want to do.'"
When he moved to New York City from Seattle in the early 2000s, he worked with the Bats at the Flea Theater in Tribeca, where his acting career flourished. "I performed in Jabu by Liz Swados—a well-known musical-theater writer, director and choreographer—and Mrs. Farnsworth by A.R. Gurney," he says. "I was an understudy in a show with Sigourney Weaver and John Lithgow." Moore also acted with Candice Bergen and others, and performed in commercials and on television. Nevertheless, the thought of nurturing an acting career exhausted him.
"I'd look at people who are famous, and I'd think about what they had to do to get there and sustain that, and it wasn't that appealing," he explains.
So Moore embarked on some soul searching. "I started to meditate, and realized I needed to be of service," he says. "In the shower one morning, it just hit me. I called friends of mine who were nurses. They told me to volunteer, to spend some time in the environment and see if I liked it. I volunteered at a hospice and fell in love with it."
Moore enrolled in the University of Medicine and Dentistry of New Jersey, graduated in 2012, and was hired by Jersey City Medical Center the day after passing his nursing exam. Surprisingly, his background in acting helps him understand his patients' needs.
"As an actor, you're taught to trust your instinct, to respect the energy on stage or in the atmosphere of creation," he explains. "If you're acting excellently, you're responding to what someone is giving you—you're listening. With regard to nursing, it's walking into a room, knowing your instincts, and knowing when someone wants to talk and when they don't."
Though Flowers and Gregg both advise plunging into a new career—"Just do it," Gregg urges—Vance Knight encourages practicality and a methodical approach that includes a lot of self-examination. "You must be incredibly introspective to determine whether it is the right time to make a career change," she says. "You have to factor in how that's going to affect your family and your lifestyle. If you have to go back to school, there's a cost associated with that.
Really go inward and do a thorough assessment." Either way you approach it, Gregg says, "If you've found your purpose, you're doing yourself a disservice if you keep doing something that you know is not it."
To attend a panel discussion later this fall with alumni who have made similar life changes, visit alumni.temple.edu.