As individuals and as a class, new Owls settle on campus
Temple's impressive Class of 2021 was officially welcomed to the university Aug. 25.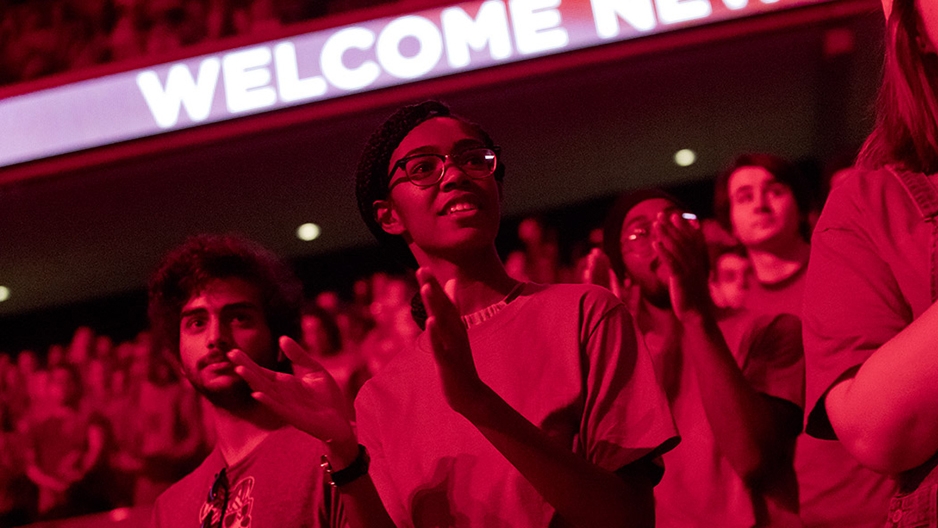 Born and raised in Hong Kong, Jessie Leung said it didn't take very much time in the United States to realize what she wanted—and what she didn't want—in a college experience.
"It was too grassy," Leung recalled of her studies at a preparatory school in New Hampshire.
So when Leung started her college search, her criteria were clear: She wanted a school in an urban environment, that was on the East Coast and that offered a music therapy major. And an affordable one, too.
On Friday, Leung settled into her new community (a "diverse" one, she observed) at the one place she felt presented her with it all: Temple.
Many of the new Owls—more than 5,000 freshmen and 2,400 transfer students—officially welcomed to the university during Convocation Friday offered similar, yet unique, takes on what brought them to North Philadelphia.
Megan Ross, a bioengineering major from Rochester, New York, longed for a quality school in a city that also offered fencing. She "fell in love with the vibe" at Temple.
Pre-med biochemistry major Adam Mangold from Toms River, New Jersey, said he "felt comfortable" on Main Campus and appreciated that Temple has a "great medical school."
Ahmir Willis, a sport and recreation management major from Philadelphia's Mount Airy neighborhood, said he had confidence in the university because several cousins and his brother attended.
Immediately, all the students at Convocation had one thing in common: Together they constituted one impressive new class.
The Class of 2021, which drew from more than 30,100 applications, had an average high school GPA of 3.55, according to the most recently available data. Temple Honors admitted 420 freshmen.
The class represents 42 states and the District of Columbia. They hail from 47 countries, traveling from as far as Indonesia. The youngest member of the class is 16; the oldest, 28 (and one transfer student welcomed to the university is 66).
Video Production:
Gina Benigno & Louis Peluyera
It's those facts that make the class special and all its own, Temple leaders noted during Convocation.
"I see an amazing group of men and women," President Richard M. Englert told the crowd at the Liacouras Center.
Provost JoAnne A. Epps urged the students to challenge themselves, to meet new people, to explore the North Philadelphia community and to learn new ideas.
"As of today, a part of your soul will always have a home on North Broad Street," Epps said.
That seemed already apparent for Dillsburg, Pennsylvania, native Madison Seitchik, who chose Temple because she wanted "to go to the best of the best" to pursue broadcasting—a dream she's held since age 9.
At a post-Convocation barbecue, as the Diamond Marching Band wrapped up its performance in Founder's Garden and hordes of new students collected lunch boxes and scattered in all directions, Seitchik, a media studies and production major, stood in the heart of a bustling campus and took in her surroundings.
The place, she said, "just felt like home."