Temple students to complete passenger survey for the Philadelphia International Airport
The project is being led by the School of Sport, Tourism and Hospitality Management's U.S.-Asia Center for Tourism and Hospitality Research, and it will be used to inform the airport in its delivery of high-quality passenger experiences.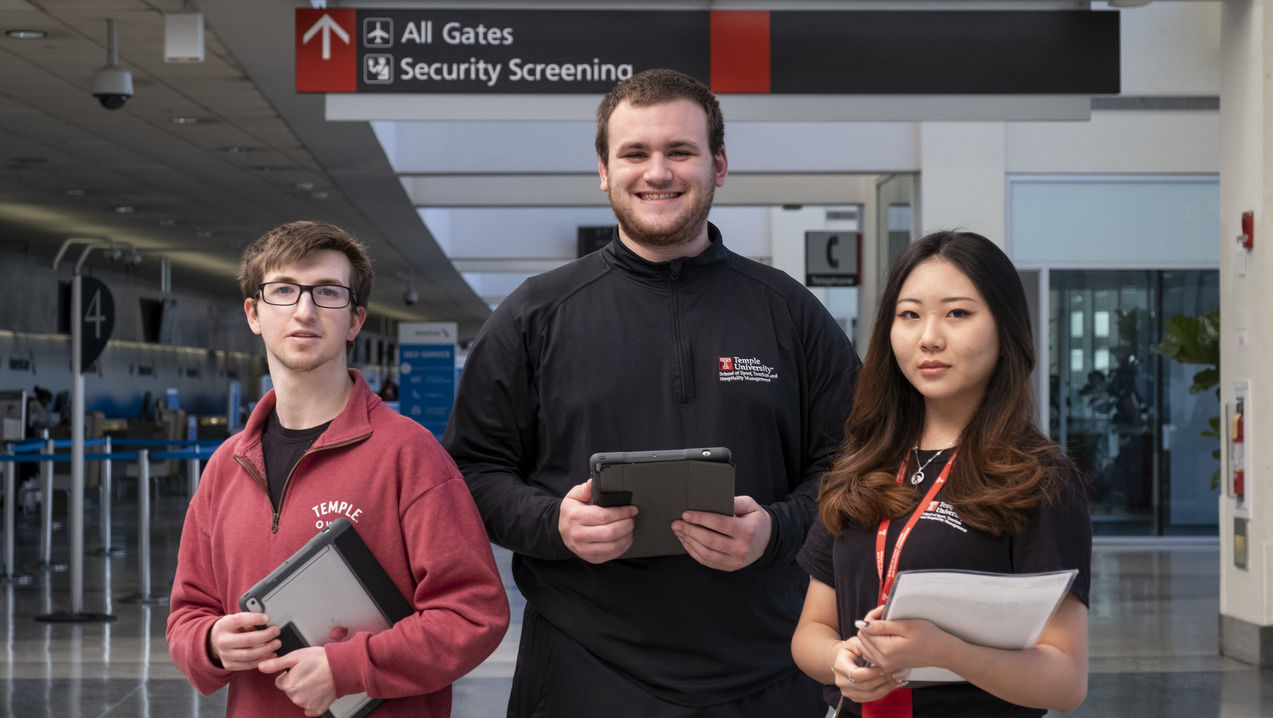 As America still navigates through an uncertain post-pandemic world, one thing is very clear: Airports are busy again. 
In 2021, air travel reached its pre-pandemic normal, and that's only the start. According to the International Air Transport Association, which represents nearly 300 airlines, 150% as many passengers are expected to fly this year as did last year. The World Travel & Tourism Council also projects that travel and tourism in the United States will reach pre-pandemic levels in 2022, contributing nearly $2 trillion to the U.S. economy.
For commercial airports, this presents opportunity, but it also comes with challenges. It could be argued that the American public has never been more eager to travel, and that brings with it passenger expectations. Meeting expectations is easier than done, but that's where Temple University and students from its School of Sport, Tourism and Hospitality Management (STHM) can help.
STHM's U.S.-Asia Center for Tourism and Hospitality Research has recently started a student-focused research project designed to gather data/information about passengers' experiences as they utilize the Philadelphia International Airport (PHL).
"PHL selected STHM to conduct the yearlong project based on our expertise and strong dedication to the community, and the survey focuses on passengers' satisfaction, travel behavior, information usage, perceptions, needs and demographics," said Yang Yang, associate professor and executive director of the U.S.-Asia Center for Tourism and Hospitality Research.
As part of the project, Temple students go beyond security checkpoints, gaining access directly to the airport terminals where they collect data and information by administering passenger surveys via iPad. Each survey takes approximately 10 to 15 minutes to complete and by the end of the project, scheduled to run through May, the students hope to have more than 4,000 total responses. Questions are focused on everything from rating facilities at the airport to focusing on the passenger experience at PHL. 
Miles Baker, a junior tourism and hospitality management student, handles the coordination of student schedules and also oversees the training of new student surveyors. The scheduling process is key to the project as it is important to make sure that every terminal and airline is represented equally among the data set. That will ultimately ensure the project has the greatest impact with PHL stakeholders.
"After we receive all of this raw data, we will analyze it, and we will filter it," said Yelizaveta (Lisa) Li, a master of science in hospitality management student who is helping to lead the project. "We will then use the data to make a formal presentation that will be shared with leadership and key stakeholders at the airport."
The knowledge gathered through the survey will be used to assist PHL in its delivery of high-quality passenger experiences. The results will also help the airport retain strong relationships with its partners, and hopefully help it improve its financial performance.
Jonathan Macsay, a first-year student majoring in sport and recreation management, is hopeful about the project and its potential influence. While it is focused on Philadelphia, its findings could also be applicable to several other large-scale airports in the United States.
"We're doing this project with a local airport, but I think that there may be a global impact here, as well," Macsay said. "That means a lot for me to get involved with data and research this early in my time here at Temple."
This type of research is not easy. It requires students to get out of their comfort zones, interact directly with passengers and persuade them to take part in the survey.
Some passengers are more agreeable than others, but Baker has found a sound strategy to ensure he gets a good number of participants each time.
"If you go up to passengers at the bars, they have a pretty high response rate," Baker said with a smile. "So if I am struggling to find folks at the gates, that's always my approach."