Walking a mile in her shoes
Hundreds of male Temple students donned high heels and walked across campus to raise awareness of sexual and gender violence.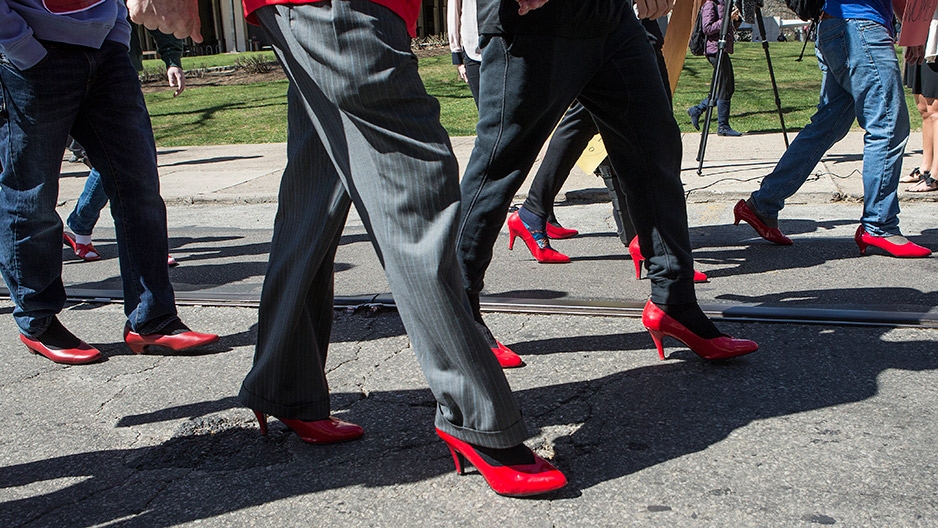 To develop empathy for someone, it's said you should walk a mile in their shoes. Hundreds of male Temple students did just that on Wednesday, March 30. Clad in cherry high heels, they participated in the university's fifth annual Walk a Mile in Her Shoes event, which took them on a mile-long trek across campus to raise awareness of gender and sexual violence.  
The walk has been hosted on Main Campus since 2012 and has increased in size every year, according to Tom Johnson, assistant director of the
Wellness Resource Center
. Last year the event drew around 260 participants—a record easily broken with this year's walk. "We had approximately 300 men walk in the event and more than 100 women volunteer," said Johnson.
This year's event focused on the warning signs of interpersonal violence and how bystanders can take meaningful action to help change the culture. Participants and volunteers were encouraged to distract or interrupt bad situations they might encounter and be direct by asking someone who looks like they may need help if they're okay.
"Sororities and women's sports teams created 'thank you' signs that described a time a bystander or a friend took an action on their behalf, so individuals could see examples of things they could do," said Johnson. Signs thanked bystanders for making gestures that included helping them get away from uncomfortable situations and walking them home.
Walk a Mile in Her Shoes is an international movement that aims to create a powerful experience through which to educate communities and individuals about the causes of sexualized violence while providing them with useful prevention strategies.