Decorating campus, T-shirts raise awareness about violence
The Clothesline Project returned to Main Campus Wednesday morning.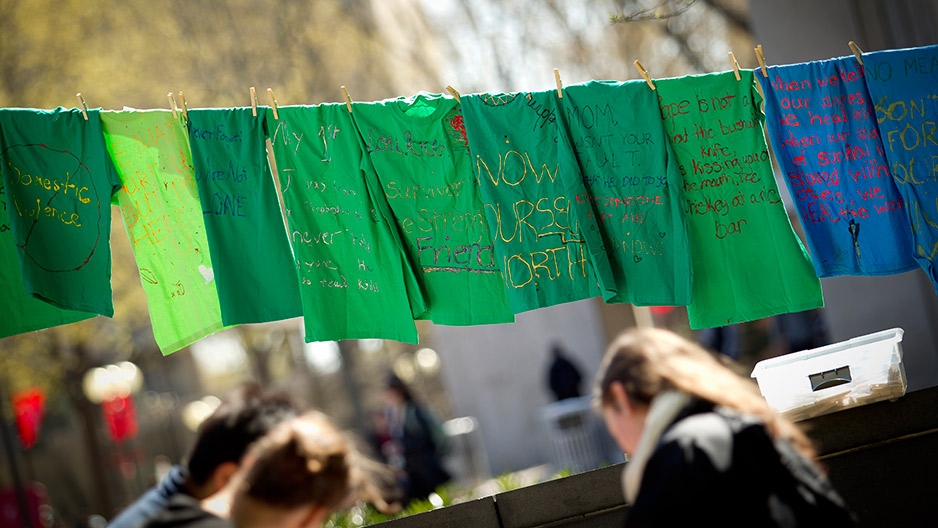 "Freedom is what you do with what's been done to you," a blue one declared.
A yellow one, draped near the bust of Russell Conwell, displayed a simple message in big letters: "You are not alone."
Such words of truth were splashed across nearly 150 T-shirts of assorted colors, each representing a different form of violence, that blew gently in the wind in Founder's Garden Wednesday morning for day one of the two-day Clothesline Project on Main Campus.
Hosted by the Wellness Resource Center each semester, the event takes a powerful stand of solidarity with victims of violence by prominently showcasing the student-made T-shirts—and giving passersby an opportunity to make their own. The spring event also coincides with Sexual Assault Awareness Month.
"It helps show the number of students that are affected by interpersonal violence and sexual assault," said Tom Johnson, assistant director of the Wellness Resource Center. "They've either been affected by it themselves, know someone who has been, or want to offer messages of support to survivors."
Benches in the garden were topped with bottles of fabric paint and plain shirts for students to partake in the event. Shirts made Wednesday and on Thursday, when the event continues from 10 a.m. to 2 p.m., will be included in the next event in October.
"It's very enlightening," said Molly Driscoll, a 22-year-old senior public health major who has worked with the Wellness Resource Center for two years. "These shirts represent real people on this campus that have been affected. It's not just statistics."
In addition to offering information on the host of health education programs offered by the center, the event had details on additional campus resources, such as Tuttleman Counseling Services' Sexual Assault Counseling and Education program and Campus Safety Services. The center is also hosting Escalation Workshops to help students identify signs of unhealthy relationships.