Owls and the election: How Temple took part in campaign 2016
Candidates spoke on campus, a professor appeared on C-SPAN, and a Hollywood star made a surprise appearance.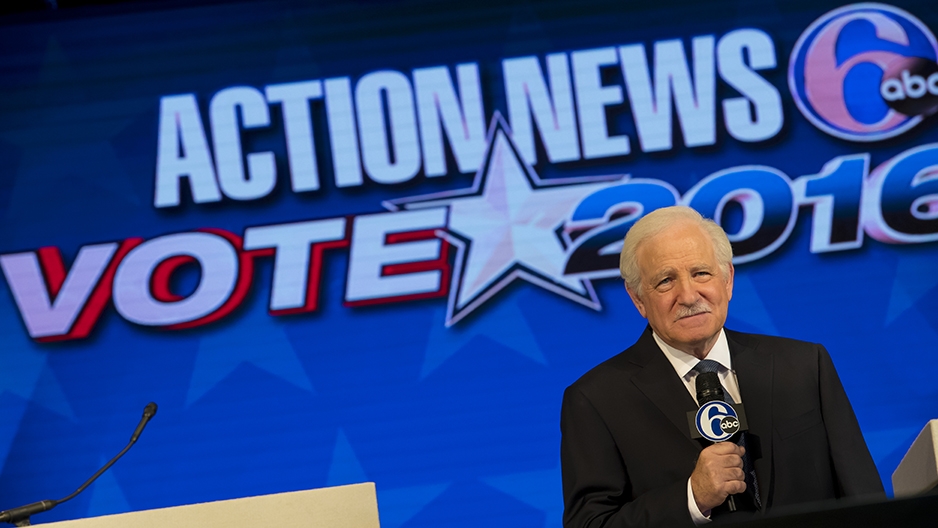 It's been one of the most dramatic election cycles anyone can remember—and more than once, Temple University found itself at the heart of the action.

From presidential nominees giving major speeches on campus to faculty and students engaging with the political process, Temple served as a microcosm of the substance and spectacle of campaign 2016.

No one knows for sure yet how it's all going to end. But for now, here's a look back at the role students and faculty played in this historic election.

Election provides teachable moments, first-hand experience
Several courses this fall are focusing on the election. The 2016 U.S. Presidential Election: A Communication Perspective in the School of Media and Communication highlights media coverage and communication aspects of the race for the White House.

In the College of Liberal Arts, Campaign 2016 includes an internship for students with a campaign or political organization.

For me, the most important thing is getting people to realize your state legislator is just as important as your president.
-- Michael Calistri, Class of 2016
Michael Calistri, Class of 2016, is interning with the reelection campaign of Republican state Rep. Warren Kampf, whose 157th legislative district represents sections of Philadelphia's suburbs in Chester and Montgomery counties.
Calistri has gone door to door with Kampf to speak to voters.

"For me, the most important thing is getting people to realize your state legislator is just as important as your president," Calistri said. "I take so much more interest now in the bottom of the ticket."

Maura Edwards, Class of 2018, works as an intern with the Committee of Seventy, a nonpartisan group that advocates for better government in Philadelphia and Pennsylvania. Much of her work there involves helping people find their polling places or learn about Philadelphia's wards and divisions.

"It's really nice being able to help people with simple stuff they need to be doing," Edwards said.

Candidates campaign on campus
With Pennsylvania once again a keystone of the electoral map, several candidates came to Temple this year to energize young and urban voters.

Democratic presidential nominee Hillary Clinton made Temple her first stop after the Democratic National Convention when her campaign leased McGonigle Hall for a rally. The former secretary of state returned in mid-September for a highly publicized address to millennials in Mitten Hall.

Clinton's main opponent in the Democratic primary, Sen. Bernie Sanders of Vermont, spoke in the Liacouras Center in April. Former Massachusetts Gov. William Weld, now the Libertarian Party's vice presidential nominee, held a rally in Morgan Hall Sept. 29.

Aside from the stump speeches, Temple also hosted a debate in October between incumbent U.S. Sen. Pat Toomey, R-Pa., and Democratic challenger Katie McGinty. Many observers say their race for a Senate seat will help determine which party holds power in Washington in the new year.

During the past week, Anne Hathaway―who won an Oscar for her role in the musical "Les Misérables"―visited campus on Clinton's behalf and sang "Happy Birthday" to a visibly shocked Ewan Johnson, Class of 2019.

"I was celebrating my 20th birthday," Johnson said. "And now it's set a huge expectation for the 21st."

The C-SPAN Bus also stopped outside the Student Center on Thursday while Robin Kolodny, chair and professor of political science, appeared on C-SPAN's Washington Journal to discuss Pennsylvania's role as a battleground state.
Faculty add expertise and perspective
Kolodny was one of several Temple professors who appeared in the media this election cycle.

Last week, political science Professor Kevin Arceneaux led a Dissent in America Teach-in about the presidential race.
No matter who wins, Arceneaux said, there will still be a lot of work to do.
"The big challenge is going to be to try to craft legislation and make it through both houses [of Congress] and actually enact real change," he said.