The healing power of music
A new study by a Temple faculty member published by the Cochrane Library—and the work of two Temple PhD students—shows the benefits of music therapy on cancer patients.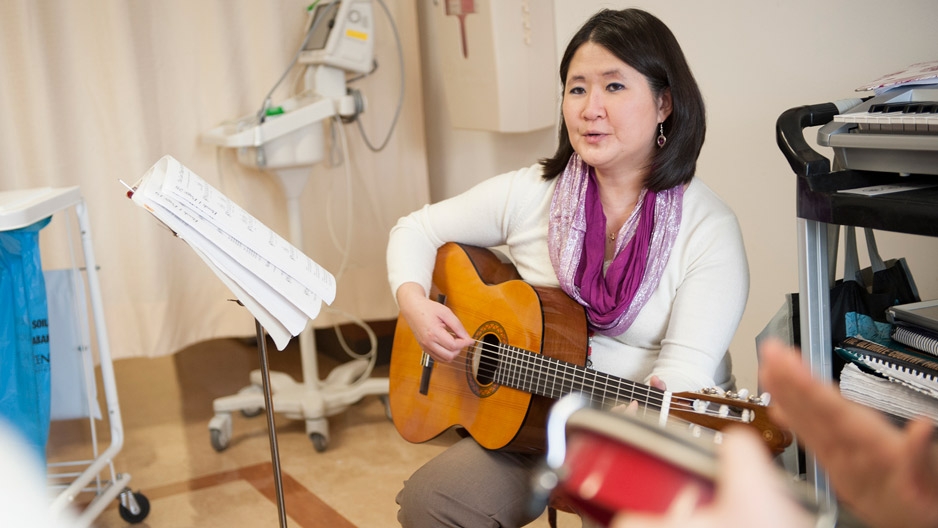 When Elizabeth Harman, BYR '11, walks the halls of Cincinnati Children's Hospital Medical Center with her cart full of instruments for music therapy, she gets a lot of questions and questioning looks.

Harman works with children who have received hematopoietic stem cell transplants, a medical procedure performed on patients with certain cancers of the blood or bone marrow.

"Patients undergoing the transplant are hospitalized for an extended period of time and undergo many invasive procedures with difficult medical side effects," said Harman. "Medicine can do a lot, but the psychosocial care of these patients and their families is critical."

Music provides a medium for expression when words aren't enough. It allows our patients and their families to connect with something uniquely human during what can feel like a dehumanizing process.
-- Elizabeth Harman
That's where her training as a music therapist enters the scope of patient care.
Each therapy session varies, depending on the energy level of the patient. If a child is feeling well, Harman will encourage self-expression through singing, dancing, playing musical instruments or creating music videos. If a child is low on energy, the session may involve more passive activities such as active music listening or music-assisted relaxation.
"Music provides a medium for expression when words aren't enough," she said. "It allows our patients and their families to connect with something uniquely human during what can feel like a dehumanizing process."
Debbie Bates,
BYR '04
, music therapy manager for the Arts and Medicine Institute at the Cleveland Clinic, also works with cancer patients receiving chemotherapy treatments or bone marrow transplants.
"When I'm working with patients, I ask them to assess their pain, anxiety, and mood and I learn what their treatment or hospital experience has been like and about their music experiences and preferences," Bates said. "This information helps build the relationship, which allows me to work with the patient to identify goals for the music therapy session."
The goals for a session might include decreasing anxiety, improving mood, providing an outlet for self-expression or using music to cope with treatment or hospitalization.
"Music tells the story of our lives and helps us to stay connected to our humanness," she said. "Music therapy work is important because it gives the patients a voice—to make choices, to retain their identities as healthy individuals while facing illness, and to have their experiences be heard and validated."
A new study published in the Cochrane Library,
Music interventions for improving psychological and physical outcomes in cancer patients
, co-authored by Laura H. Carnell Professor of Music Therapy Cheryl Dileo, showed that the kinds of music interventions Bates and Harman provide can alleviate symptoms and treatment side effects in cancer patients.
The review, an update of a study first published in 2011, analyzed evidence from 52 studies with 3,731 participants. The findings suggest that music therapy may have a beneficial effect on anxiety, blood pressure, fatigue, heart rate, pain and respiratory rate in people with cancer.
For Dileo, who also leads the
Arts and Quality of Life Research Center
at Temple, the review's findings on fatigue and quality of life are incredibly significant.
"These results earmark music therapy as an intervention for which other types of medical interventions are not effective," she said. "We can't give a drug to improve quality of life or to lessen fatigue, and these are really big issues for people who have cancer. The fact that we can achieve these and other outcomes through music therapy speaks to our ability to help cancer patients regain their health in a broader sense."
Learn more about Temple's music therapy programs
.