New ranking recognizes Temple's value to students
Kiplinger's Personal Finance rates the university as one of the 100 best values among public colleges and universities.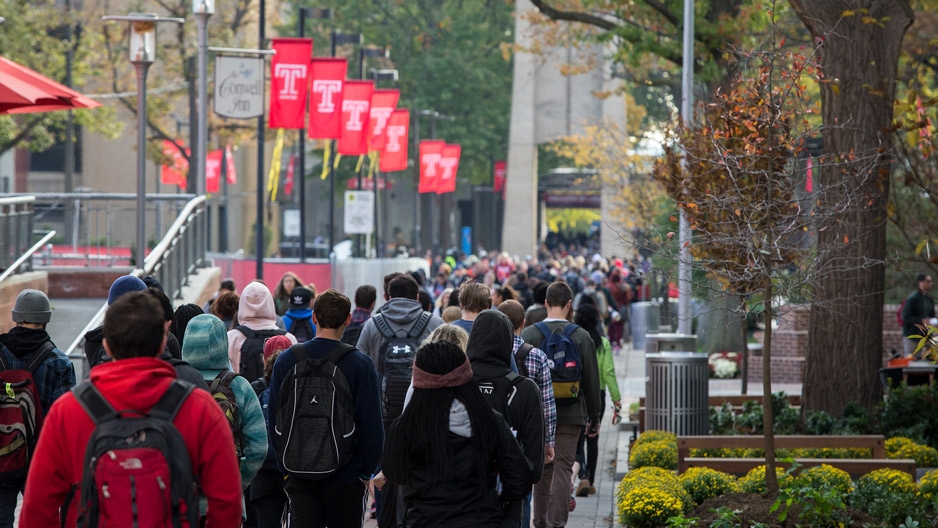 Updated July 10, 2018
As colleges everywhere face tough questions about their tuition costs and return on investment, Temple University stands out by giving students a top-tier value, an influential magazine says.
According to Kiplinger's Personal Finance, Temple is one of the 100 best values this year among public colleges and universities nationwide.
"This is gratifying, because it affirms some of the core principles we hold dearest," Temple President Richard M. Englert said. "We have always focused on access, affordability, diversity and excellence, so this recognition from Kiplinger's should make everyone at the university feel proud."
Defining value
Kiplinger's defines value as "a quality education at an affordable price."
For quality, the magazine looks at criteria including admissions selectivity and academic support, among other factors.
For this school year, Temple received an all-time high 34,504 freshman applications. The 5,162 freshmen who ultimately enrolled not only formed the largest first-year class ever; they also set records for average SAT score (1170) and average high school GPA (3.56).
To support these students, Temple hired 176 new full-time faculty this year in many different fields.
The university also recently engaged Gallup to survey alumni and measure the value of a Temple education. The survey found that Temple graduates are more likely than their peers from other schools to have good jobs, do well socially and thrive in their communities.
Temple alumni also lead other college graduates in strongly agreeing that their alma mater prepared them well for life outside of college.
Four-year graduation
Another measure for quality Kiplinger's uses is four-year graduation. Temple has soared in this category thanks to Fly in 4, a trailblazing effort to help students graduate on time and limit their debt.
Englert said that Temple has made huge strides in four-year graduation. In this year's edition of U.S. News & World Report's Best Colleges, Temple ranks No. 20 nationwide for graduation rate performance, which measures how much a university exceeds what its graduation rate was expected to be, according to its student demographics.
By limiting debt, Temple's focus on four-year graduation also supports affordability.
Temple's unique combination of excellence and affordability is the reason so many students choose to become Owls."
-- Aron Cowen, Class of 2017
This school year, Temple eliminated an upper-level tuition differential that required juniors and seniors to pay $1,000 more per year than freshmen and sophomores. As a result, base tuition decreased slightly for upperclassmen who are Pennsylvania residents.
Temple also changed its tuition structure this year to give students incentives to take additional credits so they can graduate on time.
"Temple's unique combination of excellence and affordability is the reason so many students choose to become Owls," said Temple Student Government President Aron Cowen, Class of 2017, a math/computer science and physics major. "The new Kiplinger's ranking is a welcome recognition of the incredible momentum at Temple."
Englert said the university will never change its mission simply to pursue high rankings; rather, the university's success in providing students with access to a high-quality, affordable education coincides with high placement on ranking lists.

"We'll work to ensure that the indicators of success that many rankings use will continue to rise, because those improvements benefit our students and the entire university," Englert said.  "We'll stay focused on recruiting great students, graduating them in four years, limiting their debt and setting them on the path to personal and professional success. Then, the rankings will take care of themselves."