Women's basketball teammates Alliya Butts and Feyonda Fitzgerald have turned healthy competition into a lasting friendship.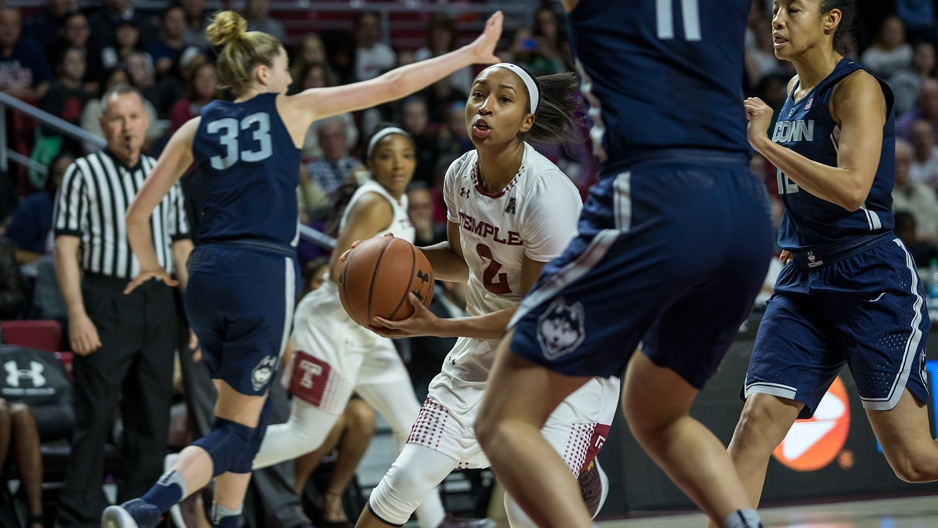 Fans of Temple women's basketball know Feyonda Fitzgerald and Alliya Butts as two standout players on a team stacked with talent. Each plays at the guard position and regularly scores in the double digits. Despite the competitive spirit that exists naturally between the two, they've forged a friendship over the past three years that extends beyond the court.
Fitzgerald, a senior sport and recreation management major, came to Temple from Norfolk, Virginia. She's a self-described daddy's girl turned grandma's girl who picked up her love of the basketball at an early age. Her father coached a recreational league when she was a child and her exposure to the sport left her wanting to try it for herself.
Her father had other plans—he tried to get her more interested in cheerleading. Even as a 5-year-old, she knew that basketball was the sport for her, so she quit cheerleading for good to focus on basketball. Her skill and love of the game blossomed.
Fitzgerald continued to play on recreational teams through elementary school, then joined the junior varsity and varsity teams in middle school. She made the varsity team at her high school as a freshman, which allowed her to acknowledge she had a future in the sport.
"I realized I was good in recreational leagues when I was able to compete with the boys. I was killing them so I felt like I was a good player," she said. "But when I made the varsity team in ninth grade, that was really the moment."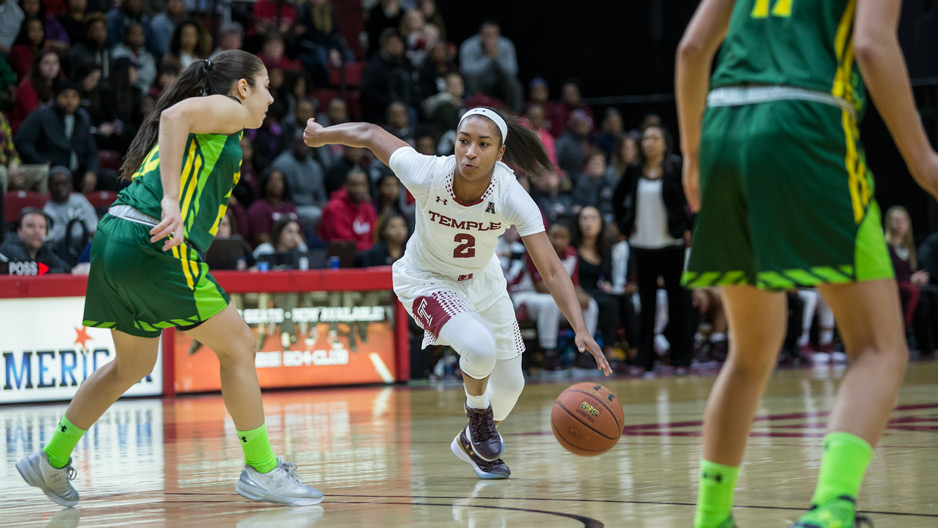 Photography by: Joseph V. Labolito
Feyonda Fitzgerald brings the basketball up the court during the women's basketball game against USF in McGonigle Hall.
Like Fitzgerald, Butts, a junior communication studies major from Edgewater Park, New Jersey, developed her love of basketball early. She grew up with her cousin who always had a basketball in their house. He'd kick it around and Butts would chase after it.
She eventually traded chasing the ball for dribbling and shooting it. She would head daily to her neighborhood's basketball court, where she'd meet with friends to play. "We would play all day and I just fell in love with it," she said.
Butts joined recreational leagues and quickly outpaced her cousin, who she said she no longer plays with. But she said she knew she was better than average in middle school, when she made the A Team.
"I thought, 'maybe this is for me,'" she said. "I just started working hard and that was it."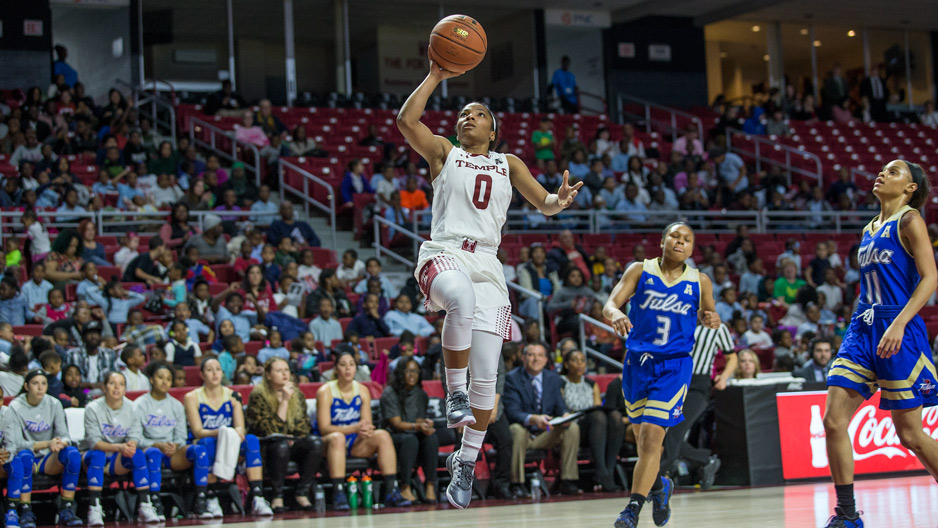 Photography by: Joseph V. Labolito
Alliya Butts takes a shot as the Temple women played Tulsa during the annual "School Day" game.
Their commitment to hard work and dedication to the game brought them together at Temple, where they each receive full athletic scholarships. Fitzgerald and Butts both said they chose Temple over other schools because of the coaches and the supportive yet competitive environment they foster.
Lauren Ferrett, associate director of athletic communications, said the friends are often pitted against each other in practices.
"They're both amazing players," Ferrett said. "They've won a lot of awards, so it's good for them to compete against each other."
Butts and Fitzgerald try to play down their friendship with good-natured smack talk, but their affection for each other always comes through.
"She pushes me to get better," Butts said of Fitzgerald. "When I first got here, it was a disaster. Having Feyonda to pick me up and tell me to keep working really helped me and made me a better person from freshman year to now. I'm going to be sad to see her go."
"She's going to miss me, I already know," said Fitzgerald, who will graduate in May. "Alliya's grown a lot. Like she said, when she first got here it was horrible. Nobody wanted her on their team. Now she's the first pick."
Fitzgerald continued, "She likes to play, but when it's time to get the job done, I have my trust in her. I'll give her the ball to shoot the last shot any day."
Watch the No. 23 ranked women's basketball team play at No. 1 UConn on Feb. 22 on ESPN3 at 7 p.m. Then head to McGonigle Hall to cheer on the ladies as they host Cincinnati for their last home game of the season on Feb. 25 at 2 p.m.