Temple's first shelter-in-place drill is an exercise in preparedness in the event of a real environmental emergency.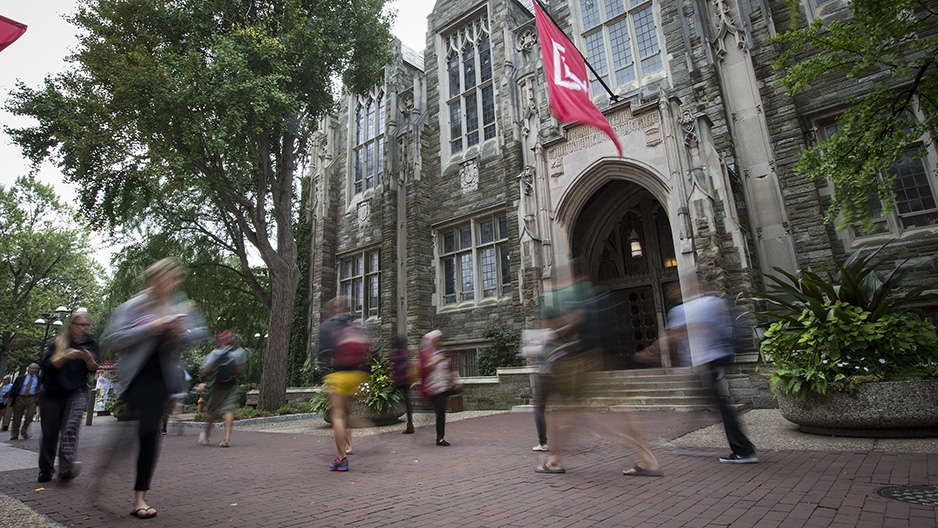 Do you know what to do when the TUsiren sounds, indicating a dangerous weather event or toxic chemical release on or near campus? That's exactly what Sarah Powell, director of emergency management, wants you to learn during Temple's first-ever shelter-in-place drill. The drill, scheduled for Thursday, April 6 at 12 p.m., will give Temple University students, faculty and staff on all domestic campuses the opportunity to practice what actions to take during an environmental emergency.
"Shelter-in-place is about seeking refuge away from unsafe environmental conditions, which can include severe weather events like a tornado or a hazardous materials release like a chemical spill that makes the air unsafe to breathe," Powell said.
In such a scenario, it's important for people in the affected area to find safe, secure places indoors—away from exterior windows and doors—to keep safe from the external threats. The reason this behavior is critical is twofold. Keeping people inside keeps them away from contamination, but also makes it easier for first responders to contain and remove the threat.
"For a hazardous materials release, we could have 10 emergency vehicles on the scene in a very short amount of time," Powell explained. "It's an involved response and it requires us to stay out of the way while first responders do their job."
It's also important to be prepared in the event that the call to shelter-in-place lasts for an extended period of time.
"Be prepared for the unexpected," she advised. "You might not be able to leave work at 5 p.m. because you need to stay away from a situation outside in order to protect your own health and well-being."  
Powell suggested that people keep phone chargers and other essentials, such as extra doses of required medication, with them in the event of an real shelter-in-place emergency that might prevent them from maintaining a regular schedule.
Practicing what to do in an emergency scenario is a way to cognitively prepare for the real thing. Much like a fire drill, the shelter-in-place drill will allow people to practice how to behave in an actual emergency.
"When we take these actions, we're creating a mental map that will help us react more quickly in a real crisis," Powell said. "I encourage everyone to practice seeking safe havens in their buildings during the drill and to better understand what the shelter-in-place procedure is about."
Powell emphasized that this type of situation can occur anywhere, and being prepared to react when a call to shelter-in-place is issued can protect you from harm.
"If a shelter-in-place emergency occurs and you're at Target or in 7-Eleven getting a cup of coffee, you need to understand what you need to do to protect yourself," she said. "It doesn't matter where you're located when you get that information—you need to seek shelter."  
Register for TUAlerts.
Learn more about emergency preparedness at Temple.