From Rhodes to renovations, 10 unforgettable moments from 2017
This year has been an eventful one at Temple. From celebrating Hazim Hardeman, our first Rhodes Scholar, to breaking records for enrollment and fundraising, the university continues to soar.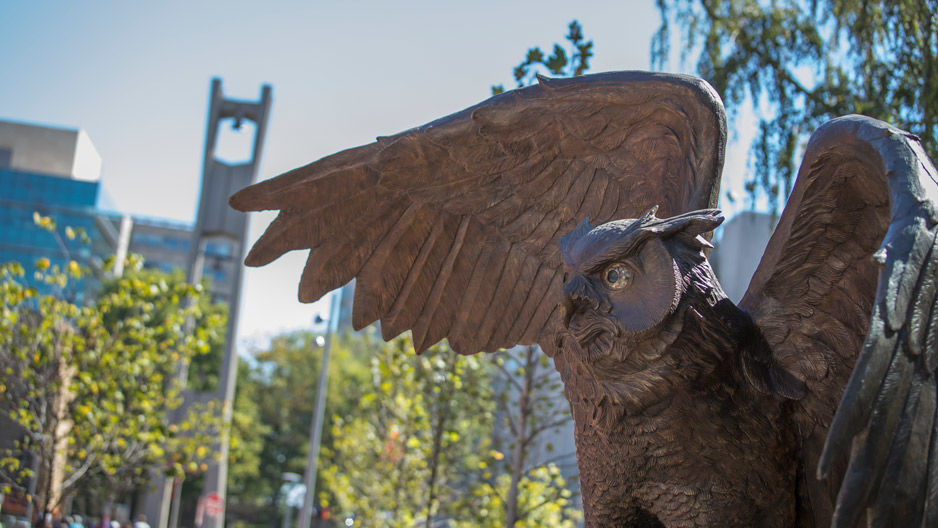 Over the course of 2017, so much has happened here: Campus has undergone major changes (Chick-fil-A, anyone?), the university has soared in rankings and hit historic markers in enrollment and fundraising, and Temple's community impact has been felt in many ways—not the least of which comes in the form of Symphony for a Broken Orchestra, which garnered national media attention.
Although we also faced a number of challenges, 2017 leaves us with many extraordinary memories that will continue to be points of pride in the months ahead. Here, we revisit 10 of the year's most memorable moments.
North Philly's own Hazim Hardeman becomes Temple's first Rhodes Scholar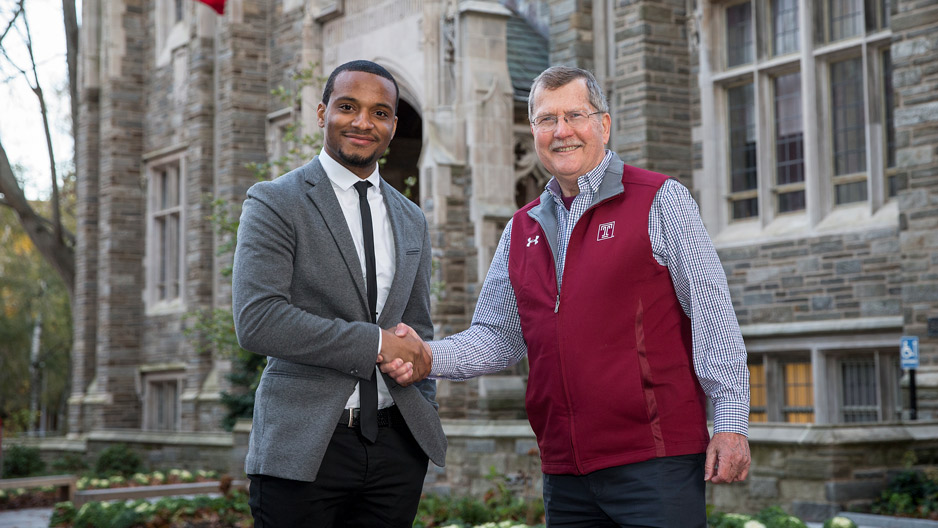 Rhodes Scholar Hazim Hardeman talks with President Richard M. Englert on campus. (Photo: Joseph V. Labolito)
Symphony for a Broken Orchestra brings music back to schools
Attention and praise of this ongoing project spearheaded by Temple Contemporary reached a crescendo in early December, as 400 musicians young and old gathered to play a concert on some of the broken instruments before they're repaired and returned to city public schools.
Symphony for a Broken Orchestra
gives people the opportunity to get involved by adopting instruments and enjoyed accolades in national media outlets, from
NPR
to
The New York Times
. The best part? The project continues now, as the more than 1,000 instruments collected will be fixed before they go back to Philadelphia schoolchildren, complete with repair kits to ensure they don't fall into disrepair again.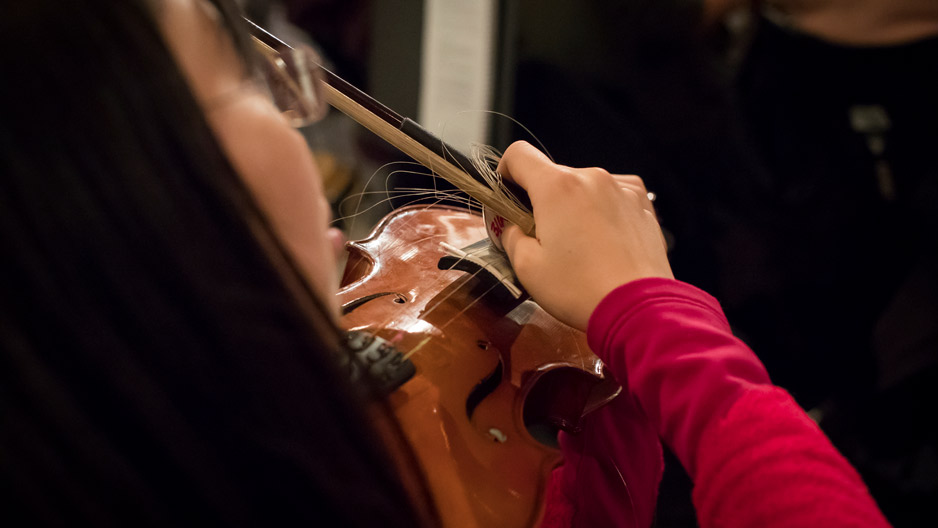 A musician uses a broken bow to play a broken violin during a rehearsal for the 'Symphony for a Broken Orchestra' performance. (Photo: Betsy Manning)
Campus developments bring popular eateries, new selfie spot
It seems like everywhere you turn on campus, something is being built, renovated or knocked down. This year, that meant lots of new academic and recreational spaces, including the
Student Center's renovated food court
, complete with a Chick-fil-A, a second Starbucks location and other new dining options; the brand-new bronze owl statue at the newly renovated
Founder's Garden and O'Connor Plaza
at the heart of campus, across from the site of the new library that's on the rise; and
the opening of the Aramark STAR Complex
along the western edge of campus, bringing new academic and campus rec spaces, including an outdoor track that's open to the public.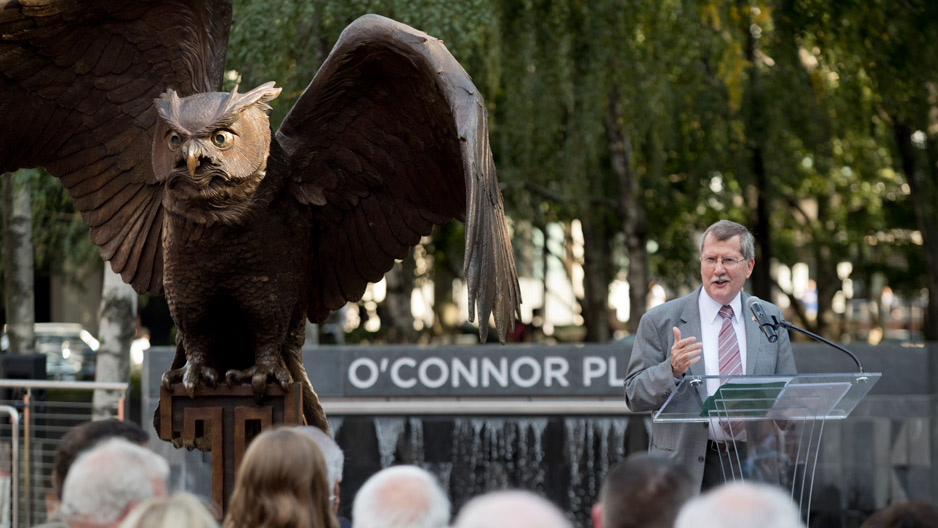 President Richard M. Englert addresses the crowd during the dedication of O'Connor Plaza. (Photo: Ryan S. Brandenberg)
Enrollment reaches new heights
Record-breaking fundraising efforts support more students than ever
Historic gift renames a college for a Temple legend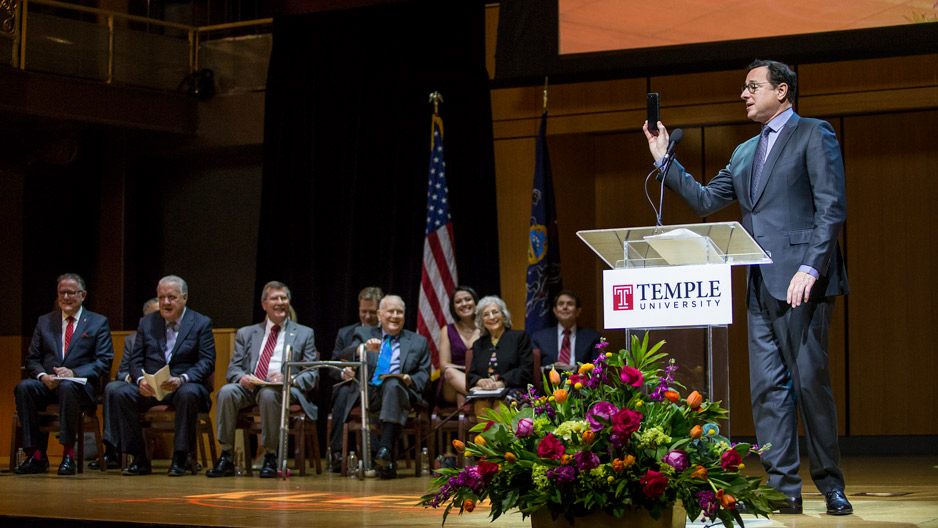 Bob Saget emcees the dedication ceremony for the Klein College of Media and Communication. (Photo: Joseph V. Labolito)
Rankings continue to rise
Researcher wins prestigious Keck grant to study dark matter
Temple students bring home record number of Fulbright Scholarships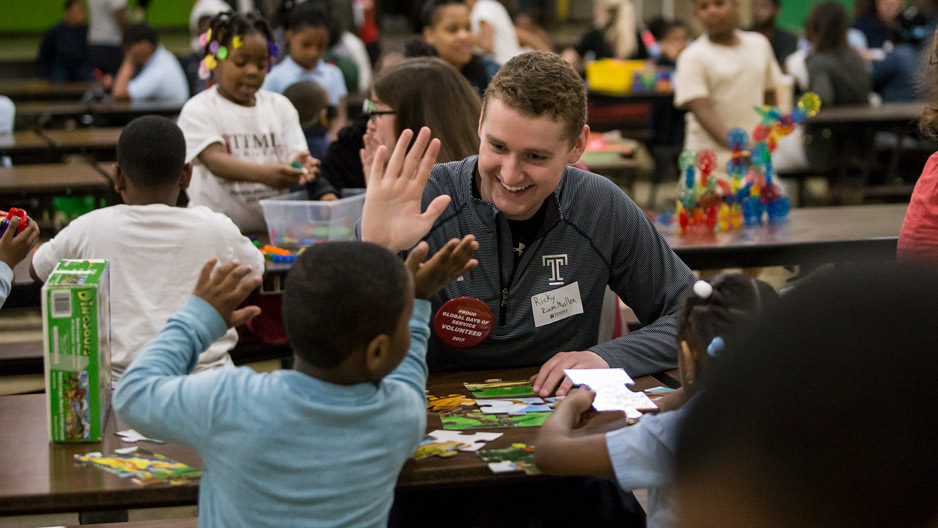 A Temple employee high fives a child at the Duckrey School during a Global Days of Service event. (Photo: Joseph V. Labolito)
Global Days of Service expand