Cherry Pantry receives Giant donation
Giant Food Stores donated 900 pounds of nonperishable food and personal hygiene products to Cherry Pantry—a whole month's supply to support roughly 600 students.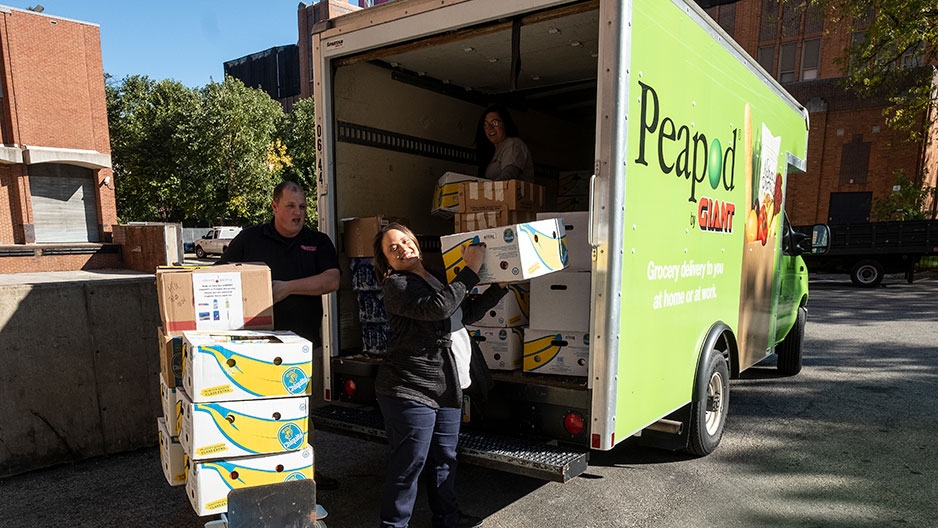 Last Thursday, Oct. 25, Giant Food Stores delivered 900 pounds of nonperishable food and personal hygiene products to Cherry Pantry. The half-ton donation by Giant will provide food for 600 students—equivalent to one month's supply for Cherry Pantry. 
Upon dropoff, Giant officials also presented $800 in store gift cards to Cherry Pantry Director Michelle Martin.
Located in the Howard Gittis Student Center, Cherry Pantry is one of nearly 600 food pantries operated at colleges and universities nationwide. Cherry Pantry, which opened its doors in February, provides students in need with free food and personal hygiene products. It is open three days weekly: Tuesday, Wednesday and Thursday.
"The generous donation from Giant Food Stores will provide much-needed food assistance to Temple students throughout the next month," Martin said. "This comes at a particularly crucial time, as we are nearing the end of the semester and students often find their resources running out. The donated foods and gift cards will help food-insecure Temple students spend more time focusing on their studies and less time worrying about where they will find their next meals."
Associates from 16 Giant Food Stores locations in the Philadelphia region collected donations over the last four weeks, as part of the company's commitment to the community. Giant's donation is the largest to Temple's food pantry by an external organization. Temple's Office of Sustainability collected nearly 3,000 pounds of food delivered over the summer.