Longtime Temple Police officer earns master's degree
Temple Police Inspector Jeffrey "Chappy" Chapman, 58, recently graduated with a master's degree in sport business from the School of Sport, Tourism and Hospitality Management.
Anybody looking for the inspiration needed to earn a degree as an adult working full-time and raising a family needs to look no further than Temple Police Inspector Jeffrey Chapman, CLA '14, STH '19.
Chapman, 58, known as "Chappy" around campus, walked across the stage during winter Commencement Feb. 1, marking the end of a hard-earned master's degree in sport business. It's his second degree earned as a full-time Temple Police employee—and his second diploma from Temple.
As Chapman prepared to celebrate the completion of his master's program, he reflected on the incredible road that brought him here, sharing his story in the hope that it will motivate others to pursue degrees regardless of the challenges they may face. 
Ivy League to Air Force
In high school, Jeffrey Chapman was a standout baseball and football player at Philadelphia's prestigious Central High. After graduation, he went on to play football at Cornell University in Ithaca, New York, after being accepted into the school's hotel and restaurant management program. In his first year playing football, he made the All-Ivy League freshman team, but hit a rough spot academically and had to transfer. After leaving Cornell, he enrolled at Morehouse College in Atlanta, where he received a walk-on baseball scholarship. 
But Chapman's transfer didn't work out as planned: After a year at Morehouse, the college cut its baseball program. At 21, with two colleges under his belt but uncertain about what to do next, Chapman enlisted in the Air Force. There, he had another opportunity to play baseball on a community team near the base in Homestead, Florida, where he was stationed. He traveled throughout the state with the team, playing alongside athletes from various colleges including the University of Miami.
"I grew up with a glove in my hand and I came from a family that played and loved baseball," Chapman said. "My uncle played in the Negro league and I always looked up to my uncle and wanted to follow in his footsteps." 
Just as he settled into the Air Force, life threw him another surprise: His commander at the time was given an assignment in RAF Lakenheath, a Royal Air Force station in Suffolk, England. He asked Chapman to come with him and play for his team. Chapman obliged and traveled through Europe playing baseball, making stops in countries including Germany, Italy, Spain and Turkey. He played at 12 different Air Force bases during his time in Europe after leaving in December 1985. 
Protect, serve and go to class 
After returning from Europe, Chapman joined Temple's police force in August 1986. During his first 12 years on the force, he took classes here and there, but says he never got too serious about earning the bachelor's degree he hadn't had the chance to finish during his early 20s. 
"I've always been a people person and I always wanted to help people in the community," Chapman said. "What better way to do that than be a police officer?"
Things started to change again after he married his wife, JoAnn, KLN '96, in 1994, he says. He started to take life and work more seriously, moving up the ranks of the police department and receiving three promotions over the next decade, eventually earning the rank of captain in 2004. 
Five years later, at age 49, Chapman was ready to earn another title: college graduate. 
"In 2009, I got serious about getting my degree," he said. "I always knew I could do it academically and decided that it was the right time."
He began taking part-time classes in criminal justice and, in April 2013, was quickly approaching his last semester when he and his wife learned exciting news: she was pregnant with twin boys. The boys were born and attended their dad's graduation at five months old, but Chapman's wife encouraged him to continue his studies and work toward a master's degree.
Chapman began exploring graduate classes, enrolling in a few courses in geography and urban studies, before he finally spoke with Michael Jackson, professor and co-founder of the Sport Business program in the School of Sport, Tourism and Hospitality Management (STHM). Jackson inspired Chapman to pursue courses within STHM, and Chapman eventually transferred into the school's Sport Business program.
"After taking a few classes as a non matriculating student, the course work and material was very interesting and I could relate to it," he said. "I've worked past events at the Liacouras Center and I wanted this degree to open more opportunities for me in the sports world and I felt this would be the best route for me."
Though Chapman had already earned a degree while working full-time, graduate school brought about unique difficulties.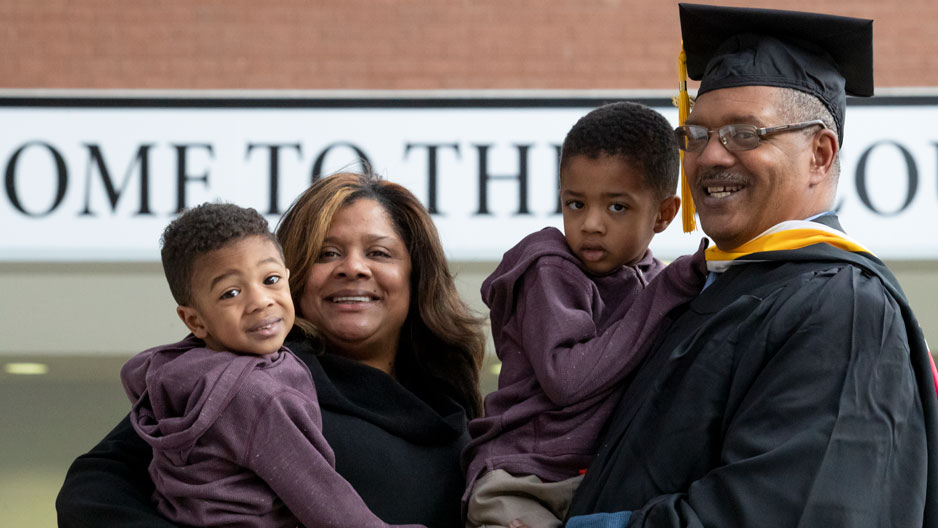 Chapman with his wife, JoAnn, and their twin boys on graduation day. 
"The biggest challenge for me was time management," Chapman said. "I'm in a career where you're not always in control of your schedule; as captain I oversaw all of the security operations in all the Temple buildings, but also oversaw special events such as basketball games, concerts, graduations and any event that was held at the Liacouras Center. Sometimes events ran into school nights, and I had to be able to manage classwork, homework, my attendance and still be there for my wife and boys."
Chapman took classes that ranged from sport sales and sponsorship to event management and sport marketing. One of his biggest supporters—besides his wife and twin boys—was his advisor Jim Alton, manager of graduate student services at STHM. Alton helped Chapman throughout his time in graduate school, from ensuring he stayed on track to graduate to providing daily inspiration and pushing him to finish his degree. 
"Our STHM master's programs are designed for students like Jeff, who have active lives in addition to their commitment to pursuing a master's degree. Jeff possessed the highest degree of focus and determination throughout his program of study," Alton said. "He regularly reached out for guidance and support, taking full advantage of the STHM resources that were available to him. I am proud of Jeff's accomplishments and look forward to cheering loudly when his name is read at the graduation ceremony. He truly serves as an inspiration to all students."
As Chapman prepared for graduation, he shared how his family, in part, inspired him to continue pursuing his education.  
"My wife has her master's degree, and I was raised in a family that always preached education and its importance. I knew that I would be hard-pressed in telling my boys how important education is if I didn't have my degree to back it up," Chapman said. "I also talk to younger officers all the time about this great benefit that Temple has in obtaining your degree, and I want to be an example for them that it's never too late and you should take advantage of it while you're here."
Chapman was promoted to the rank of inspector in 2018, after 32 years of service on Temple's police force. He doesn't plan on stopping anytime soon and continues to serve Temple and the surrounding community every day.