Apps and other tech platforms to help navigate campus services
'There's an app for that' rings true this fall semester as several technologies are being implemented across campus to help students, faculty and staff easily access services while adhering to the four public health pillars.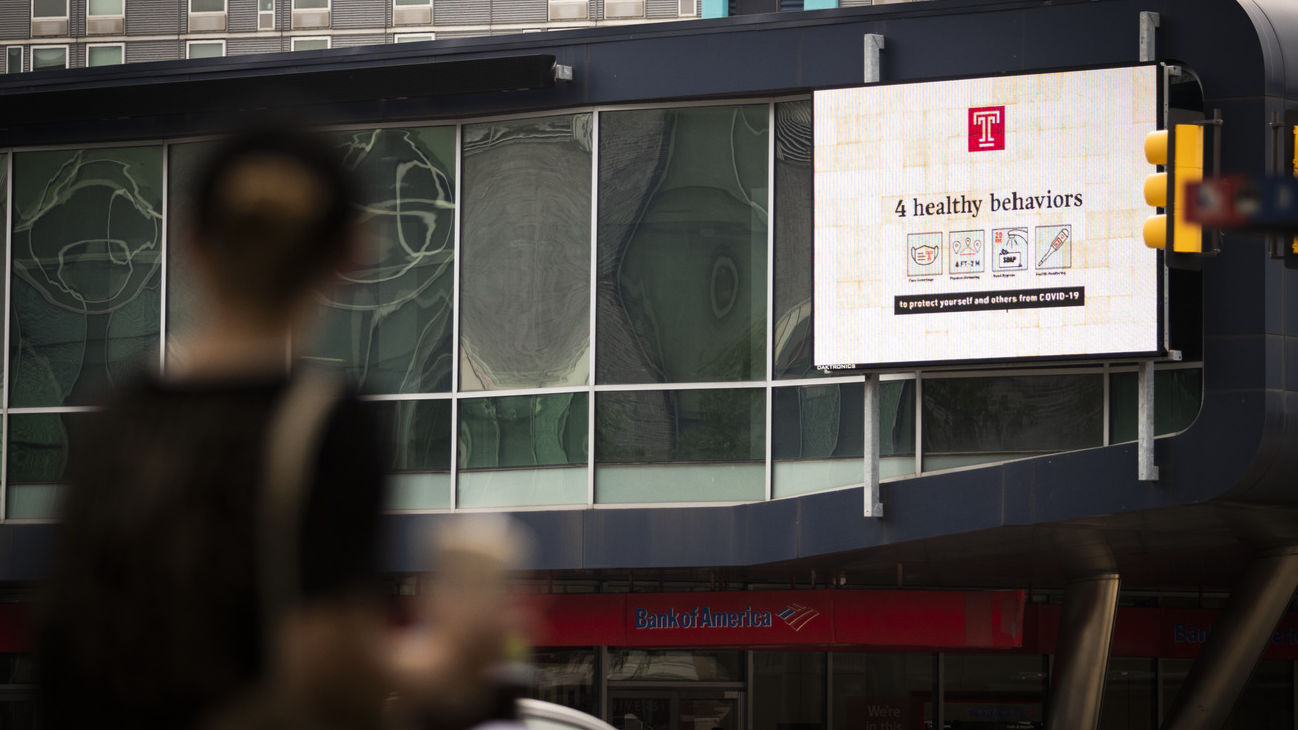 As we start our first-ever semester of hybrid learning, access to the campus services that support the entire community is critical to all of our success. Because Owls are living and learning on campus and off, the following apps and platforms can help you easily navigate our virtual and in-person offerings.
Color-Coded: For figuring out how services across campus are offered, in-person or virtually
This app will help you navigate campus and it can be accessed through TUportal, starting on Monday, Aug. 24. It's kind of a map for our new normal—you'll be able to see all services offered at Temple and how to access those services. A color-coded system will organize everything according to how it's offered: in-person, virtually or a mix of both.
Qless: For getting in line, virtually, for walk-in appointments
We've been using Qless for Student Financial Services for a few years, and now other services across campus will be using the app. It allows you to see how long wait times are for appointments and then get in line virtually to help avoid crowding in campus offices. You get notifications about your place in line and are able to bump yourself back in line if you need more time.
Libcal: For when you need to reserve a study space at Charles Library or the TECH Center
We've been using Libcal for a while on campus, but this year it will be more important than ever to book your space in study rooms and studios. To allow for physical distancing, capacity limits are lower. A lot of spaces can only accommodate one person, some larger spaces can hold up to four people safely.
Reserve a study space or studio at Charles Library.
Reserve a breakout room at the TECH Center.
Remote Labs: For when you need software you don't have on your personal computer
Are you teaching or taking a course that requires specific software? This resource allows you to access the programs you need remotely. There are more than 600 pieces of software available. Find all of them by going to remotelabs.temple.edu. You'll need your AccessNet username and password to log in.
IM Leagues: For when you want to reserve a time to work out at a Campus Recreation facility, or take a virtual group fitness class
You'll have to set up an account with IM Leagues, but it's quick. Once you have an account, you'll be able to view what times are available at which facilities and make a reservation for your in-person workout or book a spot in a virtual group fitness class.
25Live: For when you want to book space for your student organization
This new-to-Temple app allows students to make requests for small in-person events or gatherings. Fill out all of the details of the event and then Student Affairs will review.  Remember, there are guidelines in place for how to hold in-person events safely. Events will automatically be denied if they do not adhere to the guidelines.
Health monitoring apps (several options): For when you want to track how you're feeling and what your symptoms are if you are ill
Through TUportal, there are several recommendations for websites and apps that can help you effectively monitor your health, which is one of the four public health pillars we all need to be following. Navigate to the Return to Campus tab and on the left you will find the Planning Guidance and Guidelines section. There, in the protocols list, you'll find the Personal Health Monitoring item, which will provide several options.