Zoom Zones: How to attend virtual class on Temple's campuses
Find out where Zoom Zones—convenient locations designated for students to use when attending virtual classes or meetings—have been established.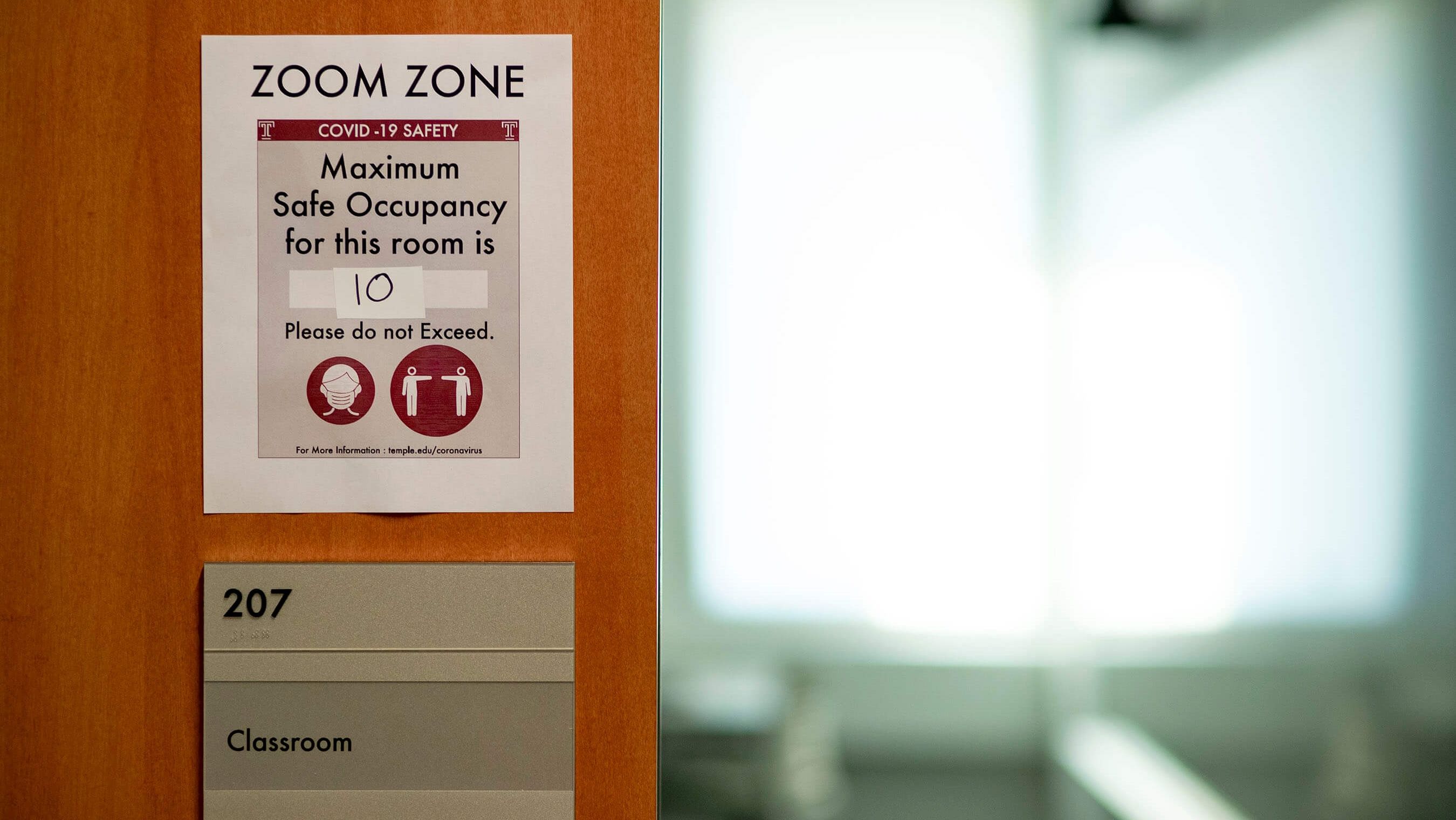 *Updated Sept. 1, 2021
This fall, Temple students will have the opportunity to access brand new Zoom Zones—also known as Zoom Rooms—which are designated areas located in buildings across campus where students can log in to virtual classes, lectures and meetings, or simply sit and study.
What is a Zoom Zone?
A Zoom Zone is a designated room or area inside a Temple academic building where a student or multiple students may use WiFi and keep a safe space in order to attend virtual classes or spend time studying. Classrooms designated as Zoom Zones are marked as such; do not use empty, unmarked classroom space.
Zones are available on a first-come, first-served basis. Once maximum occupancy is reached, students must find another Zone or wait until another student exits a Zoom Zone before entering.
Both individual and group Zones (approximately 5 to 20 safely spaced seats per Zone) will be available, though each has a designated occupancy and fixed seating. Please do not add or remove seats and do not exceed the capacity of the Zone.
Where are the Zoom Zones located?
Below are all of the current Zoom Zones on Main, Ambler and Center City campuses.
Zoom Zones on Main Campus
Anderson Hall | Room 27
Anderson Hall | Room 306
Gladfelter Hall | Room 230
Paley Hall | Room G3
Ritter Hall | Room 300
Tuttleman Computer Center | Room 1B
Tuttleman Computer Center | Computer Lab 7
Wachman Hall | Room 412
Wachman Hall | Room 413
Zoom Zones on Ambler Campus
Ambler Learning Center 201
Ambler Library | Room 1
Amberl Library | Room 2
Ambler Technology Center ACT
Zoom Zones at Temple University Center City
In addition to established Zoom Zones, students are encouraged to look for quiet spaces in the same locations where they have found them in the past, such as the TECH Center and Charles Library on Main Campus, with the understanding that proper face mask usage is mandatory at all times.
Charles Library does not currently offer Zoom Zones, but will continue to have student study rooms available. All of the rooms have the maximum occupancy posted outside and inside the room (1, 2, or 4). Patrons cannot exceed the posted limit.
Reserve a study room at Charles Library.
How do Zoom Zones work?
All Zoom Zones will have a unique QR code and students must scan in when using a Zoom Zone seat. As the Zones are open access and not based on a reservation system, students will simply scan the QR code so that the system can track usage.
Remember, Zoom Zones are available on a first-come, first-served basis. Here are other important things to consider when making use of a Zoom Zone.
Students attending an online class from a Zoom Zone should communicate to their professor whenever they are using a Zoom Zone. Let your professor know that you'll be using the chat feature rather than speaking in order to minimize disrupting and distracting others using the space.
Zoom Zones do not have charging stations. Students may, however, use any available power outlets in order to charge their laptops. As these outlets are limited, it is best for all students to fully charge their laptops prior to using a designated Zoom Zone. Please be considerate of others when charging electronics.
Students must bring headphones for use at all times in the Zoom Zone, so as not to disrupt other students who may be using the same Zone.
Much like all classrooms and other buildings on campus, students using a Zoom Zone must practice healthy behaviors. Properly wear a face covering and wash or sanitize your hands before entering and after use, and do not come to campus if you are not feeling well.
Find Out More
You can find out more about Temple's current operations at temple.edu/return, or by accessing the COVID-19 Information tab in TUPortal.
Also, be sure to check your Temple email frequently for communication from university leadership, your school or college and other departments. Following the university (@TempleUniv) on social media can also help you stay informed.
—Cal Setar