What to expect in the classroom: How professors will enforce healthy behaviors
There are new classroom rules we all have to follow this fall, such as properly wearing a facial covering. Learn how your professors will make sure everyone is being safe and respectful of each other.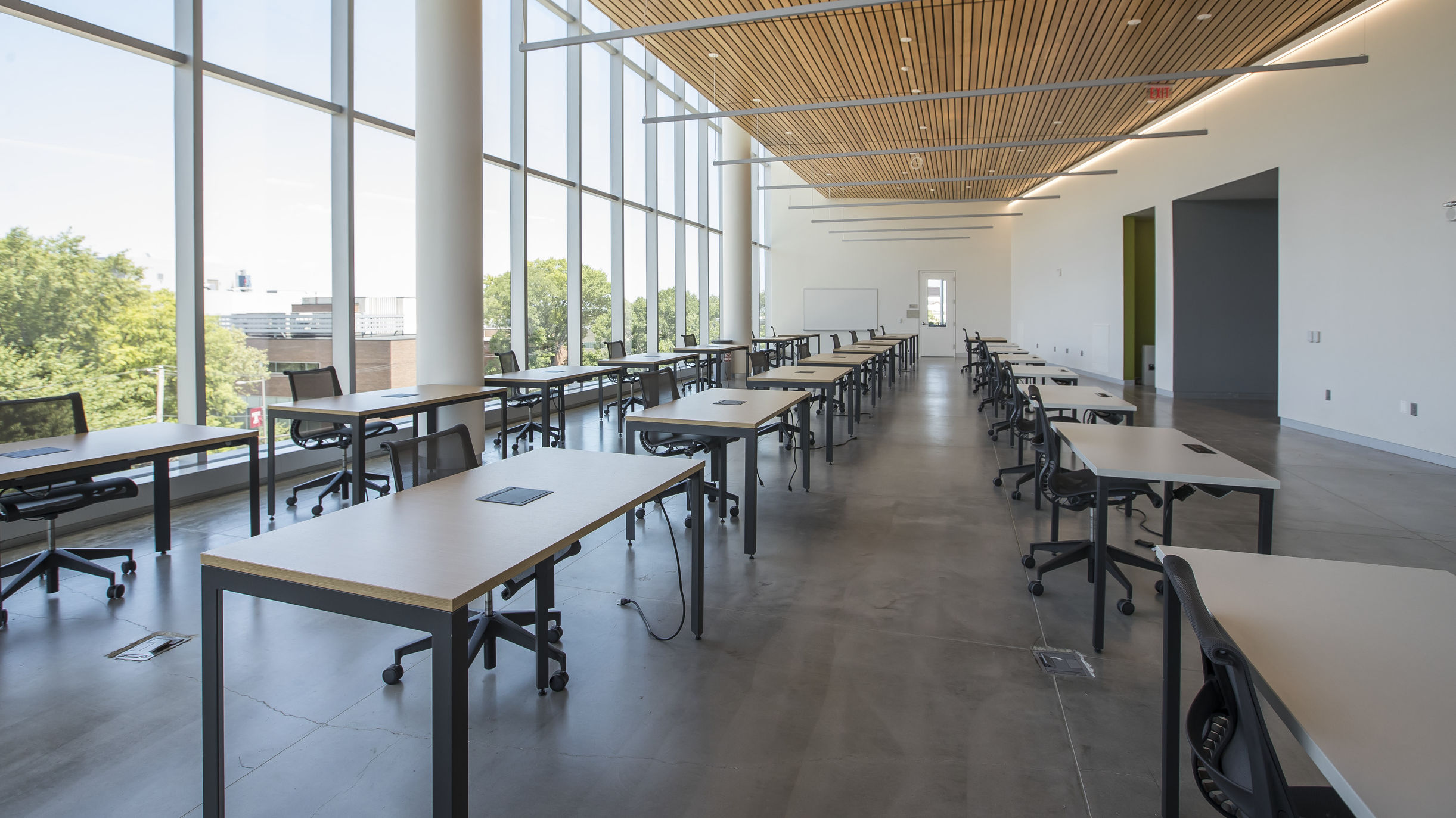 As we gear up for the fall semester, you might have some questions about how we're holding each other accountable and enforcing healthy behaviors that are especially relevant in the classroom, such as physical distancing and properly wearing facial coverings. 

All faculty and staff have been trained how to compassionately enforce healthy behaviors using a method we're calling the Five Rs: remind, request, refuse, reschedule and refer. You, as a student, are never responsible for confronting other students about behaviors you feel are not following safety guidelines. Faculty and staff will take this on, using the Five Rs as their guide. It's important, though, to know what to expect and what's expected of you in the classroom and in other spaces across campus. 
When do students need to wear a facial covering? They'll be reminded. 
First things first: Students are required to wear a mask indoors and in all other areas where physical distancing cannot be maintained. This includes sitting in class, grabbing food from the dining hall or using a study space. Your professors and other staff members will be there to remind you of these guidelines if they see you or other students not properly wearing a facial covering. Remember that your mask must be covering your nose and your mouth at all times. 
Some students and members of the Temple community are not able to wear a facial covering because of a health concern or disability. For students with health concerns or disabilities, check with Disability Resources and Services for remote learning options.
What if a student isn't wearing a mask? It'll be requested to put one on, properly. 
If a student isn't wearing a mask, then the reminder will be changed to a request. Our faculty or staff will formally request that the student put on a mask. As a student, it is your job to worry about yourself—Temple employees have been trained to handle the situation if this issue arises. 
What if a student doesn't listen? Professors can refuse to move forward with the class. 
Professors cannot effectively teach class without compliance from all students. Your professor could refuse to move forward with the class until everyone present is practicing safe behaviors. Students will have the opportunity to step out of the classroom and come back when they are ready to adhere to these new guidelines. Again, it is your professor's job to handle this situation.
What if class ends early because students won't comply? Your class could be rescheduled. 
If students are refusing to comply with the safety guidelines, the professor will have to reschedule the class meeting, whether that be a real-time Zoom meeting or a recording of that day's content.   
If you are opting for in-person classes, you are valuing the agreement to follow the social contract between you and the university. If one student refuses to wear a mask in the classroom or other spaces, it will negatively impact the experience of other students. If you aren't comfortable with in-person classes, we are offering alternative online learning methods.

What consequences will students who don't comply face? They could be referred to Student Conduct.  
If class meetings need to be rearranged due to problematic student behavior, faculty and staff will report students to Student Conduct for further review and possible disciplinary action.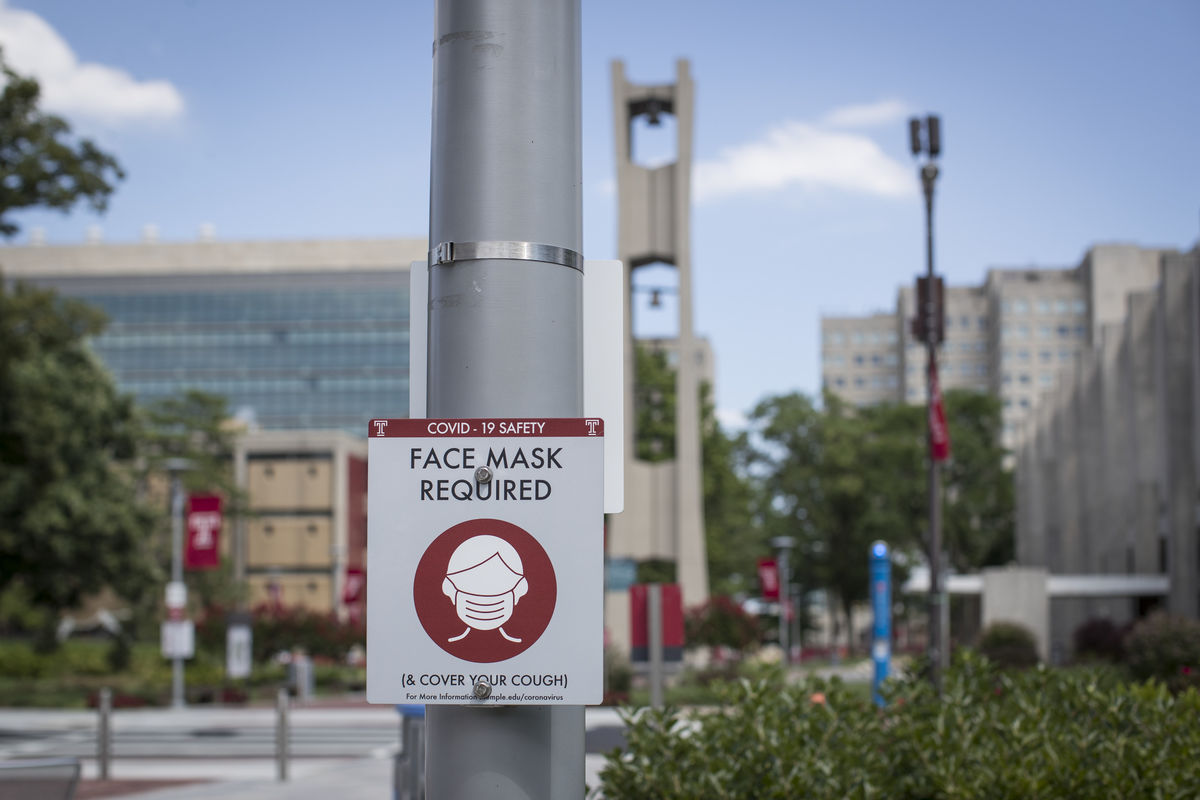 In addition to inside buildings, face masks are also required to be worn outside throughout campus. (PHOTO: Betsy Manning)
What else you should know
Will anyone be enforcing facial covering and physical distancing rules outside of the classroom?
We have designated Student Community Health Ambassadors who will help encourage the proper use of facial coverings and physical distancing rules on campus. Learn more about the program and how it works. 
What are other guidelines about facial coverings on campus?
For more information on where and when you should wear a facial covering on campus, check out these general guidelines. There are specific guidelines for wearing facial coverings while exercising. Read more to learn about the practices that must be followed when using one of Temple's recreation facilities. 
What other guidelines have been put in place?
We're encouraging everyone to follow four public health pillars, one of which is wearing a facial covering. The others are practicing physical distancing, frequently washing or sanitizing your hands, and monitoring your health. Temple has also implemented a number of other safety measures to keep our community safe. Watch this video to learn more. 
For the latest information about how Temple is preparing for the return to campus, visit the Coronavirus: Planning a Safe Return website.
—Samara Grossel