New hip-hop dance minor invites everyone to join the cypher
The newest minor program from the Boyer College of Music and Dance will provide a comprehensive study of hip-hop dance and culture.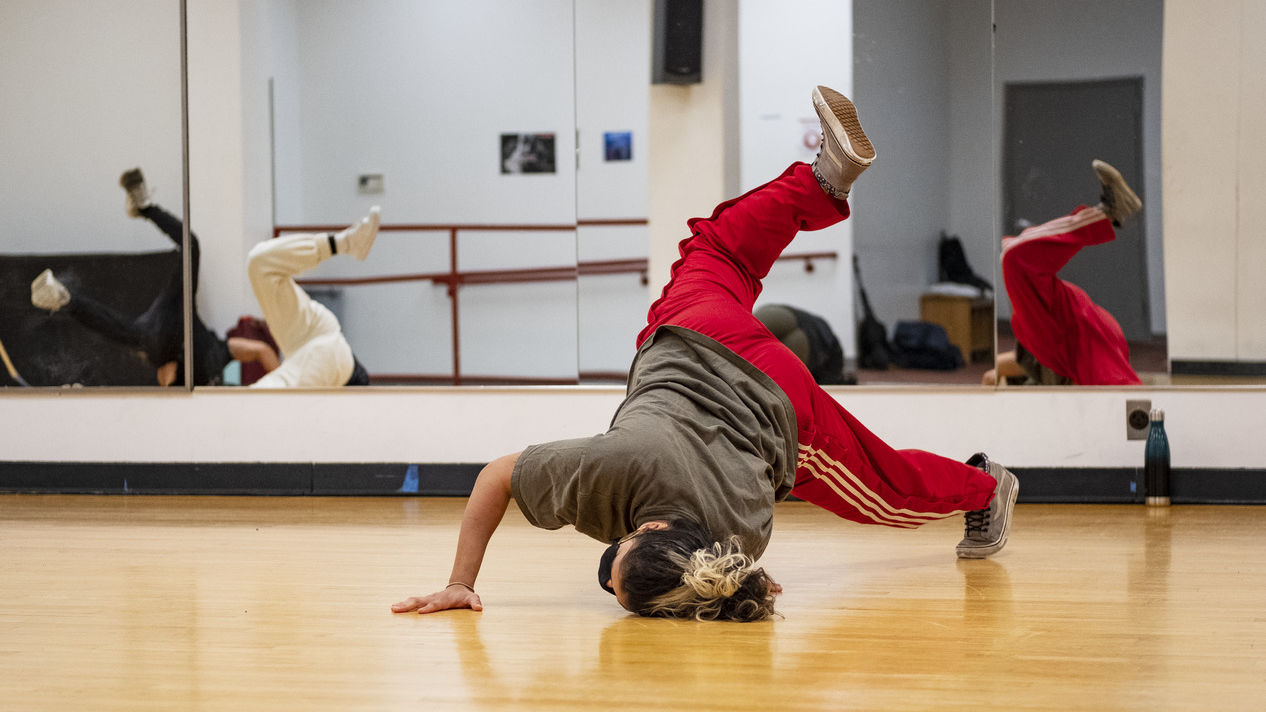 Boyer College of Music and Dance's minor in hip-hop dance and culture is set to launch during the fall semester of 2022. The program, which is open to non-dance majors across the university, will explore the history and culture surrounding hip-hop dance through a talented cast of Philadelphia-based dance icons and experts.
In the wake of the recent Black Lives Matter protests and their calls for social justice, scholars working in the field of dance have responded with efforts to decolonize their curriculum. White European dance has historically been at the center of dance studies, but Boyer's newest minor program will instead focus on dances and culture of the African diaspora. 
Sherril Dodds, a professor of dance at Boyer who oversaw the development of the new program, says Philadelphia's imprint on the hip-hop dance world is worth celebrating. "Philadelphia has a long history of what I describe as 'Black vernacular dance,' or Black social dance, and hip-hop is one of those forms," Dodds said. "Although people often associate it developing in New York in the 1970s, which it did, there's always been a long practice of hip-hop dance in Philadelphia as well."
Students enrolled in the program will learn a variety of hip-hop dances, but the coursework will also explore other expressions of hip-hop such as graffiti writing and rap music. Dodds stresses that the program is welcoming of dancers of all skill levels, and that the coursework and hip-hop culture will share a similar virtue: inclusivity.
"Hip-hop is a really inclusive practice, and it's founded on the idea of 'each one teach one,' or the idea that everyone can teach someone something else in order to develop and to maintain the culture," she said. "Whether you're a beginner or you're an advanced practitioner, there should be space held for you within the classroom because part of what hip-hop does is it welcomes everyone into what's known as the cypher, the dance circle. People of all levels should be supported and brought into it."
The program also seeks to educate students about the history of hip-hop and its community, and the ways the culture has grown and thrived. "American culture sits upon the expressive practices of the Black diaspora, with a lot of influence as well from Latin American populations in terms of music and dance culture," said Dodds, who has been studying hip-hop for over a decade and learning breaking for the past seven years. "Part of what we're trying to do is honor that contribution and learn something about the history of it."
"Within that history there is a story of oppression and minoritization of people," she continued. "I think it's really important that anyone who engages in hip-hop understands that history and how we all benefit from the expressive practices of those communities who've been historically oppressed or marginalized."
Dodds drew on the expertise of the local hip-hop dance community when developing the new program. She consulted with Mark Wong, who runs an organization in the area called Hip Hop Fundamentals, as well as the hip-hop artist Raphael Xavier, who now teaches hip-hop at Princeton.
Other contributors to the program include Virgil "Lil O" Gadson, who was a finalist on the television show So You Think You Can Dance and is a respected street dancer; Kyle and Dinita Clark, international dance competitors who have taught hip-hop dance throughout the area including at Temple; and Raymond Trinh, who used to serve as the president of Temple Breakers, a Temple-based breaking organization.
The 22-credit program will include some existing coursework that the Temple Dance Department already offers, but it will also introduce six new courses designed to enhance the university's teaching of hip-hop and dance culture. 
Included in the new curriculum are classes such as Breaking: Moves and Meanings, in which students will learn the foundational vocabulary of breaking and trace its journey from a Black social dance practice to an elite competition sport; Hip Hop Entrepreneurship; House and Hip Hop Social Dance; and Funk Styles: Locking and Popping, in which students will develop skills in the movement techniques of locking and popping and learn the histories of each dance form.
Interested students can learn more about the new program on Boyer's website.