Posted
September 29, 2022
Amy Goldberg named dean of the Lewis Katz School of Medicine
Following a national search, Goldberg takes on the role of dean after holding the position in an interim capacity for the last 18 months.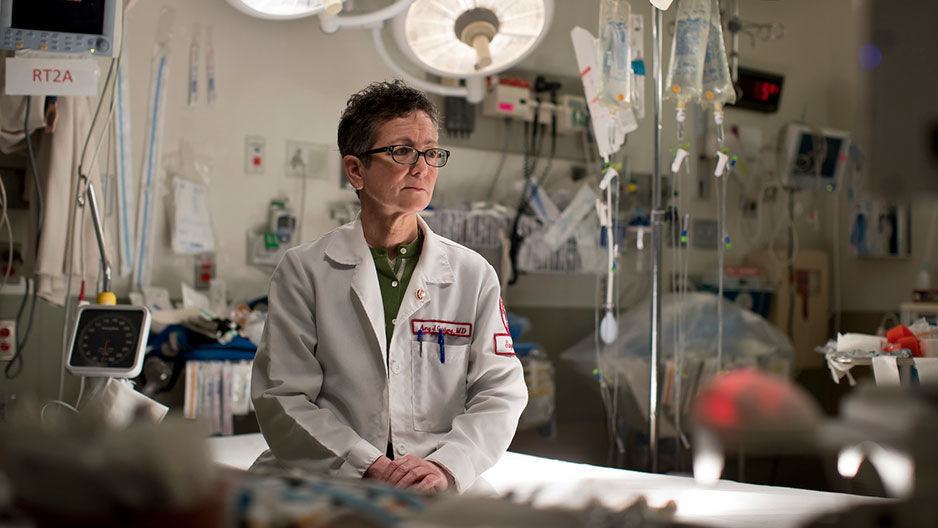 Following a national search, Amy Goldberg has been appointed dean of the Lewis Katz School of Medicine, Temple University Provost Gregory Mandel announced Thursday, Sept. 29. She is the first woman dean in the school's history.
Goldberg, the George S. Peters, MD and Louise C. Peters Chair and Professor of Surgery at the School of Medicine and surgeon-in-chief of Temple Health, has served in this role in an interim capacity for the last 18 months. She assumed the role after the late John M. Daly died suddenly in March 2021.
"Dr. Amy Goldberg has excelled in each role she has held at Temple, and we are enthusiastic about her visionary leadership of the Katz School of Medicine," Temple University President Jason Wingard said. "She is a keenly intelligent leader who sees opportunity everywhere, is motivated by what is fair, right, and best, and is committed to cross-stakeholder engagement. Both her leadership and scholarship are poised to advance [Temple's medical school] to the next level."
This is arguably most noticeable with the MD program curriculum, which has been reconfigured under her leadership to allow for better overall continuity and increased student support.
Temple has long been a key part of Goldberg's identity. Her parents were both alumni, and Goldberg completed her residency in general surgery at Temple University Hospital. She earned her first faculty position, clinical instructor in surgery at Temple in 1991, and she has continued to rise through the organization since, holding positions that include director of Temple's General Surgery Residency Program, chief of Trauma and Surgical Critical Care and chair of the Department of Surgery.
"We have already seen remarkable progress at the Katz School these last 18 months with Amy at the helm," Provost Mandel said. "She is someone who is always thinking outside the box and looking for ways in which we can better serve our students."
One way that Goldberg has done this is by adding the POCUS, point of care ultrasound, to the Katz curriculum. This pocket-sized diagnostic tool is used to show moving images of what is happening under a patient's skin.
Throughout her career, Goldberg has also routinely been recognized for both her teaching and surgical expertise. She has been named to the Best Doctors in America list on two occasions (2007, 2011), and she received The Great Teacher Award, Temple University's highest teaching honor, in 2018. She also is a former recipient of the Lindback Award for Distinguished Teaching and has earned six Golden Apple awards.
A director of the American Board of Surgery, Goldberg lectures nationally, serves on journal boards, and has written for the Journal of the American Medical Association, along with several peer reviewed journals, plus more than a dozen chapters for major textbooks. Her research has focused on breast cancer risk in minority families, interventions for critically ill and injured patients, as well as radiographic assessment for early identification of complications from penetrating trauma.
A trauma surgeon, Goldberg is deeply committed to utilizing a holistic approach to combating the gun violence epidemic that is plaguing this nation and city. The community-focused anti-gun violence programs that she has created through Temple Safety Net have saved thousands of lives and garnered national media attention through outlets that include National Public Radio, ABC World News, CNN, The New York Times, and The Washington Post.
"Every role I've had has been amazing -- and now the most fantastic opportunity of all: to steward the Lewis Katz School of Medicine, a trailblazer with stunning potential for difference-making through medical education, community advocacy, and biomedical research," Goldberg said.