Temple's Lenfest Center increases job opportunities for the North Philadelphia community
Temple University's Lenfest Center for Community Workforce Partnerships serves as an education and workforce hub in North Philadelphia.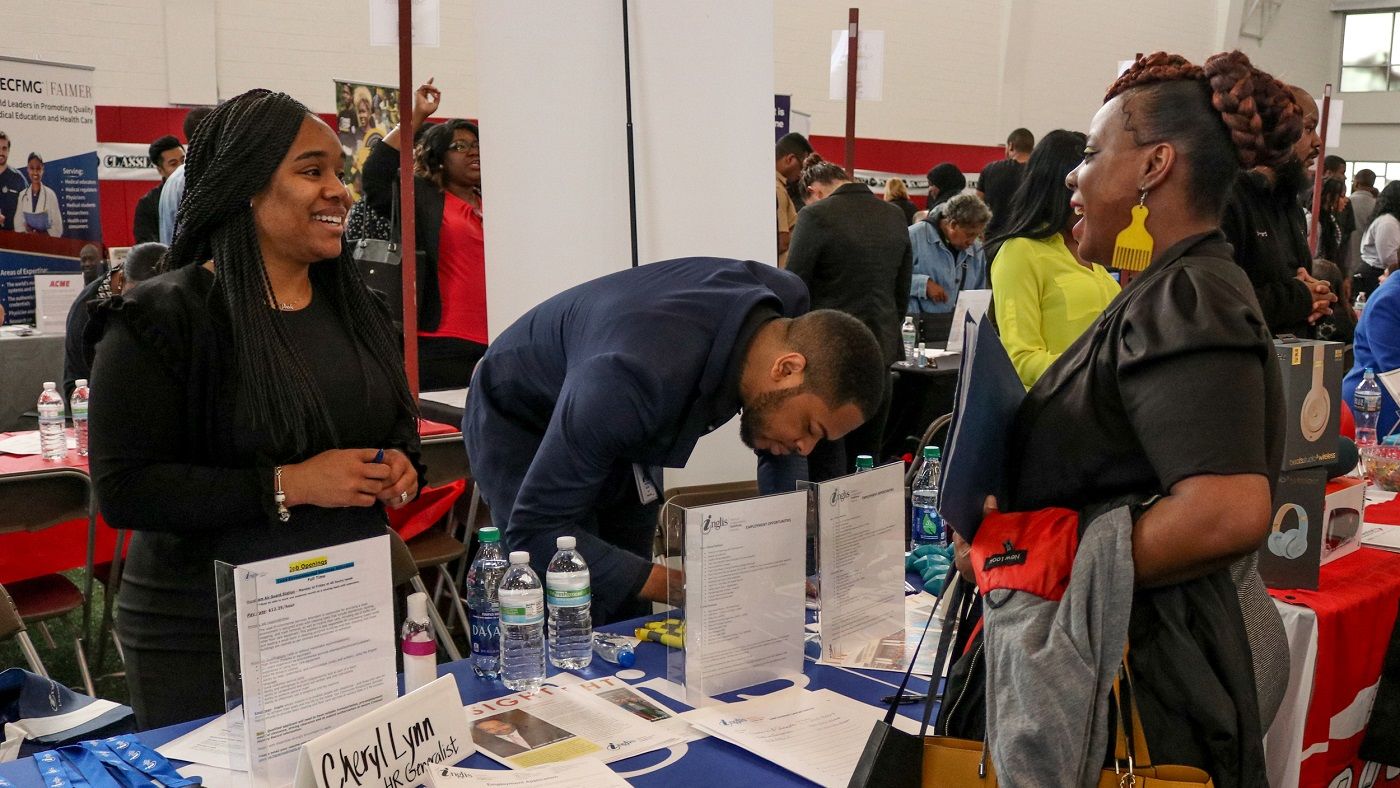 Temple University has a long-standing history of providing a variety of programs, events and initiatives to support and uplift our North Philadelphia neighborhood. This story is one example of many that illustrates the work we do in our community.
Temple University's Lenfest Center for Community Workforce Partnerships provides support for community-led groups that are applying for funding for community solutions to violence.
"We're trying to be a resource to community groups so that they can implement what they know is needed in their communities," said Shirley Moy, executive director of the center's Lenfest North Philadelphia Workforce Initiative (LNPWI). "Our center will never turn someone away, so if we are not the right fit, we'll still help them with what they are seeking. We will be a resource and find the right referral, whether in the university or the community. We want to help be a part of the solution."
The center assists job seekers with services ranging from resume and interview preparation to educational and career training programs to help improve the quality of life for underserved communities. The center has served as a campus partner that is considered a non-law enforcement initiative to help reduce crime in North Philadelphia.
"Some of the determinants affecting the results of violence are often associated with poverty, income and opportunity," Moy said. "The Lenfest Center is a gateway that provides local residents with great services for workforce development to increase their education levels and improve their opportunities to secure higher-paying jobs, which reduces resorting to violence for income." 
A year-end impact report (April 2021–December 2022) shows that the work of the Lenfest Center, which has 287 employer-provider partnerships, has resulted in participants earning 230 high school diplomas/equivalencies, 465 industry-recognized credentials and 75 post-secondary education degrees. The report also shows that participants at the Lenfest Center have benefited from an increase in employment opportunities, including 1,125 individuals employed and 74% earning family-sustaining wages of $15 per hour or more. A total of 1,488 Lenfest Center participants live in North Philadelphia, and 1,326 live in other zip codes. 
In 2021, in collaboration with LNPWI, the city of Philadelphia's Department of Behavioral Health and Intellectual disAbility Services received a federal grant from the U.S. Department of Health and Human Services' Substance Abuse and Mental Health Services, which allowed them to implement the Resiliency in Communities After Stress and Trauma initiative. The program provides evidence-based violence prevention assistance, community youth engagement programs and trauma-informed behavioral health services for youth, young adults and their families. 
Vice President for Diversity, Equity and Inclusion Val Harrison said Temple's Lenfest Center has served as an impactful education and workforce hub that helps to better understand ways to address violence in underserved communities. 
"Some people don't understand the breadth of the impact of racism on human behavior. There is a constellation of issues, including educational and economic inequality, employment and housing discrimination, poverty, and trauma that affect our behavior," Harrison said. "As educators, we help people understand how decades of historical wrongs like limited educational and job opportunities, frustration and trauma all restructure behavior. In addition, we engage in a variety of interventions that come out of that understanding."
She added, "The Temple Lenfest Center is home to a range of programs and services from educational enrichment for neighborhood youth to job training and placement that address some of the root causes of violence."
Interested in learning more about the work Temple University does in the North Philadelphia community?  Here's a list of our recent community engagement stories.