Transforming passion into a career: Psychology senior aims to revolutionize sex education for queer people of color
Amir Methvin, originally from Cape Town, South Africa, flourished with the support of her favorite professor, Jennifer Pollitt. Now she's headed to graduate school at Columbia University for a dual master's degree in public health and social work.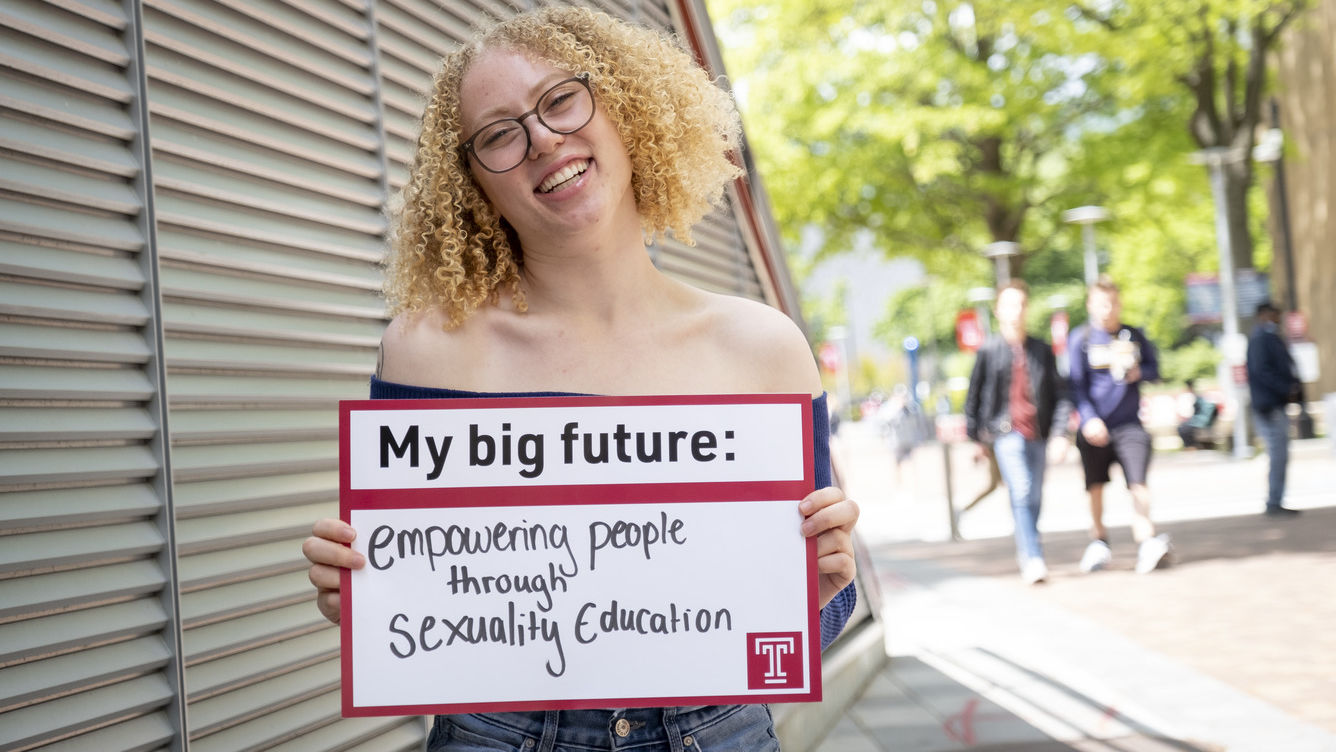 Name: Amir Methvin
Degree: BA, psychology with a double minor in dance and gender, sexuality and women's studies
College: College of Liberal Arts
Hometown: Cape Town, South Africa
Graduation year: 2023 
Big Future: Empowering queer people of color through sex education and sex therapy. 
Next steps: Amir is moving to New York City to pursue a dual master's degree in public health and social work at Columbia University. Her goal is to become a sex educator and sex, family and couple's therapist for queer people of color. The diverse and supportive environment at Temple allowed Amir to safely come out, and now she's determined to empower other queer people of color. She believes that queer people of color need to see people like them leading conversations and disseminating information about sexuality and intimacy. 
Why Temple: Born and raised in South Africa, Amir felt it was important to attend college in the United States to expand her world view and to better connect with her parents' home country. Narrowing her options down to Philadelphia came naturally because Amir loved that it felt like a cozy college town while still providing all the benefits of a major city. From there, Amir attended Experience Temple Day and met Leah Hetzell,  the director of the International Student and Scholar Services. Everything fell into place almost immediately. She was excited and impressed by the number of international opportunities Temple offered and noted the inclusive environment on campus. She felt that she had found a place that would allow her to explore herself and her place in the world. 
Favorite professor: Amir has taken every class offered by Jennifer Pollit, so it's easy for her to identify her favorite professor. Amir says that Pollitt started many of her lessons by asking how students were feeling both in their bodies and minds and about what they were learning. Pollitt's approach showed Amir that she was intentionally creating a dynamic of equality between her students and herself, which created a highly collaborative and effective learning process.  
Philly life: Growing up in a country where Black people are the majority, Amir knew the transition to the United States was going to be startling. Soon after her arrival, however, she was excited to find that Philadelphia had a large Black community with a rich culture, particularly in the arts. She also noticed that unlike many other American communities, there was little segregation in Philadelphia's arts community. This made her eager to get involved through Temple's Babel Slam Poetry Collective. 
Temple Made moment: During her junior year, Amir landed a spot—with support from Pollitt—in the Future Public Health Leaders Program, a prestigious summer internship paid for by the United States' Centers for Disease Control and Prevention and hosted by the University of Michigan. The internship trained Amir and then deployed her to a community health and social services center in Southwest Detroit where she gave a five-week summer program focused on interpersonal violence prevention through sex education. When Amir returned to Temple after the summer internship ended, her career path finally became clear.  
Hootable: "In my senior year, I watched all my Temple experiences click together. I looked back over my four years and realized everything I did focused on public health and social work and highlighted the voices of marginalized people. These were my passions. Being at Temple and being supported by a few critical faculty and staff members brought my career path into clear focus through my passions. It was exciting and empowering, and now I feel so ready for my next step."