WRTI celebrates 75 years of jazz, classical and community
From humble beginnings as an AM station that could only be heard on Temple's campus, WRTI has grown into a powerhouse of jazz and classical programming.
It was a fall day on Temple's campus 75 years ago when Stanley Isenberg cleared his throat, leaned into the microphone and said, "Can you hear me?" 
Those were the first words ever broadcast by WRTI, the Temple-supported public radio station which bases its operations near the corner of Broad Street and Cecil B. Moore Avenue. Today, the beloved jazz and classical station is enjoyed by more than 300,000 listeners each week. It is impossible to say how many people heard Isenberg's inaugural message, but at least one person did. 
"A girl from one of the sorority houses came running out and said, 'I heard you I heard you!'" the 99-year-old Isenberg said during an October visit to the station. "And that was the beginning of WRTI." 
WRTI was formed in 1948 thanks to a $25,000 gift from Walter Annenberg, then-owner of The Philadelphia Inquirer. As the station celebrates its 75-year anniversary, it looks back on a history that is steeped in change, growth and an unwavering dedication to serving its community. 
From 1948 until 1953, WRTI was an AM, campus-limited radio station with a very restricted broadcast range. As the station's original student manager, Isenberg led a team of six Temple students who took to the air to share news, music and some scripted ads with whoever picked up WRTI's signal.   
"At that point we had no transmitter," Isenberg said. "We went on the air because our signal bounced off the wires on the campus. If you were within distance of those wires, you could hear us." 
The station's broadcast range expanded in 1953, when WRTI officially became an FCC-licensed FM station. As an educational licensee, WRTI was still a campus-focused station with the mission of teaching students the ins and outs of radio. But the scope of WRTI's mission greatly expanded in the 1980s when the station began receiving funding from the Corporation of Public Broadcasting (CPB). 
"When WRTI became funded by the Corporation of Public Broadcasting, it went from a student-focused activity to a station with the broader mission of serving the community," said Bill Johnson, WRTI's general manager. 
Johnson said the 1980s were a time of great expansion at WRTI. With the funding from CPB, the station began employing more full-time staff. WRTI also began using new transmitters and broadcast towers throughout the region and went from being a Philadelphia-centric station to one that could be heard throughout northeastern Pennsylvania, New Jersey and Delaware.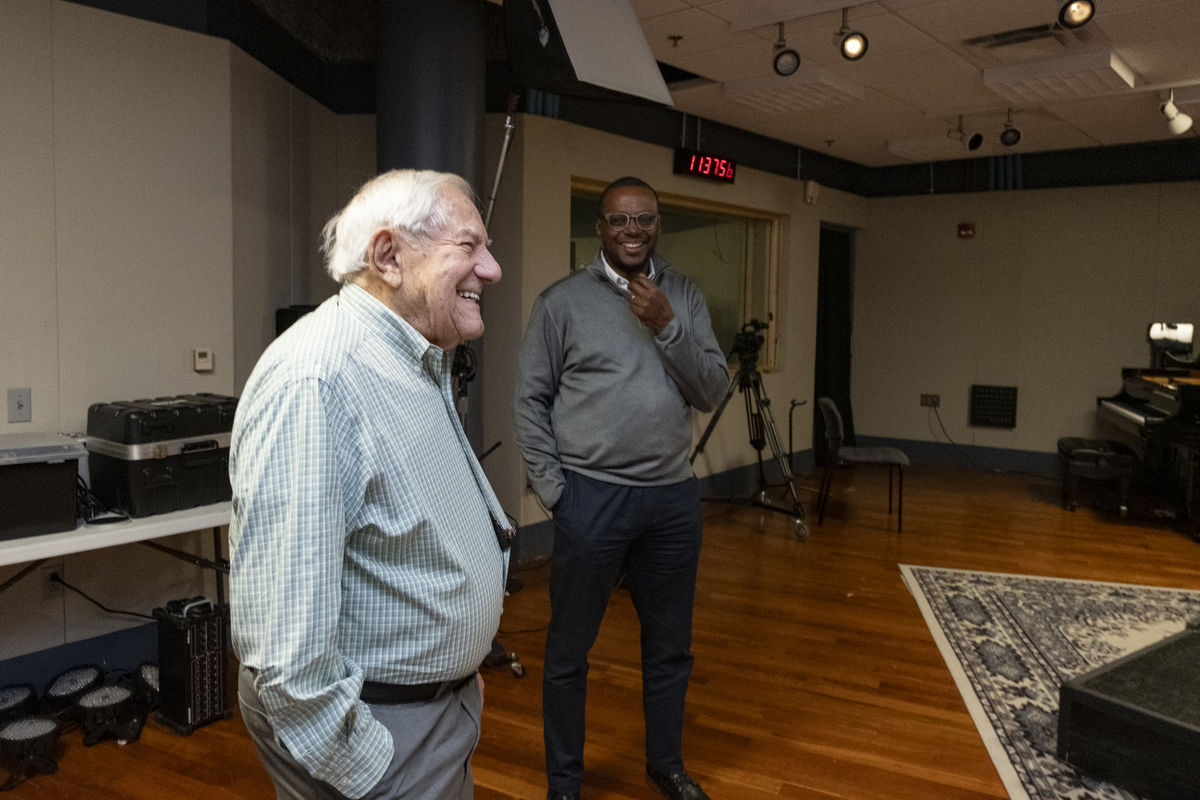 Stanley Isenberg and Bill Johnson have led different chapters in WRTI's dynamic history. Their October meeting was 75 years in the making. (Photography by Joseph V. Labolito)
One thing that remained constant during this period of change was WRTI's broadcasting of jazz music. The station adopted an all-jazz format in 1969, and in the following decades WRTI introduced a variety of new jazz programming. 
"In a place like Philadelphia, jazz is woven into the fabric and the history of the city," Johnson said. "Some people call it America's music, so jazz is too important to not be represented on the radio in a city this large."  
WRTI has spent most of its history supporting Philadelphia's renowned jazz scene on the air waves and out in the community. One landmark event was in 1966 when the station recorded a live performance by the legendary saxophonist John Coltrane at the Temple Performing Arts Center (at the time it was known as Baptist Temple). Those recordings were immortalized in a 2014 release titled Offering: Live At Temple University. And in February 2022 WRTI partnered with Temple to host a free concert featuring Grammy-winning saxophonist Kenny Garrett, again at the Temple Performing Arts Center. Members of the community piled in to watch Garrett perform alongside faculty members from the Boyer College of Music and Dance including Terell Stafford, Bruce Barth and Justin Faulkner. 
"Stuff like the Kenny Garrett show is gold to us, because we play Terell Stafford on the air. And we play Bruce Barth and Justin Faulkner, too," Johnson said. "It's really cool when all of them come together on stage and you can say, 'That's Temple'." 
A new chapter in the station's history began in 1997 when WRTI changed its format to half jazz, half classical, making it the only station of its kind in the country at the time. Such a drastic format change could have presented a challenge for WRTI and its listeners, but the station has become well-known for its broadcasting of classical music during the day and jazz at night. 
"I think a lot of us in the music space realize that while there are different genres of music, most music has more in common than it has that's different," Johnson said. "We also believe that bringing people together is a central part of what music can do, and we showcase that by not trying to separate the audiences." 
As such, the station places an emphasis on cross promotion of the two genres. Listeners will often hear promotions for jazz programs during the classical music broadcast, and vice versa. Today, about one-third of WRTI listeners tune in to both jazz and classical broadcasts, one-third tunes in to just jazz, and one-third tunes in to just classical. 
"That's a pretty sweet ratio," Johnson said. "It allows us to speak to our listeners with one voice, whereas if we had half listening to classical only and half listening to jazz only, I think we would have much bigger challenges." 
Regardless of which genre they prefer, WRTI listeners have grown to adore the station's talented and diverse roster of hosts. That roster has included radio legends like Bob Perkins, who celebrated his retirement earlier this year after more than 58 years in radio, 25 of which were spent with WRTI. 
Johnson will tell you that it's no easy task DJing jazz and classical programs for WRTI's audience of connoisseurs. The practice requires command over decades, sometimes even centuries of music that resonates with people across cultures. WRTI hosts have the rare ability to guide shows with their familiar voices and music that captures the audience's imagination.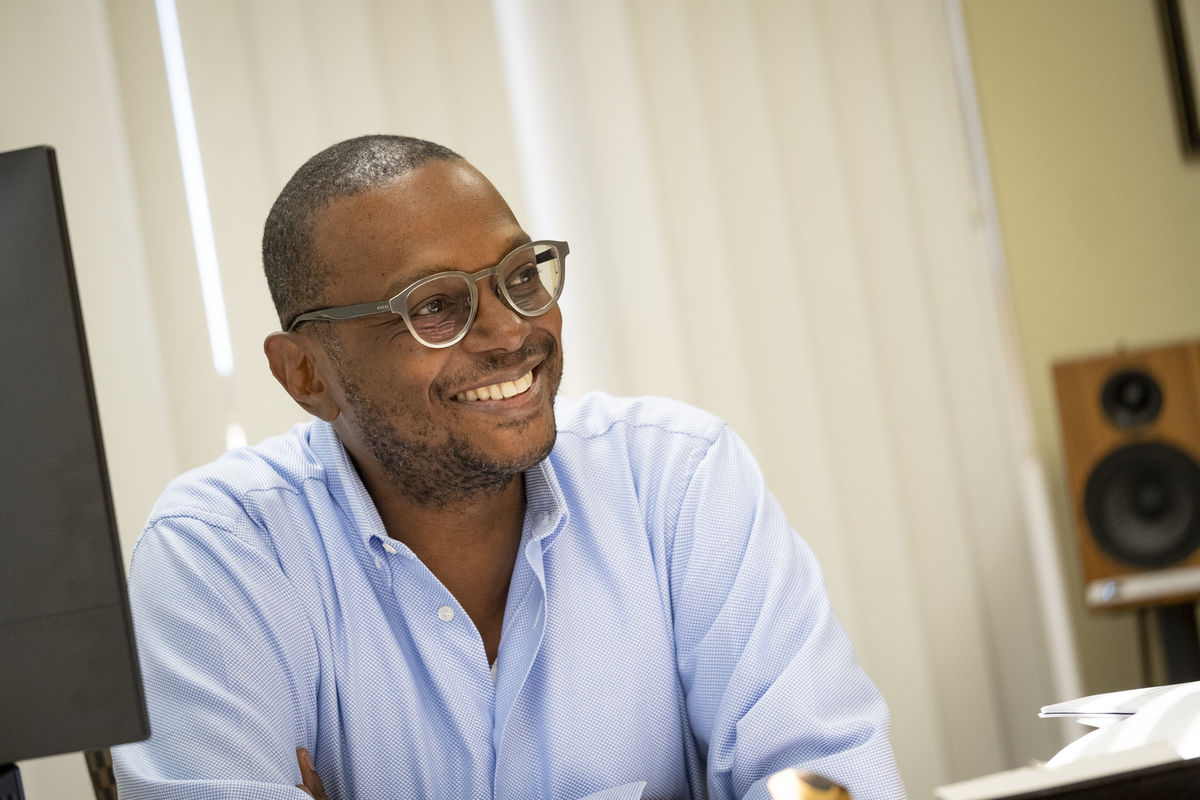 "You can tune in to WRTI any day of the week, day or night, and you're going to hear a standard of music and hosting that is as good as any in the country." –Bill Johnson, WRTI general manager (Photography by Joseph V. Labolito)
Johnson took over as general manager in 2017. One of the first things he did in his new role was embark on a listening tour to meet with more than 65 different stakeholders throughout the community including listeners, donors, musicians, arts and cultural organizations, and even people who work for the city of Philadelphia. He learned that people expected WRTI to be more than a radio station. They expected WRTI to be a catalyst, and a champion of music. 
Fittingly, WRTI's official mission is to champion music as a vital cultural resource. It pursues its mission in a variety of ways, one of which is fostering the next generation of jazz and classical lovers. The station works with more than a dozen educational partners to increase opportunities for young students to participate in and attend musical performances.  
"We're in the business of promoting music that is timeless and has lived on for generation after generation," Johnson said. "We do everything we can to cultivate the next generation of listeners, performers and people who are going to love this music as much as we do." 
WRTI also prioritizes promoting local artists and venues, and Johnson says the station's role is that of an on-ramp to music, rather than a final destination.
"We want people to go out and consume live music, because that's what drives a healthy, vibrant music economy," he said. "We'll play a piece of music on the radio by an artist who is going to be in our community, maybe performing, doing a workshop or teaching a masterclass. We try to tie the music to something that's going on in the community." 
Perhaps the most notable of these efforts is WRTI's weekly broadcasting of the Philadelphia Orchestra. The orchestra is not syndicated to broadcast on any other station, so listening to one of the premier orchestras in the world is a unique privilege for WRTI listeners. 
The station also fulfills its mission by generating original music content. WRTI is one of about 25 NPR-affiliated stations in the country that produces NPR Live Sessions, a video series of live, in-studio music performances. The series has allowed the station to establish more of a national brand, but it has also helped WRTI spread the word about Philadelphia's talented musicians.  
The station continues to expand the ways it champions music. Listeners can tune in to either jazz or classical broadcasts anytime, anywhere, thanks to web streaming on the WRTI website or the mobile app. 
The station also recently entered the podcasting world with The Late Set, a show dedicated to jazz conversation, and Johnson says WRTI plans on producing more podcasts in the future. Looking even further forward, Johnson hinted that WRTI is working on bringing a Philadelphia jazz festival to fruition. 
But for right now, the station is celebrating 75 years on the air by sharing their story and their success with as many people as possible. 
"You can tune in to WRTI any day of the week, day or night, and you're going to hear a standard of music and hosting that is as good as any in the country," Johnson said. "We're proud of what we do, and we're shouting that from the rooftops." 
WRTI is a member-supported public radio station that relies on support from the community. Learn more about becoming a member on WRTI's website.