Secrets to enriching your virtual internship
How do you navigate job opportunities in an online space?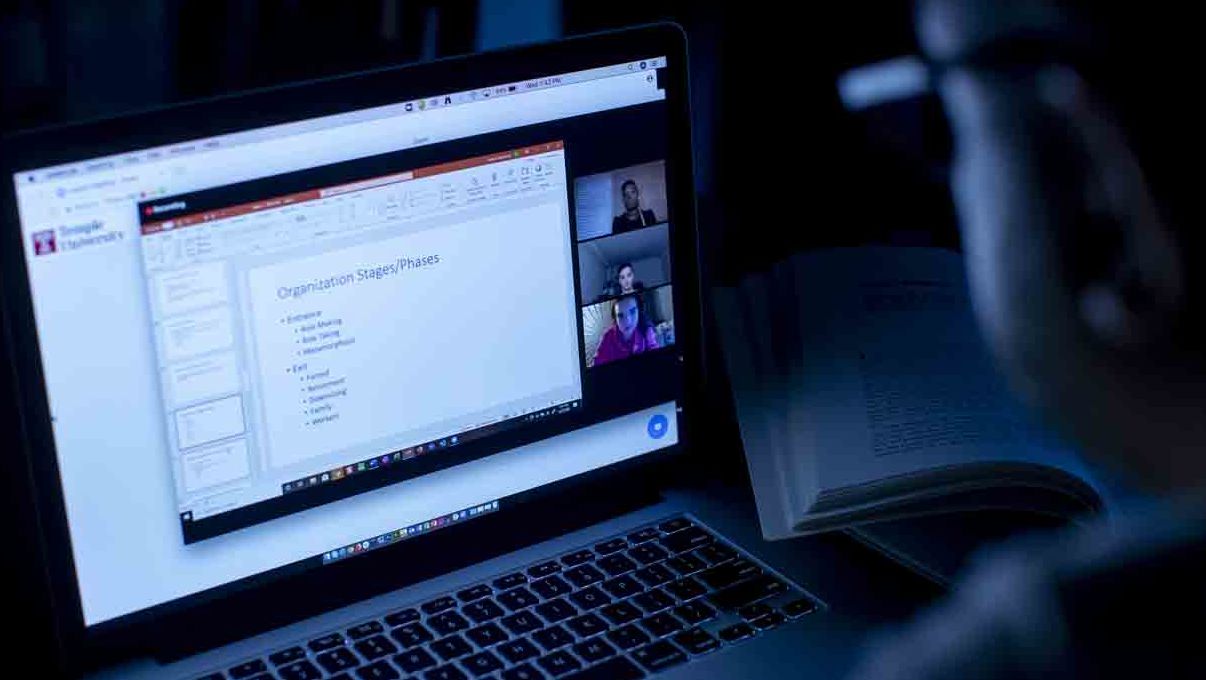 Right now, virtual internships are the new norm and there's still plenty of opportunities out there waiting for you. Students continue to gain valuable professional experience in their fields by connecting to jobs remotely. The question now is: How do you adapt to this digital landscape? With guidance from the Career Center, we've compiled eight key tips to ensure your remote position is successful and rewarding.
1. Establish your goals and learn the expectations
It's important for you to know the "what" and "why" in respect to your new position. What is the company expecting of you,  what do you want to learn from them and why? You should speak with your supervisor about your responsibilities, objectives and ways to succeed in your role before the job begins. This shows your commitment to the role and eagerness to learn more!
2. Maintain open streams of communication
    
Communication in a digital environment looks different than it does in an in-person office setting. You've lost chit-chat in the break room and throwing colleagues positive gestures and affirmations during informal conversations. There are opportunities for synchronous communication via Zoom or over the phone, but sometimes you'll have to wait to schedule a meeting like that. (Hint: It's OK to ask for one, too, if that's how you best communicate.)
That's why remote teams often engage with each other asynchronously through email, chat programs—such as Slack—or project management systems—such as Basecamp. Learn how to effectively use the tools your office implements to ensure your presence is known. Ask questions, ask for help, ask where you can assist—you'll become a reliable colleague and someone your supervisors can count on. Who knows, it might even lead to a full-time job!
3. Manage your time and accomplishments
    
Working from home poses a big challenge: time management. With no external pressures to complete your work, like your boss checking in on you, it can be easy to fall into patterns where you sleep in late, miss deadlines and become prone to distractions.
You should make use of a personal agenda, like a physical notepad or online calendar—whatever works. If you establish a designated spot where you keep track of your assignments, it will hold you accountable to meet your expectations and make good impressions. Try bullet journaling, or productivity apps!This will help you figure out how to best keep track of your tasks. 
Speaking of keeping track of things, you'll want to note the substantial work you produce! Whether it be a freelancing gig, a semester-long internship, or a full-year position, you can include your projects in your portfolio, resume and LinkedIn profile to share with future employers. It's also a great way to remind yourself that you are in fact creating every day, which is something to celebrate!
4. Create a comfortable working environment
Hunched over your laptop in bed isn't good for your posture, nor will it motivate you to finish your work. Think homey: invest in a comfy chair and a desk space where you can organize and thrive. Consider your surroundings, too: Is it noisy or distracting? Do you get enough natural light? How can you alter your setting to best suit your needs?
5. Share your ideas
    
You know it's true when they say you learn from your mistakes, and an internship is a great place to do that. This is a time for experimentation and discovery: you're figuring out exactly what you want professionally and how to get there. 
Think of your internship as a trial run for a certain career path. If you want to learn anything, you'll have to offer your input and ideas to gauge how you can succeed in your role. Do not hesitate to provide solutions because your colleagues are eager to see what you can offer. And no matter the response, there will always be something to learn and you will grow from the experience.
6. Ask for feedback
Positive feedback and constructive criticism help you reach your potential. When you meet with your supervisors, ask questions like: 'What could I be doing better? Am I on the right track to meet the organization's goals? Is there any additional project I can take on to further build my skill set?'
7. Practice patience
It is a virtue, after all. Recognize that in an online setting you have colleagues on different schedules with different priorities, and they may even be in different time zones. Navigate this dynamic by respecting their prime concerns and maintaining communication. If someone doesn't respond to a request right away, you can move on to a different project instead of dwelling on the lack of direction.
8. Position your health first and foremost
It's tempting to begrudgingly roll out of bed a minute before you're due in for work. Instead, budget time to shower, eat breakfast or take a short walk around the block before you clock in. Do the steps it takes for you to feel good inside and out and you'll find your remote internship much more manageable and enjoyable.

The Career Center helps connect students with internships, including paid, on-campus opportunities, and offers career coaching, resume and cover letter workshops, mock interviews and more. Use Handshake, a job search engine tool partnered with the Career Center, to browse and apply for early career opportunities.
—Nick Eiser