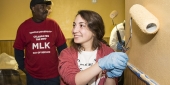 Temple's presence hundreds strong in MLK service efforts
Hundreds of Temple Owls lent a hand during service projects around North Philadelphia on Martin Luther King Jr. Day.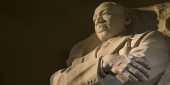 Living the legacy, 365 days a year
Meet members of the Temple community who continue Martin Luther King Jr.'s legacy year-round through their service work.
Giving thanks and giving back
Staff and students packed and delivered more than 100 food baskets for local churches, nonprofits and community members for the Thanksgiving holiday.
Featured Temple Expert
Jason Del Gandio
As an assistant professor of rhetoric and public advocacy in Temple's Department of Strategic Communication, Del Gandio's research focuses on the practice and philosophy of social justice and the...