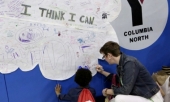 Celebrating 10 years of steering children toward success
For the last 10 years, Jumpstart at Temple University, part of a national early education program for children who live in low-income communities, has helped children develop the literacy and social skills they need to enter kindergarten.
Temple student runs Broad Street for bigger purpose
Caitlin Kummeth, Class of 2015, a strategic communications major in the School of Media and Communication, is participating in the Broad Street Run on Sunday. Learn what inspires her to run.
Temple receives EPA grant to clean up industrial contamination
Funding from the U.S. Environmental Protection Agency to Temple University will help plan health, environmental and economic improvements in Philadelphia's Kensington neighborhood. The $200,000 grant will target the cleanup and reuse of former industrial sites.