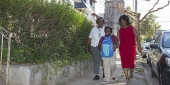 Temple celebrates 1,000 participants in Block-by-Block program
Temple Health: Block by Block, an initiative that aims to better understand and address the health concerns and needs of communities in North Philadelphia, reaches its 1,000th participant.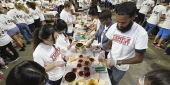 Broken record
The Temple community came together to shatter the Guinness World Record for most sandwiches made in one hour—and all for a good cause.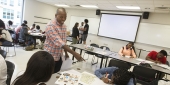 Creative change for community development
Students from across the city develop leadership skills and creative solutions to community blight during a six-week internship with Temple's Apps and Maps Studio.
Featured Temple Expert
Pharmaceutical Expert Magid Abou-Gharbia
Director of the Moulder Center for Drug Discovery Research and associate dean for research in Temple's School of Pharmacy, Abou-Gharbia is an internationally recognized leader in drug discovery. He...