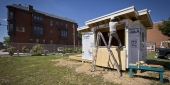 Tiny house at Temple's community garden
Temple University's Office of Sustainability partnered with a number of academic disciplines to design a sustainable tiny house for the student-run Temple Community Garden.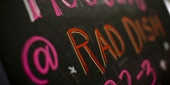 Local champions
Rad Dish Co-op café, Temple's student-run cooperative café, wins SustainPHL Award.
Rad Dish Co-op Café offers locally sourced food
Temple's Rad Dish Co-op Café in Ritter Hall Annex, the only student-run food cooperative in Philadelphia, now in its second semester of operation, was featured in a 'Philadelphia Inquirer' story.
Featured Temple Expert

Pharmaceutical Industry Expert Albert Wertheimer
A professor in Temple's School of Pharmacy, Wertheimer is an internationally recognized expert in pharmaco-economics, with experience in both industry and academia. The author of more than 400...