Rad Dish Co-op Café offers locally sourced food
Temple's Rad Dish Co-op Café in Ritter Hall Annex, the only student-run food cooperative in Philadelphia, now in its second semester of operation, was featured in a 'Philadelphia Inquirer' story.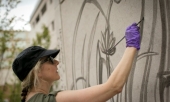 Using soot, artist draws mural on Montgomery Garage
This week, artist Caroline Rothwell used carbon emissions as a medium to draw a temporary mural of endangered plants on the north wall of Temple's Montgomery Garage.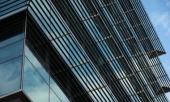 Temple named a "green college" by the Princeton Review
The Princeton Review has recognized Temple University as one of the 353 most environmentally responsible world-class colleges.
Featured Temple Expert

Steven L. Johnson
Steven L. Johnson is an assistant professor of Management Information Systems and an expert in large-scale social media networks and social media innovation. Johnson's research interests include...