Rad Dish Co-op Café offers locally sourced food
Temple's Rad Dish Co-op Café in Ritter Hall Annex, the only student-run food cooperative in Philadelphia, now in its second semester of operation, was featured in a 'Philadelphia Inquirer' story.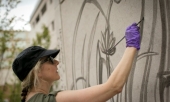 Using soot, artist draws mural on Montgomery Garage
This week, artist Caroline Rothwell used carbon emissions as a medium to draw a temporary mural of endangered plants on the north wall of Temple's Montgomery Garage.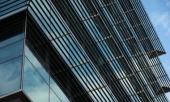 Temple named a "green college" by the Princeton Review
The Princeton Review has recognized Temple University as one of the 353 most environmentally responsible world-class colleges.
Featured Temple Expert

Derek Avery
Derek Avery is an expert in workplace discrimination and diversity, including how gender, race and ethnicity affect employee recruitment, retention, engagement, performance and absenteeism, among...