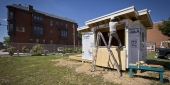 Tiny house at Temple's community garden
Temple University's Office of Sustainability partnered with a number of academic disciplines to design a sustainable tiny house for the student-run Temple Community Garden.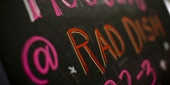 Local champions
Rad Dish Co-op café, Temple's student-run cooperative café, wins SustainPHL Award.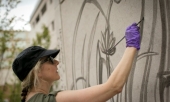 Using soot, artist draws mural on Montgomery Garage
This week, artist Caroline Rothwell used carbon emissions as a medium to draw a temporary mural of endangered plants on the north wall of Temple's Montgomery Garage.
Featured Temple Expert

Pharmaceutical Industry Expert Albert Wertheimer
A professor in Temple's School of Pharmacy, Wertheimer is an internationally recognized expert in pharmaco-economics, with experience in both industry and academia. The author of more than 400...