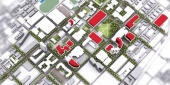 After final review, Visualize Temple to guide campus planning
The Visualize Temple campus plan will officially guide Temple's projects and planning efforts over the next several years, which include a new state-of-the-art library and campus quad.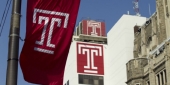 Wachman Hall renovation to modernize classrooms, increase accessibility
Temple University's Wachman Hall will soon be renovated. Construction on the $11.5 million project is set to start within four to six weeks and finish in time for the 2015–2016 academic year.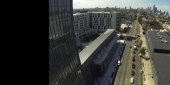 Morgan Hall heralds new era in residential living at Temple
When members of the Class of 2017 moved into Mitchell and Hilarie Morgan Residential and Dining Complex in fall 2013, they helped usher in a new era for living and learning at Temple University. The opening of the block-long facility at Broad Street and Cecil B. Moore Avenue represents the future of residential life at a university that little more than a decade ago was known primarily as a commuter school.