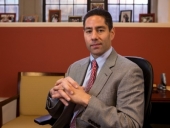 Kenneth Kaiser appointed CFO
Temple University President Neil D. Theobald has announced the appointment of Kenneth Kaiser as Temple's vice president, chief financial officer and treasurer. Kaiser, who has been a member of the university's financial team for nearly 20 years, had been serving as interim CFO and treasurer since July 2013. "Ken brings extensive experience and a deep understanding of where the university has been and where we need to go," Theobald said.
Researchers in the College of Health Professions and Social Work awarded more than $14 million
This fall, the College of Health Professions and Social Work was awarded more than $14 million in research grants, which will help further research of traumatic brain injuries, mental illness, public health and more.
Temple Trustee Lewis Katz makes surprise $25 million pledge
In a surprise announcement made at an awards dinner Wednesday night, Temple University Trustee Lewis Katz, CST '63, announced a $25 million pledge—the largest single gift in university history. Katz has a long legacy of generosity to Temple that he credits for opening doors of opportunity for the Camden, N.J., native.