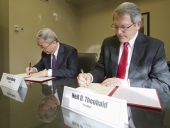 President Theobald signs inbound study-abroad agreement
President Neil D. Theobald signed an inbound study-abroad agreement with Wang Yanxin, president of the China University of Geosciences (CUG) in Wuhan. Beginning in the fall, students from CUG will come to Temple to study as non-degree students for either one year or one semester.
Tyler alumni give wedding gift to Temple Rome
Tyler School of Art alumni Candace Jensen, TYL '08, and Owen Schuh, TYL '07, met while studying at Temple Rome in spring 2007. As a part of their 2013 wedding registry, they asked for gifts for the Temple Rome Scholarship Fund to help students fund trips to Italy.
Temple University Japan collaborates with Miyagi University
Temple University Japan and Miyagi University signed a Memorandum of Understanding in December, in order to begin working together on academic programs, initiatives and exchanges.