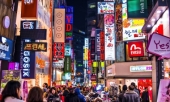 Temple to expand partnerships with Korean universities
Temple University President Neil D. Theobald recently visited Korea, where he spoke about his plan to expand opportunities for cooperation and exchange with Korean universities.
Temple hosts dental faculty from Middle East
Temple University's Kornberg School of Dentistry recently hosted visiting Israeli and Palestinian dental faculty as part of the Bridge to Peace program, which facilitates opportunities for dental professionals to reach beyond political and religious divides.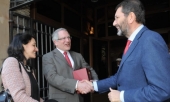 Theobald visits Temple University Rome
President Neil D. Theobald recently visited Rome, where he was a featured speaker at a symposium hosted by Temple Rome and the U.S. Embassy to the Holy See. The symposium focused on Pope Francis' upcoming visit to Philadelphia.