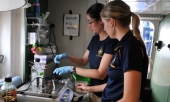 Toxic dispersant used to clean oil spill
The dispersant used to remediate the 2010 Deepwater Horizon oil spill in the Gulf of Mexico is more toxic to corals than the spilled oil, according to a study conducted at Temple University.
Temple in top 100 of NSF's research rankings
Reflecting the continuing growth of the university's research enterprise, Temple has moved into the top 100 for research expenditures, according to the latest rankings from the National Science Foundation.
Study correlates scents with purchasing tendencies
Marketing Professor Maureen Morrin and a research team found that rooms with warm scents caused consumers to prefer luxury items and increase their spending. This marks a revolutionary finding in the field of consumer behavior.