Temple graduates exceed predictions in Brookings report
Temple graduates performed better than expected in midcareer earnings and student-loan repayment according to the Brookings Institution's "Beyond College Rankings" 2015 report.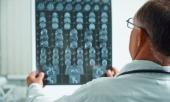 Research links brain activity and chronic itch
Using advanced fMRI imaging, researchers at the Temple University School of Medicine found that areas of the brain involved in motor control and reward processing were more activated in chronic itch patients than in healthy subjects.
Temple participating in trial for new COPD treatment
Temple University Hospital is the lead institution participating in a nationwide Phase II clinical trial on an investigational oral tablet therapy used to suppress inflammation and ease breathing in patients with chronic obstructive pulmonary disease.