Philadelphia 'Big 5' honors three Temple men's basketball players
Men's basketball players Dalton Pepper, Will Cummings and Jimmy McDonnell will be honored at the annual Philadelphia Big 5 Banquet, to be held April 14 in the Palestra.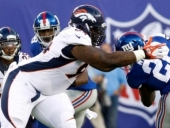 Terrance Knighton: From Temple Made to the Super Bowl
The Super Bowl is going to get some #CherryOn—again. When defensive tackle Terrance Knighton, CLA '09, takes the field for the Denver Broncos on Sunday evening at MetLife Stadium in New Jersey, he'll be the sixth former Owl to play in a Super Bowl in the last 10 years. "Temple molded…the character I have now," said Knighton, the Owls' captain in his senior year.
Owls appear on ESPN's 'College GameDay'
The Owls faced the La Salle Explorers at the Palestra as a part of ESPN's "College GameDay" Saturday, Jan. 18. The game aired on ESPN2 Saturday afternoon.