Why are Temple's school colors cherry and white?
There's only one other school in the country with the colors cherry and white. How did they become Temple's signature shades?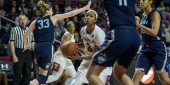 Queens of the court
Basketball and healthy competition is a recipe for friendship for women's basketball players Alliya Butts and Feyonda Fitzgerald.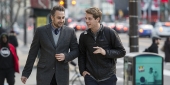 Student-athletes score highest GPAs ever
Meet one student-athlete who's become a pro at juggling soccer, academics and internships over the course of his career at Temple, and learn about how he stays on track.