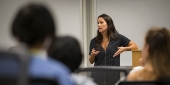 Handle with care
In an essay published in "The New York Times," Naomi Rosenberg, a Temple Hospital physician, reflects on the unique emotional challenges doctors face in the emergency department.
Temple professor on FiveThirtyEight: Why college tuition keeps going up
The primary culprit isn't fancy buildings or employee salaries. It's declining state funding.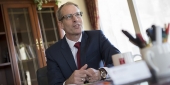 Richard Deeg appointed Dean at College of Liberal Arts
A celebrated teacher and widely published scholar with more than 25 years of Temple experience, Deeg steps into a new role as dean of CLA.
Featured Temple Expert

Aubrey Kent
Aubrey Kent is chair of Temple's School of Tourism and Hospitality Management and founding director of the Sport Industry Research Center (SIRC). Kent has focused his sport research in the areas of...