Faculty Focus: Lori Pompa
In the latest installment of the Faculty Focus series, Lori Pompa—founder and director of the Inside-Out Prison Exchange Program and criminal justice instructor in the College of Liberal Arts—discusses the growth of that educational program and the impact it has had since its inception in 1997.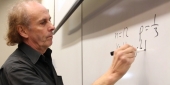 Faculty Focus: John Allen Paulos
Temple professor of mathematics John Allen Paulos talks about math beyond the numbers. He views the subject more broadly — as thinking about probability and logical relationships and looking at subjects through a mathematical lens. His hope is that his students learn math both formally and informally, developing an appreciation for thinking analytically and critically.
Maestro Luis Biava: teaching and conducting Boyer students for 32 years
Luis Biava has spent the last 32 years leading students at Temple's Boyer College of Music and Dance towards careers in the arts. This year, he will retire from his position as professor of music and artistic director and conductor of the Temple University Symphony Orchestra.