STHM experts analyze impact of Philadelphia DNC
On the heels of the announcement that Philadelphia will host the 2016 Democratic National Convention, faculty members in Temple's School of Tourism and Hospitality Management began sharing their expertise with the media.
Giving new meaning to an education degree
Gregory Anderson is leading the College of Education on a new path to train educators equipped to succeed in all fields and industries.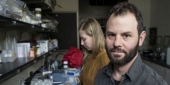 Faculty Focus: Marine biologist Erik Cordes
Associate Professor of Biology Erik Cordes has been investigating deep-water coral communities in the Gulf of Mexico for 15 years, but his research attracted an international spotlight after the 2010 Deepwater Horizon oil spill.