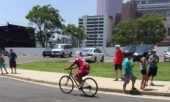 Project HOME resident finishes bicycle race
With support from Campus Safety Services at Temple, Amber Sagar, a Project HOME resident, celebrated her birthday with a fine showing in the annual Irish Pub Children's Foundation Tour de Shore Philadelphia to Atlantic City bicycle race.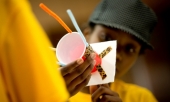 Students design Mars landers at summer camp
Approximately 50 Delaware Valley middle-school students put their science and engineering skills to the test during a summer science camp hosted by Temple's College of Science and Technology.
Fox students lead the way in social entrepreneurship
The 10-10-10 Foundation, established out of the entrepreneurial marketing course at the Fox School of Business, has seen over 1,000 students raise more than $200,000 for charitable organizations in Philadelphia.