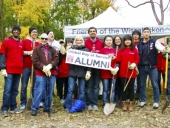 Temple's inaugural Global Day of Service showcases commitment to community
On Saturday, Nov. 9, hundreds of Temple alumni, students and friends beautified city gardens, cleaned neighborhood streets, and distributed coats and supplies to underserved communities. The inaugural Global Day of Service included more than 400 registrants and 27 volunteer events in 13 cities, 8 states and 3 countries.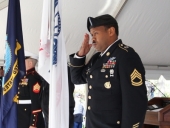 Temple celebrates 5th Annual Veterans Appreciation Day
On Monday, members of the Temple community gathered in Founders Garden to celebrate the 5th Annual Veterans Appreciation Day, in honor of the students, faculty, staff and alumni who served their country. These veterans, honored with a special ceremony and luncheon, stood as expressions of strength and demonstrations of courage on a much-deserved day of admiration.
STEM programs are focus of summer camp programs for youth
Temple held a variety of programs and experiences this summer to help build interest and enhance STEM skills among middle and high school students. The programs covered everything from using computers and math to manage logistics, to math and engineering for girls, to building autonomous robots, to creating apps that address community challenges, to meeting a former astronaut who has walked in space.