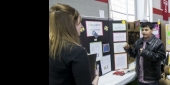 Temple hosts Carver Science Fair for Philadelphia students
More than 600 Philadelphia public, parochial, charter and home-schooled students in grades 7 through 12 showcased their science and engineering skills at Philadelphia's largest annual science fair, held in Temple's Athletic Pavilion.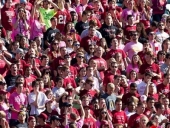 Cherry On!
Whether gearing up for a game, heading to the office or hanging out with friends, Owls everywhere start their weekends by showing Temple pride. Every friday, students, alumni, faculty and staff sport their best cherry and white attire for Cherry On Fridays. Use the hashtag #CherryOn on social media to show your pride today!
Fox alumnus partners with Temple Harrisburg for college-prep program
Pete Gurt, FOX '89, senior vice president and chief operating officer of the Milton Hershey School (MHS), has worked with several colleges and universities to ensure that higher education is a reality for low-income families. Now, Gurt partners with Temple University Harrisburg on the College and Career Transition program, which will offer a full semester of college classes to seniors at MHS.