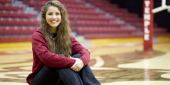 Student-athlete Alyssa Drachslin powers her team forward
Student-athlete Alyssa Drachslin reflects on her experience playing volleyball at Temple, and credits her teammates and the university with her success both on the court and off.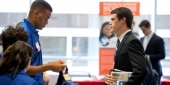 In senior seminar, students get hands-on experience
Senior students majoring in tourism and hospitality and sport and recreation management complete a senior professional development course simulating the experience of working at a small company.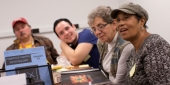 Students learn from patients at new aphasia center
The newly established PACT (Philadelphia Aphasia Community at Temple) center, which offers diagnostic and treatment services for aphasia patients and conducts innovative research into the condition, provides students with opportunities for real-world clinical experiences.