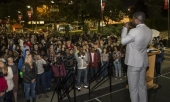 TUnity earns national praise
Temple Student Government recently received a national honor for its TUnity initiative, which included an online pledge for mutual respect among students and an event to celebrate the diversity and vibrancy of campus life at Temple.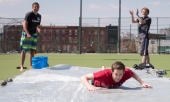 Temple sophomore breaks world records for charity
Ben Baker, Class of 2017, will attempt to break the world record for speed and distance on a 100-foot Slip 'N Slide in Denver on May 2. Through this event, Baker, a liver transplant recipient, hopes to raise funds and awareness for organ donation.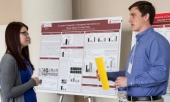 Forum showcases undergraduate research across disciplines
Nearly 150 undergraduates presented their research and creative projects during the daylong Temple Undergraduate Research Forum-Creative Works Symposium at the Howard Gittis Student Center on Thursday, April 16.