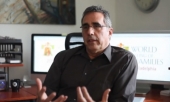 Owl designs World Meeting of Families logo
Graphic designer Bill Milnazik, TYL '79, recently added a high-profile client to his list: the World Meeting of Families 2015 Congress, which includes the much-anticipated visit by Pope Francis to Philadelphia.
Theater season opens with historic drama 'for colored girls...'
Temple Theaters kicks off its 48th season this week with a 40th anniversary production of 'for colored girls who have considered suicide/when the rainbow is enuf' by poet and activist Ntozake Shange.
September events at Temple Contemporary
With the fall 2015 semester already in full swing and the recent opening of 'reForm' on Aug. 28, Temple Contemporary has a full lineup of don't-miss events for the month of September.