Japan and Korea symposia encourage international research collaborations
In an effort to encourage and foster more international collaboration opportunities for Temple faculty, College of Science and Technology Dean Michael Klein organized two daylong research symposiums last month in Japan and Korea.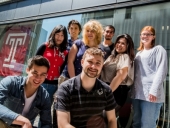 Temple University Japan coming back strong
In the aftermath of the earthquake, tsunami and subsequent nuclear accident that struck Japan in March 2011, enrollment at Temple University, Japan Campus (TUJ), Temple's pioneering campus in Tokyo, took a hit. But now, buoyed by the energy of the Japanese economy and renewed optimism about the nation's future, the number of degree-seeking and study-abroad students at TUJ is bouncing back. The sense of momentum is palpable. "This," says Dean Bruce Stronach, "is TUJ's time."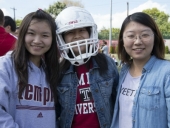 Lessons on American football help international students become part of the crowd
To help Temple's growing international student population get acclimated to their new home, the Office of International Admissions offered "Football 101," an hour-long tutorial designed to introduce new students to the rules the game and increase international student participation in sports-related activities. Members of the Owls' football staff, including Head Coach Matt Rhule, offered hands-on instruction at the Edberg-Olson practice facility.