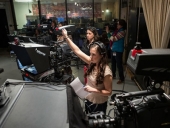 Temple students interview space-station crew live on TUTV
An event last week marked the first time a person being interviewed on TUTV was weightless. Astronauts Mike Hopkins, Rick Mastracchio and Koichi Wakata fielded questions from Temple students during a live interview from the International Space Station Feb. 27.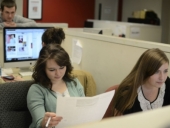 Temple student-journalists dominate at the 2014 Student Keystone Press Awards
'The Temple News' and PhiladelphiaNeighborhoods.com earned a total of 22 Student Keystone Press awards, marking the most-ever Keystone accolades in a single year for Temple students. The awards are presented annually by the Pennsylvania NewsMedia Association.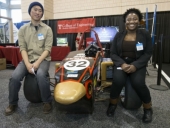 Students' device helps draw patrons to the Philadelphia Auto Show
More than 200,000 patrons attended this year's Philadelphia Auto Show, which ran from Feb. 8 to Feb. 16 in the Pennsylvania Convention Center. To help promote the show, Temple engineering students made a commercial featuring a "Rube Goldberg" device—an over-engineered machine designed to perform a simple task in a complicated fashion, originated by cartoonist Rube Goldberg.