Temple Trustee: "The sky is not the limit"
Temple Trustee Phillip Richards, FOX '62, presented at the first installment of the Distinguished Alumni Lecture Series, launched this year to feature exemplary role models whose paths began with a Temple degree.
Art student wins business school competition
Tyler student Cassandra Reffner, Class of 2016, won the grand prize at the second annual Temple Analytics Challenge, a data-visualization competition organized by the Fox School of Business.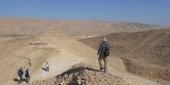 Students dig into the Bronze Age
A group of Temple undergraduates traveled to northern Oman to analyze the area's shifting Bronze Age mortuary traditions.