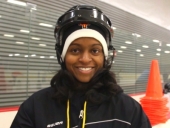 Temple Made: Tarasai A. Karega
She's heard it since she was 9 years old: African-Americans don't play hockey, people tell her—and girls don't play either. But Tarasai Karega, the latest subject in our student profile series, has always defied stereotypes. Now this master's candidate in sport business has come to Philadelphia to be a role model to a new generation of urban youth.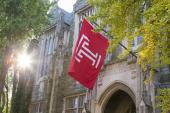 Temple Made Veterans Day special: Silas Adams
The number of veterans at Temple has exploded in recent years. In honor of Military Appreciation Month, the Temple Made student profile series introduces you to Temple Veterans Association (TVA) President Silas Adams, an active duty Marine for eight years with two tours in both Iraq and Afghanistan. It's not easy reintegrating into a college setting after serving overseas. But TVA offers veterans a powerful tool: each other.
Temple grad student brings museum to Kensington with Philly History Truck
Public history master's candidate Erin Bernard has created a mobile museum to bring history to Philadelphia residents. Her Philly History Truck not only displays history, but also records the neighborhood memories of Philly residents. This month, the truck has been roving East Kensington, bringing a variety of events to the community — most recently, hosting a storytelling block party.