New library receives state support for massive green roof
The green roof is one of seven water-infrastructure projects supported by the Pennsylvania Infrastructure Investment Authority (PENNVEST).
Temple breaks ground on bold, new library
Construction is officially under way on the university's state-of-the-art academic commons, which will open in 2018.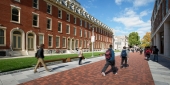 Verdant Temple landscape upgrades continue
Polett and Liacouras walks will receive new landscaping, lighting, paving and other improvements over the summer.
Featured Temple Expert

Derek Avery
Derek Avery is an expert in workplace discrimination and diversity, including how gender, race and ethnicity affect employee recruitment, retention, engagement, performance and absenteeism, among...