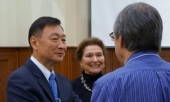 Temple hosts international conference on the Holocaust
Temple University recently hosted the Annual Scholars' Conference on the Holocaust and the Churches for the first time. Nearly 100 scholars, students, clergy, community leaders and Holocaust survivors from around the world attended the three-day international event.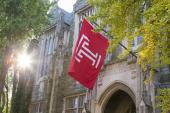 Temple alumni, staff named to 'PBJ's 2015 40 Under 40'
Four notable Temple alumni and one staff member have been named to the 'Philadelphia Business Journal's 2015 40 Under 40.' Read about these five Owls who are making their mark on Philadelphia in this slideshow with excerpts from the PBJ story.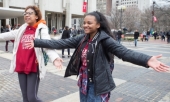 Free hugs kick off series of RHA events
Hundreds of Temple students received hugs Wednesday, March 25, as part of the free-hugs campaign, a kick off for the first Residence Hall Association (RHA) Week, designed to spread love across Temple and raise awareness about the organization.