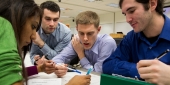 Entrepreneurship on the rise
The newly launched Temple University Entrepreneurship Academy will strengthen Temple's universitywide commitment to entrepreneurship education.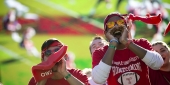 Together we soar
From peanut butter and jelly to Temple Football facing the 49ers, Homecoming 2016 offers a variety of events for Owls to come together.
It's peanut butter jelly time!
The goal? 40,000 sandwiches made by the Temple Community... and a world record.
Featured Temple Expert
Jason Del Gandio
As an assistant professor of rhetoric and public advocacy in Temple's Department of Strategic Communication, Del Gandio's research focuses on the practice and philosophy of social justice and the...