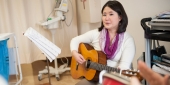 The healing power of music
Music therapy has been shown to have a beneficial effect on anxiety, fatigue and pain in people with cancer.
Wilkerson talks School Reform Commission appointment
As chair of the Philadelphia School Reform Commission, Joyce Wilkerson will help improve educational outcomes for local students.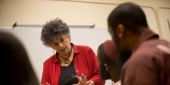 Inside-Out founder earns lifetime achievement award
Lori Pompa, founder of the Inside-Out Prison Exchange Program, won a Lifetime Achievement Award for Teaching from the American Society of Criminology.
Featured Temple Expert

Derek Avery
Derek Avery is an expert in workplace discrimination and diversity, including how gender, race and ethnicity affect employee recruitment, retention, engagement, performance and absenteeism, among...