Ex-cop wants to bring nonviolent, community-centered policing to neighborhoods across America
Former Temple Police Sergeant Monica Hankins-Padilla, ENG '01, has spent 12 years creating a model for community policing that encourages relationships to flourish between police officers and community youth. After years of success, she's looking to share her model with other police departments around the country.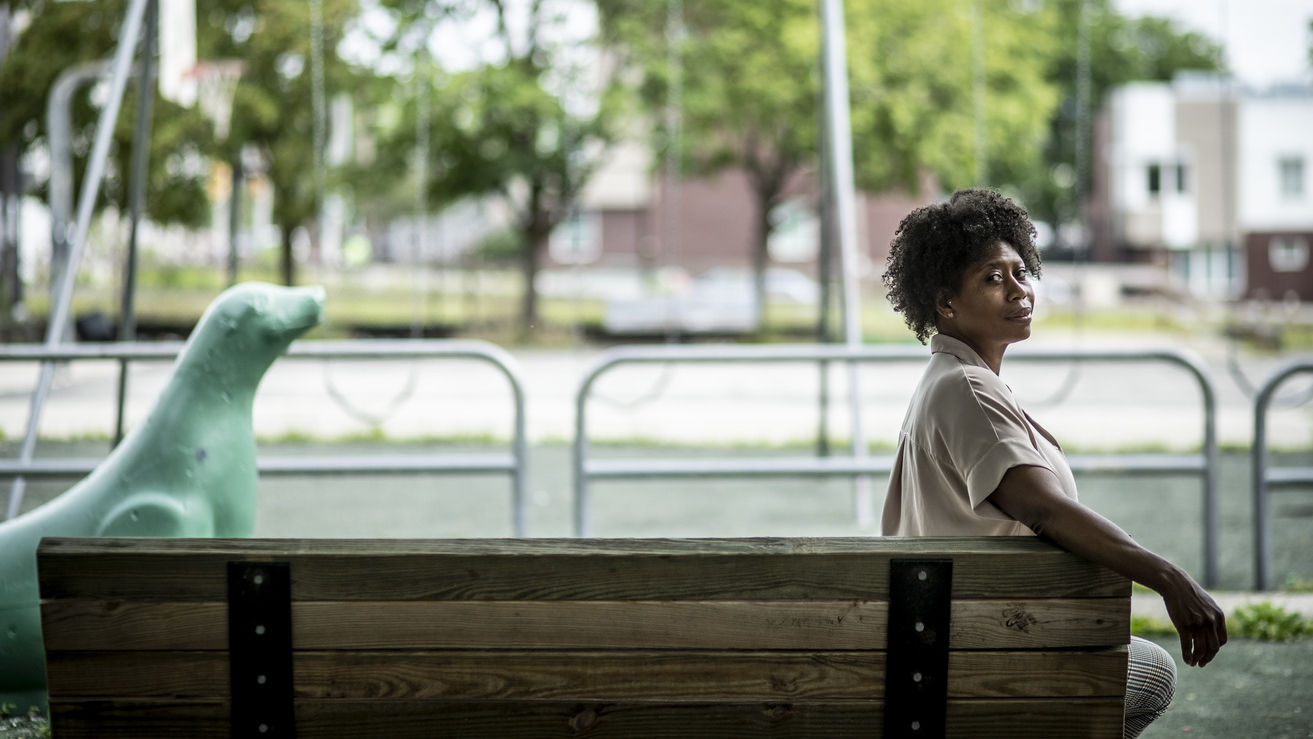 Temple University has a long-standing history of providing a variety of programs, events and initiatives to support and uplift our North Philadelphia neighborhood. This story is one example of many that illustrates the work we do in our community.
Of all the donations she's collected in her career, it was a $100 donation that brought rare tears to the eyes of Monica Hankins-Padilla, ENG '01. The money, raised by five North Philadelphia preteen and teenage boys, was meant as a gesture of support for the work she's been tirelessly doing in their community for the for the last 12 years. If she needed a sign that she was on the right track to developing a new approach to policing, this was it. 
As the external relations director of Temple University's Department of Campus Safety Services, Hankins-Padilla's job is to create and maintain a positive relationship between the North Philadelphia community and Temple's police officers. "Based on my long-standing relationships with community members, it was obvious to me that the best way to maintain a strong relationship with the broader neighborhood was by empowering its young people," she said. Hankins-Padilla and her team have developed a dozen programs over the last 12 years that range from gardening and horseback riding to computer coding and bike riding—all with an emphasis on bringing together police officers and North Philadelphia youth. 
"There's more to these programs than simply sitting on a bike or sticking seeds in soil though," said Hankins-Padilla. She designed these programs in a way that incorporates the development of life skills like leadership, conflict resolution and career exploration. Hankins-Padilla also designed the programs as much for the benefit of police officers running them as for the children participating in them. And this is where the magic of her program lies. 
Having police officers kneeling in a garden bed working alongside urban youth of color has significant positive impacts on both sides. Activities like these allow a deep level of mutual respect and understanding to develop between the officers, students and the North Philadelphia community. The officers hear about the students' hopes and dreams for the future and provide support and guidance when students face difficulties at home or at school. As a result, the officers learn more about the community they serve and the individuals that make up the community. Hankins-Padilla also ensures that the officers involved in the programs go through training to learn the best ways to interact and support these young people. 
From the students' perspective, these interactions with the officers can have a profound impact on the students, according to Hankins-Padilla. "The kids see that the officers value them as individuals so then they learn that there is nothing to fear from these police officers and that allows the kids to develop a respect for the officers' authority," she said. Hankins-Padilla believes that this form of community policing is the most proactive way to permanently reduce violence in the North Philadelphia community as well as other similar urban communities across the country. 
Seeing these programs in action, it's easy to understand why they are working. Take the Urban Bike Team, for example. On Wednesday and Friday afternoons, a group of Campus Safety officers can be found biking through the streets of the Norris Square neighborhood with a gaggle of 10–15-year-old boys biking behind them. The boys' bikes, all brand new, were built by the boys and police officers together. After their neighborhood ride, they convene for snacks and discuss the life-skills topic of the day. There is a calm casualness to the boys' body language as they engage in the discussion that conveys their ease and comfort with the officers.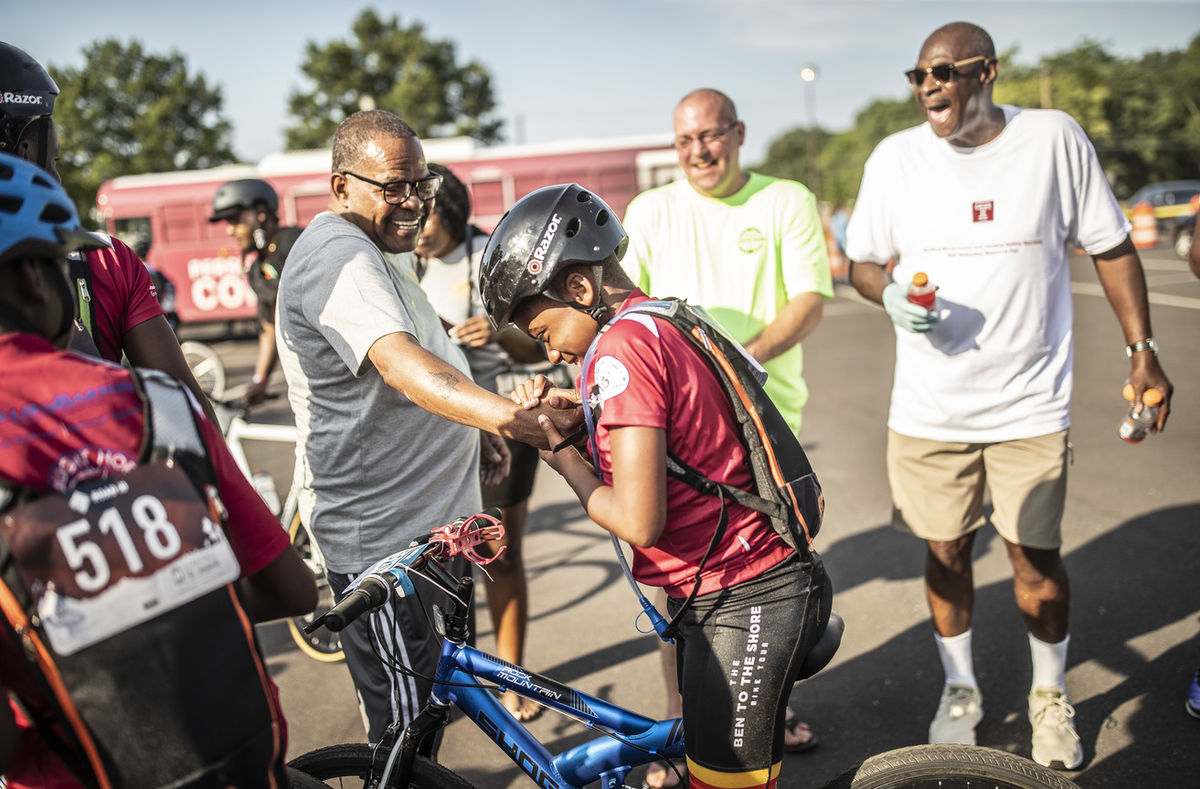 Officer Wimberly shares a laugh with one one of the boys from the Urban Bike Team. (Photo by Ryan S. Brandenberg)


The success of this Urban Bike Team is gaining attention. They received a $100,000 donation in 2022 from an anonymous donor who saw the positive impact the program was having on the community and wanted to support its' expansion to include more students. The Philadelphia 76ers showed up at a local community awareness-raising event for the team to demonstrate their support for the program. And, of course, there was also the special $100 donation that the Urban Bike Team members raised themselves through a series of bake sales to support this year's bike program. 
This is a snapshot of one of Hankins-Padilla's programs in action. The success of these programs lies in the fact that she doesn't just do this job, she lives it. 
Hankins-Padilla was raised in Northwest Philadelphia by her single mother and aunt. One of her cousins was raised alongside her like a brother and the two were inseparable. "We grew up poor," said Hankins-Padilla. "There were a lot of times where my mom and aunt would skip meals so that that there was enough food for me and my cousins to eat." 
Despite the challenges, she remembers her childhood fondly. Her aunt, a fierce civil rights advocate, taught her how to speak up for herself and others when treated unfairly. Her mother was a model of kindness and generosity, always helping those in need in their community. But as she got older, Hankins-Padilla watched her cousin struggle as a teenager of color in Philadelphia. 
She recalled a period in which she worried he was losing his way in life, especially when he had a brief encounter with the criminal justice system. Hankins-Padilla, her mom and her aunt intervened heavily to ensure that her cousin got back on track in school and in life. To their relief, he did. 
With similar support from her mother and aunt, Hankins-Padilla thrived in her adolescence. As a bassoon player for an all-state division band, Hankins-Padilla and the rest of the team spent many weekends practicing on Temple University's campus. Just a few years after that, she found herself back on Temple's campus, this time as an environmental engineering student. 
A career in law enforcement never crossed her mind until her final year at Temple, when she got a job as a student worker for the campus safety division. She quickly impressed her colleagues, who vehemently encouraged her to join their ranks after she graduated.  They explained to her that her level-headed, calm demeanor and her strong interpersonal skills were all critical traits for a good police officer.  
Eventually, with enough encouragement, Hankins-Padilla decided to step away from a career in environmental engineering to become a police officer. She joined Philadelphia's police academy after receiving her bachelor's degree and, from there, quickly rose through the ranks to become a Temple police sergeant.  
Throughout her time as a campus safety officer, she had been told to stay in tune with the Temple community and its surrounding neighborhoods. "When they told me that, I really took it to heart because the North Philadelphia community reminded me of the community where I was raised," Hankins-Padilla said. "Poverty is not a permanent situation, but you do have to have a village behind you to support you and help lift you up. My upbringing taught me that." 
Officer Jerry Tateran, a campus patrol officer who epitomized that community-first directive, also served as crucial inspiration to Hankins-Padilla. Tateran was well-loved in the North Philadelphia community and regularly rose above and beyond his responsibilities as a campus safety officer. He would often organize daylong fishing trips on the weekends with kids from the neighborhood and just listen to them talk about their lives. The kids in the community responded well to having a stable and positive male role model in Tateran. They listened when he spoke and, as a result, he had the ability to help keep the kids committed to their schoolwork and on a path that would lead them to long-term success. One of those kids even ended up joining Temple's Campus Safety division after graduating from high school. Due to his unrelenting work and obvious success with the kids, the community grew to have a deep level of trust and fondness for him as an officer. 
This is how the dots connected for Hankins-Padilla. She remembered how her cousin, an urban youth of color, struggled but eventually found his way with support and guidance. She saw how beneficial Tateran's actions were to the kids and the community more broadly. She observed in her own work how the community responded to her, Tateran and other officers who were particularly engaged in the community. At the same time, Hankins-Padilla was aware that rates of incarceration for young people of color in Philadelphia were grim and only getting worse and that the traditional model of American policing was under fire. 
When she had the opportunity to create and lead a formal external relations division within the campus safety department in 2011, she hung up her badge and took it, jumping quickly into developing her first program. Every year that passed she fine-tuned, adjusted and built upon the structure from the previous year and then applied it to a new program. Now with 12 programs and counting, Hankins-Padilla inadvertently found what she believes to be a proactive and permanent solution to the issues of violence and racial profiling that urban American communities are facing today. 
Understanding the implications of what she had created, she teamed up with Tricia Jones, professor of communication and social influence at the Klein College of Media and Communication, to find a way to formalize her model and share it with other police departments. The pair received a $1 million grant from the U.S. Department of Justice to develop programming that aims at reducing violence in American cities. In addition, the National Black Police Association has already agreed to partner with Hankins-Padilla in expanding the implementation of her model to police departments associated with their organization.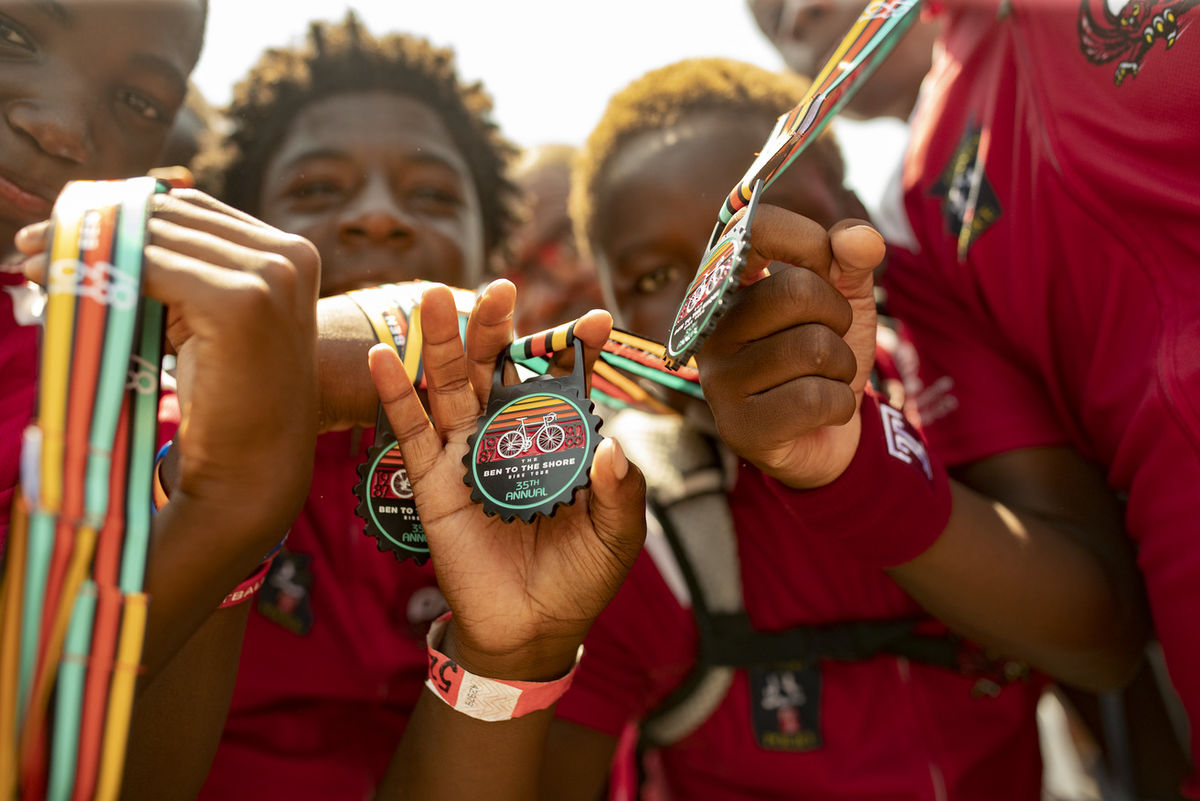 The boys from the Urban Bike Team proudly present their medals after successfully completeting a 30-mile ride. (Photo by Ryan S. Brandenberg)


One of Hankins-Padilla's most prized possessions is a slim book called Problem Child written by acting secretary of the Pennsylvania Department of Education Khalid N. Mumin. She pulls it out occasionally to look at the handwritten inscription on the inside cover: "Monnie, continue to move the needle by elevating students out of poverty through education." She lights up when she reads the inscription. 
Hankins-Padilla points out that, based on violence and incarceration statistics for young people of color, her beloved cousin would have been dead or in jail by now. "But me and my family were part of his support system to help guide him and keep him on track. Now, he's the secretary of education for the state of Pennsylvania," she said brimming with pride.  
Hankins-Padilla has seen that police officers have the power to change young lives. Depending on the officer, that change can either be positive or negative. But with the right programs and training from Hankins-Padilla's new community policing model, she believes that every American police officer can become a force for positive change and growth in their communities. "This means that we can permanently reduce violence in our country," she said. "From there, we can watch many more young people of color flourish into their full potential, much like my cousin and I did." 
Interested in learning more about the work Temple University does in the North Philadelphia community?  Here's a list of our recent community engagement stories!