Posted
September 26, 2016
Temple celebrates 1,000 participants in Block-by-Block program
The initiative conducts research on the health and wellness of Philadelphia community members.
While many people may not enjoy talking about their health, Yolanda Turner doesn't seem to mind. In fact, she is eager and full of joy as she talks about her life-changing experience with the Temple Health: Block-by-Block initiative.

Turner wasn't aware of the health benefits she could receive and the doctors that she could visit at Temple until Field Research Specialist Rosemary Jackson approached her while she was sweeping the porch of her North Philadelphia home.

Jackson informed her about Temple Health: Block-by-Block, a program that surveys the health and wellness of community members and then works to connect them with health programs at Temple. Once a survey is complete, participants are encouraged to take advantage of patient care options offered by Temple's Lewis Katz School of Medicine.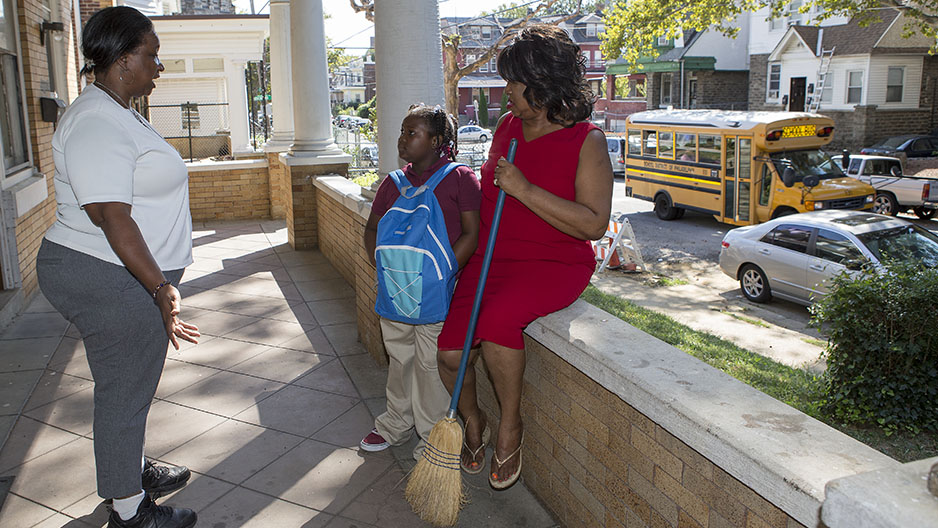 Photography by: Joseph V. Labolito

Jackson and additional researchers go door-to-door to survey residents in 11 nearby ZIP codes, including Germantown, Kensington, North Philadelphia and Strawberry Mansion.

"Block-by-Block gave me information and tools I didn't know existed," Turner said. "Even my granddaughter has benefited from the program."

Her granddaughter, 13-year-old Amiyah, has used the services offered at Temple to see a dentist and attend a health-seminar clinic on best practices for a healthy lifestyle.

"I'm grateful Rosemary came to my house that day—we've become great friends," said Turner. "Block-by-Block has become very important to me and family. We use the program as much as we can."

To date, the program has enrolled more than 1,100 participants and has promoted the services available at Temple to Philadelphia residents at 28 community events.

According to Jackson, the benefits of Block-by-Block go beyond the individual.

"The program is shining a new light on the needs among African Americans and other minorities while building a trusting relationship with the surrounding communities," she said.